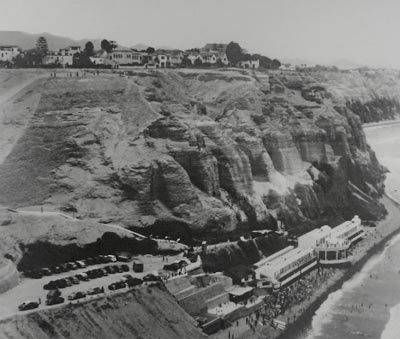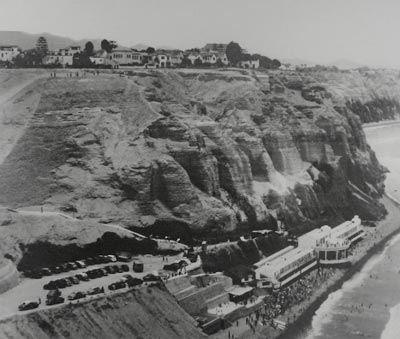 In search of the origins of the modern architecture in Peru I thought that there existed a building that it might have meant the beginning: Miraflores's Baths, projected by the architect Hector Velarde between 1934 and 1935. Though by the Peruvian historians this building has been catalogued inside the so called architecture – locally – as " Style Nose " I think that on having penetrated we might affirm that we are opposite to a modern work. Surely that of having been built approximately 4 years before Henry – Russell Hitchcock and Philip Johnson might have formed a part of the book, where they were emphasizing and spreading the architecture product of the modern movement which they called – wrongly – International Style.
Focusing in the building of the baths we can observe clearly the use of the horizontalidad as formal solution of the function that was needed: a set of spaces that were using as changers and services in general for the bathers of Miraflores. This building was a part of the urban public equipment and as the opposing images it had a notable concurrence.
The center of the building of semicircular form in plant was serving to divide the wings changers of men and women and in turn it was sheltering a zone of dining room.
On having been located on the shore of the sea, the building was conceived on pilotis, the structure was allowing the use of vain traversed and the roof was used as terrace – viewing-point, which already demonstrates an interesting relation between what they were called Corbusier international style and the postulates of Him for the Villa Savoye in Poisy, France.
Lamentably there has not been registered a building of such an importance in the decade of 1930 and what could be related to this beginning of the modern architecture in the country has been catalogued as a local style, the style ship.
Later a series is exposed of excellently photographies obtained in the web.
Fernando Freire Forga · Doctor Architect
Lima · july 2013 · Author of the Blog La Forma Moderna en Latinoamérica
Fernando Freire Forga nace en Lima el 21 de marzo de 1977. Entre los años 1994 y 2000 realiza estudios de arquitectura en la Universidad Peruana de Ciencias Aplicadas en la misma ciudad. En 1999 obtiene el primer premio en el Concurso a nivel nacional organizado por PROCOBRE-PERÚ con la tesis: Edificio Automatizado de Oficinas: "Usos del Cobre en la Arquitectura".
Ha realizado estudios de Doctorado sobre Arquitectura Moderna en la ETSAB, Escuela Técnica Superior de Arquitectura de Barcelona en la Universidad Politécnica de Cataluña, España. Actualmente, se encuentra inmerso en el desarrollo de trabajos de recopilación e investigación de Arquitectura Moderna en el Perú. Es docente de la Pontificia Universidad Católica del Perú y se desenvuelve como proyectista de manera independiente.