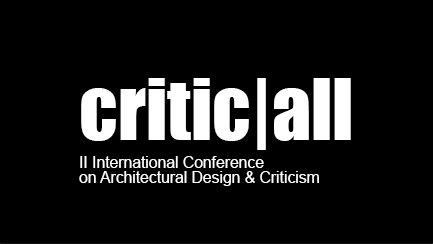 Already there is here the second edition of Critic|all, Congress of critique organized by the School of Architecture of Madrid, which in his first edition in 2014 possessed a spectacular participation.
This initiative is a great opportunity so much for the investigative young persons as for the most veteran of exchanging and confronting his positions. The format chosen for the conference, with short exhibitions and later 'desks' where the whole world can inform speech of the character firmly opened of this academic event.
In addition, the publication that has been edited recently does not limit itself to gathering the presented articles, but there assembles a series of texts generated from the reflections provoked in the debates of each one of eight desks, together with the written version and examination of the pronounced conferences for each of the principal guests: Joan Ockman, Reinhold Martin and Fernando Castro Flórez. You can do yourselves with a copy here.
In this occasion, the proposed topic #out-tonomy tries to gather new looks on the debate brings over of the limits you will discipline of the architecture. With the term out-tonomy a possible zone of confluence is designated between two conflicting positions and one invites to give response to some questions:
 Are it the global model and the autonomy to discipline auto-exclusive? Is it useful or at least possibly to re-form a concept of autonomy in the current context? Is it possible to resign the limits of a knowledge to discipline and even this way to preserve his identity and intention?
You can consult the complete bilingual text of the Call For Papers and the whole info in the web and follow them in twitter @criticallconfer
All to taking part! It is necessary to send a summary of 300 words maximum (in Spanish or Englishman) before December 10.
Búsqueda para satisfacer el conocimiento de la actividad arquitectónica y tangentes que se generan. La idea es crear un espacio para divulgar los diversos proyectos en busca de nueva inspiración y de intercambio.