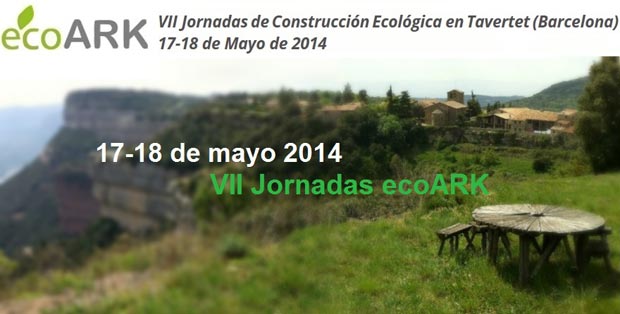 The days of ecological construction ecoARK celebrate his seventh edition on the 17th and 18th of May, 2014 with the intention of which more companies and professionals of the sector use the event as platform of spreading and interchange of experiences and knowledges, offering the possibility to the attendees of knowing more closely the different materials and constructive respectful technologies with the environment that they exist.
In this seventh edition we will initiate once again with the exhibition of the winning offer of the final contest of projects of career ecoARK. Later we will possess the presence between others, of the Doctor in biology Elisabet Silvestre, the equipment WEDGE of l'ETSAV, L'Escola Origens, the physicist and presenter of television Antoni Mestres, the architects Coque Claret and Daniel Calatayud, the Group Investigació Canyera, the technical arquitecta Maria Molins, the consultant Passivhaus Oliver Style and the Carpenter Martin Krug.
It is necessary to emphasize that so much the equipment formed for ecoARK, a group without spirit of profit; as all the referees and collaborators who take part in the days, they do it of altruistic form, with the only interest of the spreading and concienciación socially. Supporting the firm conviction of which it forms other one of construction it is, not alone possible, but necessary.
The cost of inscription to these Days is of 30 €, 20 € for students and unemployed. They will be able to find the application form in www.ecoark.net. The appraisal is limited.
Búsqueda para satisfacer el conocimiento de la actividad arquitectónica y tangentes que se generan. La idea es crear un espacio para divulgar los diversos proyectos en busca de nueva inspiración y de intercambio.