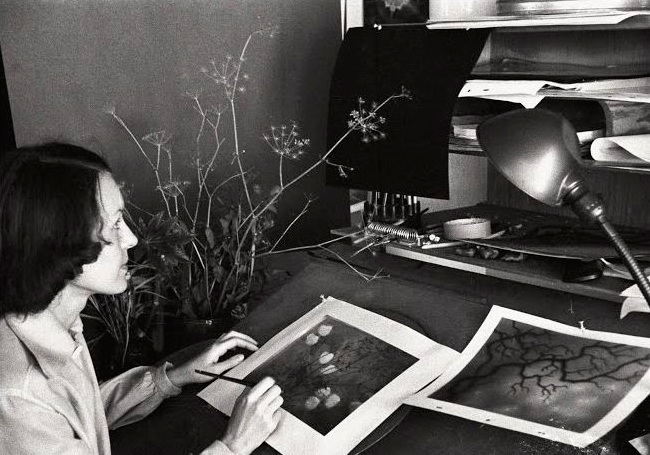 In an issue of the Glamor of Hollywood magazine of 1941, an article entitled «Girls at work for disney», was published, with the subtitle
«The great cartonist opens up new careers for talented girls in his Hollywood studio». 
This article begins by explaining:
«Until a few months ago the work of animating characters in the Walt Disney studios was purely a man´s job. Today  there is a special art class made up of talented young women of the organization, who are receiving the final training in the job of creating the whole gallery of Disney characters, of animating such interesting effects as smoke clouds, water and other Disney phenomena».
He also cites other tasks carried out by women:
«In the vast and complex workshops which go to make up the Disney organization, women are holding important posts in stories and characters development, backgrounds, layouts and cutting; the music editor who cut "Fantasia" is a woman, Louisa Field».
It seems that the text is in favor of this work, but in the end something inevitable was mentioned in those years::
«Working days are from 8:30 a.m. to 5:30 a.m, weekdays, every Saturdays off. Salaries are from $18 to $75 per week, would be higher if more girls didn´t work a couple of years, marry and quit. Romance oportunities are about the same as at a co-ed university. Many of the girls have married Disney employees and tstayed on».
In short, that the fate of the girls, -she uses "girls" instead of "women" – which is already a pejorative term, is to get married and that is why, because of her, they do not charge more money, also taking into account that "They are lucky" to get a husband without leaving Disney, if they were lucky enough to be accepted in the production company, because others did not.
The two-page article is illustrated with eight photographs, including Mary Welser, with a caption that states:
El artículo de dos páginas está ilustrado con ocho fotografías, entre ellas de Mary Welser, con un pie de foto que indica:
«Efficient head of all girls cream wich comprises the Disney color laboratory»
«who designed much of "Fantasia´s"  Nutcraker Suite»;
«talented Disney animator, who has demostrated that hers is not strictly a man´s job»;
«a japanes artist, who designed the elaborate theater program od "Fantasia"
Mabel, an elephant model in Disney´s menagerie, poses for y Retta Scott,
«specialist in animal sketches»;
y de Sylvia Holland
«Disney sketcher, and formerly Canada´s sole woman architect»,
Obviously, this is the architect mentioned in the title.
I must admit that I did not know her, but luckily she is well known and although she was not the first Canadian architect, there is a lot of information on the Internet about her, for example in the interesting blog Un día una arquitecta, this Eve Lazarus´s article or even in Wikipedia, where it is not indicated that she was an architect and she gives more importance to her stage with Disney, although she does remember that she was expelled from the production company after the Second World War.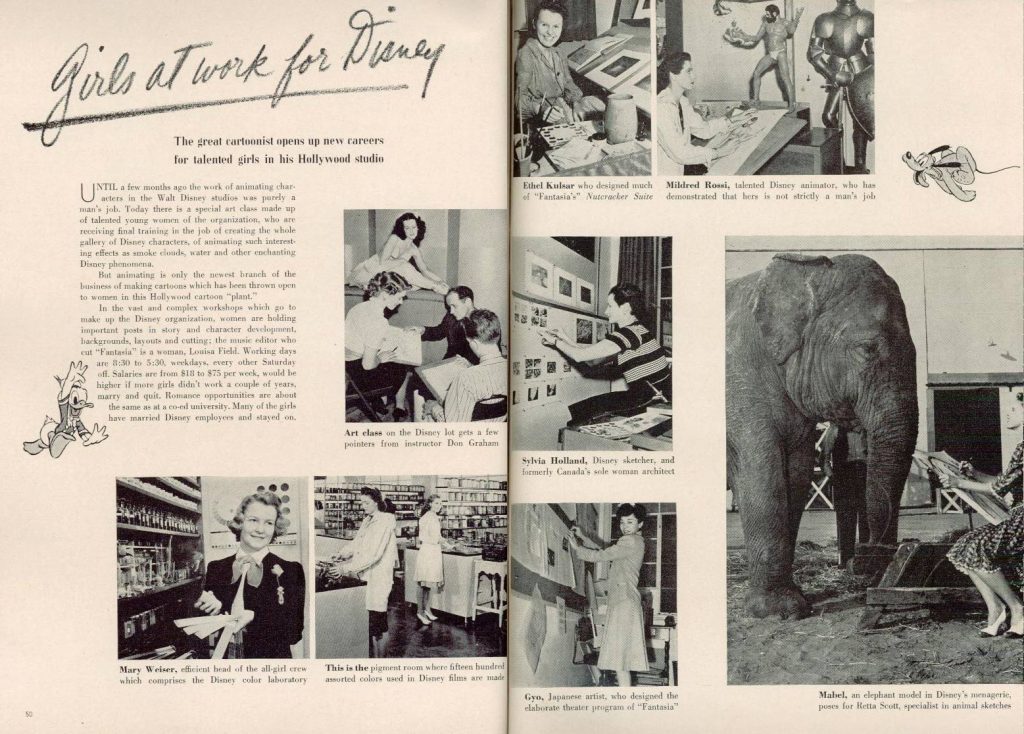 As can be seen, the architects and architects have not worked in the cinema only as set designers, but their work has been much more complex and covering many different specialties.
Jorge Gorostiza, PhD architect.
Santa Cruz de Tenerife, september 2018
Author of the blog Arquitectura+Cine+Ciudad
Doctor arquitecto, proyecta y construye edificios y desarrolla trabajos de urbanismo. Desde 1990, publica numerosos artículos sobre cine y arquitectura en medios de su localidad, revistas como Nosferatu, Nickleodeon, Academia, Lateral, Cahiers du Cinema… y en varios volúmenes colectivos. Entre el 2000 y el 2005 dirige la Filmoteca Canaria. Imparte conferencias sobre arquitectura y cine en instituciones como el CAAM en Gran Canaria, la UIMP, el CENDEAC en Murcia, INCUNA en Gijón, Fundación Telefónica, la ETS de Arquitectura y el CCCB de Barcelona, las ETS de Arquitectura de La Coruña, Sevilla, Valencia y SEU madrileña, La Ciudad de la Luz en Alicante, la UNED en Pamplona, en varios colegios de arquitectos, así como en las universidades del País Vasco, Gerona, Valladolid, Málaga, Granada, SEK en Segovia y CEES de Madrid. Jurado en varios festivales cinematográficos, como los de Alcalá de Henares (2001), San Sebastián (2002), Sitges (2003), Las Palmas (2005) y Documentamadrid (2005), y comisario de las exposiciones Constructores de quimeras. (Centro Conde Duque, Madrid, 1999) y La arquitectura de los sueños (Capilla del Oidor, Alcalá de Henares, 2001).
He publicado bastantes libros y muchos artículos, he impartido conferencias, he sido comisario de exposiciones y jurado en muchísmos festivales. Si quieren saber más no duden en consultar mi blog ARQUITECTURA + CINE + CIUDAD.