Alvar Aalto already had been in the bulls. In Barcelona they had taken the Monumental one to him, and one had spent it very well. Because of it the persons from Madrid thought that already it did not have very much felt to take him to The Sales. This aim already was covered.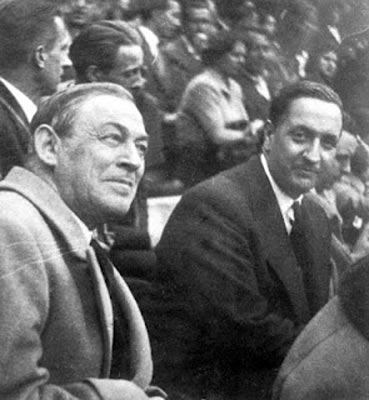 Actually the Finn did not seem to be arranged that they were taking to any site. It wanted to gad about for Madrid to his air and alone he got lost. It wanted, as good tourist, to do a few purchases.
Fernando Chueca offered to accompany him nicely and to do him of interpreter, but he itself told later that he was feeling that it had hindered him and that Alvar Aalto would have preferred being alone and to his broad ones.
To the stranger they were interesting neither the museums, nor the monuments, nor the urban spaces of Madrid, but only the souvenirs and the foolishness that he would like to any uncultivated person and simple soul; typically Spanish act most evident and shameless. (What a consternation! What a shame!).
Both architects entered the prestigious Casa de Linares. Alvar Aalto became mad buying combs and other abalorios, and when it discovered the castanets it was thrown for them: it was touching the wood, was caressing his curvature, for the concave faces and the convex ones, was shocking them in order that they were sounding and they continued being listened as if they were diapasons. Finally it remained with a couple.
They went to the box and the empelado became red. Ashamed and shy he said to him to Joke that the castanets that the mister foreigner had chosen belong to professional, better that it was, and they were costing four hundred fifty pesetas. To take them of recollection there were very good many, of between fifteen and twenty pesetas.
This way it Joke was explained to Aalto, in order that this one should amend his involuntary one and costosísimo mistake, but the not alone Finn did not correct it, but it became very satisfied. It was demonstrating that it knew the wood better than anybody. It loved the materials, and though it had not even idea of castanets had could choose the best. He filled with enthusiasm this praise to his clinical eye, which had despised the castanets of twenty pesetas for tourists and right had gone to them of four hundred fifty, to indeed.
The total account was ascending to six hundred pesetas, which the Finn paid been charmed with.
After this expert's success flamencólogo, it went to buy a few earrings for his daughter and a cut of fabric of gabardine for him.
Finally, Aalto and Joke ended in the bar of the Palace Hotel, taking a few glasses. They chatted inspired, and the person from Madrid felt an alive affection for the Finn (more alive to every new whiskey). They did not end up by singing the Asturiaspatriaquerida because Alvar Aalto did not know it.
They said goodbye affectionately. Joke began to walk for San Jerónimo's Career, and Aalto, already only, already freely of heavy hosts, went to the counter of receipt.
-Per favó. Io Finland. Flemish Io tablao.
– It extracted the castanets-. Io tacatacatatá and olé! – how not, gentleman! Right here, closely together…
The great Finnish architect was finally free, in the night of Madrid. Tacatacatatá and olé!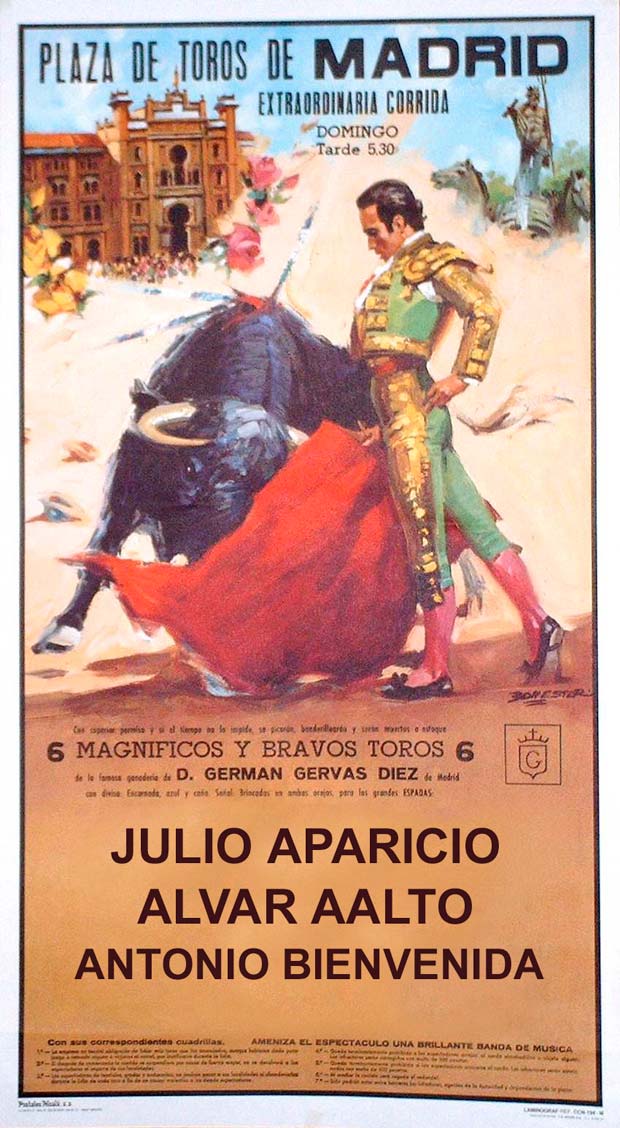 Other one of the memorable moments of the visit of Aalto to Madrid took place in Luis Gutiérrez Soto's house.
If Carlos de Miguelwas the director of the Arquitectura magazine, and the host of Alvar Aalto's visit to Madrid, the great major brother was Luis Gutiérrez Soto. For age, for prestige, for economic power, for excellence and for everything, he was the leader of the group, and therefore the great dinner of farewell had to be done in his house.
It had (since it could not be less) two magnificent floors on the corner of the streets of Frying pan and of Núñez de Balboa (good corner), one on other one, communicated internally by a stairs of snail. Of above it was his housing and of below his study.
It prepared a marvellous dinner served by waiters, in one of his big lounges, and sat Alvar Aalto to his side.
The dinner passed with great warmth. Alvar Aalto was speaking with simplicity of his work and of his conception of the architecture and of the life, and also he was listening with interest to the ideas and opinions of the others.
It was an unforgettable party (since it is in the habit of saying). They spoke, drank, sang, laughed, and they all ended delighted and happy.
They said goodbye cordial, and already in the street abrazaron to Alvar Aalto. This one took a taxi to go away to his hotel and the others separated, each one went away to his house.
But Rafael Aburto approached Carlos de Michael, in a final new paragraph. It seemed to have be expecting all the time to remain to alone with him. This way he it dealt On Michael, who him received expectantly.
What would Rafael like to say to him? What would have been guarding? He was sure that it would be something very important: Alvar Aalto, the modern architecture, new perspectives for the Spanish architecture, it designs someone of work, some offer, some conclusion, some definitive observation…
– It hears, Carlos… It wanted to comment on a thing to you.
– Yes. Say me, Rafael.
– You have noticed … there, in Luis' house …?
– Yes?
– There was such seated Alvar Aalto that here, and Luis there, not?
– Yes. Yes.
– To the left of Luis' left side, behind, there was a grand piano.
– ¿?
– And on the piano there was a shawl of Manila.
– ¿?
– It hears, Carlos: of what color was it the shawl?
– Eh?
– Yes. The shawl of Manila. Of what color was it?
Carlos de Miguel remained a few seconds perplex, open-mouthed, and to the end, seeing the Franc's expression Rafael Aburto's interest, which was waiting for his opinion, gave to him an assault of laugh. It had to rest on Núñez de Balboa's front.
José Ramón Hernández Correa
Doctor Architect and author of Arquitectamos locos?
Toledo · march 2012
Nací en 1960. Arquitecto por la ETSAM, 1985. Doctor Arquitecto por la Universidad Politécnica, 1992. Soy, en el buen sentido de la palabra, bueno. Ahora estoy algo cansado, pero sigo atento y curioso.