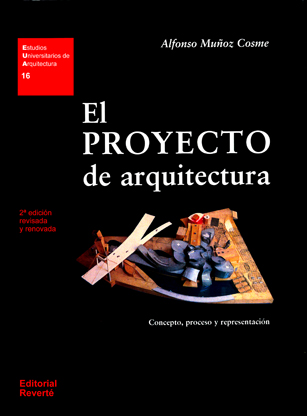 This book tries to discover and transmit what is the project of architecture, how there is conceived, how it is elaborated and how it is represented. The project is today the central core of the education and of the practice of the architecture, which is generated, develops and communicates across the project accomplishment.
Projecting is a fascinating adventure, by means of which we believe new beings, materializing our ideas and our dreams, while we discover unsuspected things and learn constant. It is so, a creative, intellectually wealth-producing and personally very satisfactory labor.
But the process of his learning is not easy. The complexity of the activity proyectual, the multiple factors that in her intervene, the diversity of technologies and knowledge that must possess the designer and the need to develop simultaneously the creative freedom and the critical control, do of the learning of the project one of the most arduous labors which the student of architecture has to face.
This book stretches a look on the different aspects of the architectural project, trying to uncover his nature, how one has developed and how it is realized, from a didactic and plural vision. This way, are explained of simple form which are the steps to giving, the aspects that it is necessary to bear in mind, how diverse architects understand the project, what instruments it is necessary to handle, what technologies are the most usual and how the project is formalized.
This text can use as orientation the student disconcerted before the complexity of the project, of table of salvation the pupil who sinks in his clash to the labor of doing architecture, of friend who advises before the doubt, of guide to open new ways of learning and of instrument of reflection on what we do when we project architecture.
In this second edition, beside updating and to extend some of his contents, we have changed the structure of the volume, to allow that the operative and instrumental aspects should be to the beginning, whereas the historical development and the methodological and critical analyses place at the end of the book. The intention is not other one that to win in clarity and to facilitate the reading and the utilization of his content to the students of architecture.
Búsqueda para satisfacer el conocimiento de la actividad arquitectónica y tangentes que se generan. La idea es crear un espacio para divulgar los diversos proyectos en busca de nueva inspiración y de intercambio.