The residence Teknobyen does emphasis in the social innovation, economic and environmental by means of the creation of a way of life renewed for the students, a key community in the social ecology of our days, in which maximizar the interpersonal bows in the interior of an architecture, although modest, committed.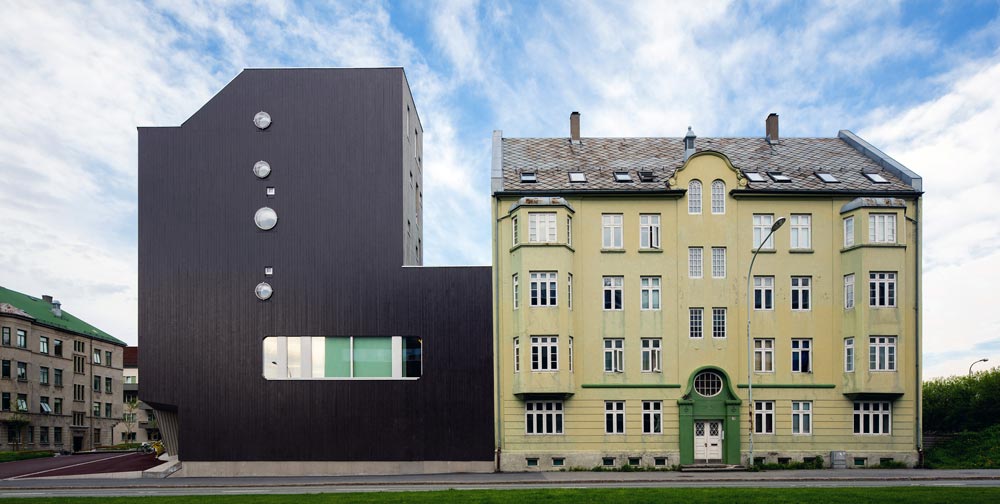 The residence of students "Teknobyen" of Trondheim (Norway) is resulted of the winning proposal of the international contest Europan 9. Promoted by SIT (Studentsamskipnaden i Trondheim), a company with participation estudiantil that develops diverse endowments for the wide university population local, in this project do  compatible situations of extreme privacy with others of extroversión and collaboration.
By a part, the personal space, the own room: laboratory where put to proof the skills that afterwards will be necessary for any social interaction in the collective space. By another, the social space of convivencia.
The ambition of the building is the compression, transfer and conditioning of the capacities conectivas of the urban space.
To achieve an animated atmosphere by the collective actions, the students share a big espacioflexible, multifuncional and autogestionado, beside a 'súper-kitchen'. Both constitute an experimental place for the use and enjoy simultaneous of 116 students, a sustainable social condenser permanently activated. The lounge is surrounded in section by the groups of rooms in his distinct levels.
This way to organise the space shared by means of collective actions is the instrument to reinforce the bows between the recently arrived students from all parts of the country and out of him. In this frame, the residents have to establish his own rules, responsibilities and any resource by unexpected that it was, to do compatible his interests.
The environmental collective management of the residence resolves  by means of protocols of co-energetic responsibility and of treatment of waste.
work: Teknoby Students' Residence
authors: MEK Architects (Clara Murado & Juan Elvira +Enrique Krahe) con Link-Signatur (associated Study)
ccollaborators: Francisco Triviño, Arancha Montero, Jesús Isla, Javier de Paz, Leticia Rodríguez (Competition) Eugenia Concha, Arancha Montero (construction)
year: 2008 (competition), 2011 (Ending Acts)
client: SiT Bolig
location: Trondheim, Norwegian
photographies: Matthias Herzog and Miguel de Guzmán
+ award
Norwegian Architecture National Award 2012
Búsqueda para satisfacer el conocimiento de la actividad arquitectónica y tangentes que se generan. La idea es crear un espacio para divulgar los diversos proyectos en busca de nueva inspiración y de intercambio.