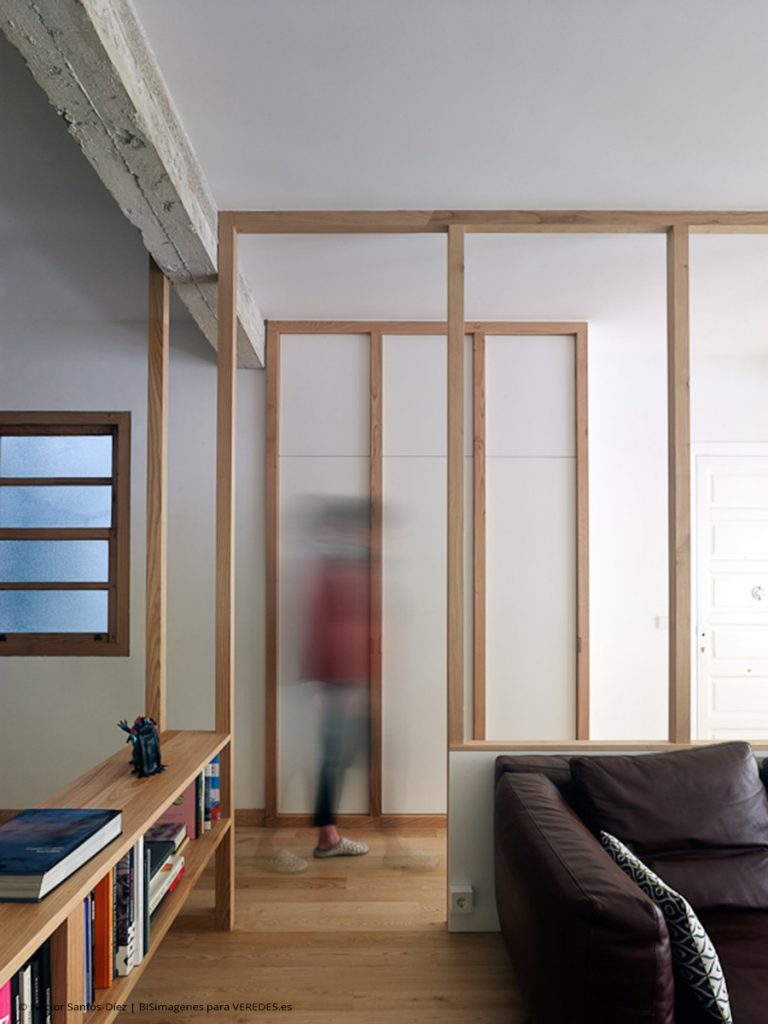 Since preexistences we meet a floor of the sixties in ruinous condition. We were interested in preserving the environment, but as soon as soils change and structures are reinforced, it is very difficult to catch these ghosts that one is on having entered this type of floors. This only is possible when the reform is of ended superficial.
So, we decide to preserve the distribution almost in his original condition, and of those partitions that we were not needing in the new distribution, we preserve only his skeleton. These structures that cross the space without dividing it really it was helping us to create different visual environments.
There recovered the structure of concrete of the ceiling, the original doors were restored, and the gallery of wood was reconstructed by the original break-down. From there, the new materials are almost exclusively massive wood of chestnut-tree and plasters of lime. In the bath he accompanies to the soil of wood of chestnut-tree, a coating of gresite hexagonal and in the kitchen an encimera of marble of carrara.
The result is a contemporary environment, in which still we can estimate the fingerprints of his previous condition. We like to think that this is one more condition of all that it will manage to have this building, and it seems to us to be nice to think that in every intervention something stays of the previous one that makes us recognize the antiquity that really has.
Work: Reform of floor in Vigo
Promoter: Private
Authors: Ansede Quintáns arquitectos (Cristina Ansede Viz, Alberto Quintáns Arrondo)
Year: 2017
Location: Vigo, Pontevedra, España
Photography: Héctor Santos-Díez | BISimages
+ www.ansedequintans.com
Búsqueda para satisfacer el conocimiento de la actividad arquitectónica y tangentes que se generan. La idea es crear un espacio para divulgar los diversos proyectos en busca de nueva inspiración y de intercambio.