12-15 April 2010. Workshop School Tecnica Superior of La Coruña.
Given by: [Paula Montoya + Miguel Beloqui] (Group of Exploracion Proyectual ETSAM) + leon11 (MAD).
Current circumstances of the financial year of the architecture we do pondering on if it is a question of to manage one situacion atipica or if se this demonstrating the need of that the discipline redefines its "modus operandi" to insert in a society in transicion, complex and connected. Assuming this condicion and to turn her in opportunity requires to create a "metaespacio of work" (but alla of "the study") continuously questioned, revisaso and extended for material from external sources.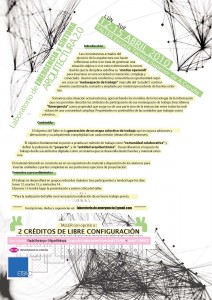 We take this situacion current extreme, making good use of models of the tecnologia of the information that we allow describing attributes of participacion of that metaespacio of work: We describe "Emergency" such as a property that emerges not of a part but of the interaccion between all the individuals of a complex community. Properties not predecibles of units that work such as a group.
The objectivo of the Workshop is the generacion of a collective map of work that adds additions and alterations and it goes acquiring complexity with every revision (development of versions). The primary goal is to put on approval a metodo of work as a "collaborative" community and to define the polisemia of "project" and company arquitectonica". We will develop the workspace from its digital attributes as a system that takes place from external sources and material.
fetsac10
+ http://fetsac10.blogspot.com
Búsqueda para satisfacer el conocimiento de la actividad arquitectónica y tangentes que se generan. La idea es crear un espacio para divulgar los diversos proyectos en busca de nueva inspiración y de intercambio.