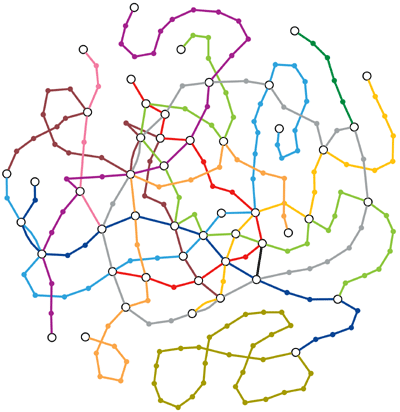 Since it wants that we look seeing what others saw great before that we and that we travel treading on the trodden ones of others… Since we direct our interest to those places, towards those instants, which there does much that they stopped interesting to other many persons… Since we search strongly and intensity not only in the space but, also, in the time. Not only between the things but, in turn, between the ideas. Often we reveal ourselves inside an infinite hank.
The curiosity directs us and we cross the world with the perception opened for any surprise our scope. Our capacity of admiration does not stop, and we reveal ourselves capable of shaking before the most uncertain instants, before the most unsuspected scenes.
We maraud.
We never stroll for a predetermined tour. There go out to the step bifurcations and options that call our attention. We select, guard, hunt or collect. But we continue. The rope without end.
Often our tour is to circulate. Spiral. We surround progressively our interests without scarcely touching them. Without altering them. Cultivating the attitude of the efficient patience. And only we rest close to our aim the necessary time to glimpse new horizons.
The movement is constant. The concatenation of actions and thoughts us walks along the happy state of alert in which we consume our energy. Our life.
And it is in this territory of lost steps, of successive crossed segments, where we are when we want to explain our existence.
We live a cloud of points.
A multidimensional place of interconnections without limits. A space of mobility that replaces the borders with knots.
Without maps…
Sergio de Miguel, architect
Madrid, february 2010
Búsqueda para satisfacer el conocimiento de la actividad arquitectónica y tangentes que se generan. La idea es crear un espacio para divulgar los diversos proyectos en busca de nueva inspiración y de intercambio.