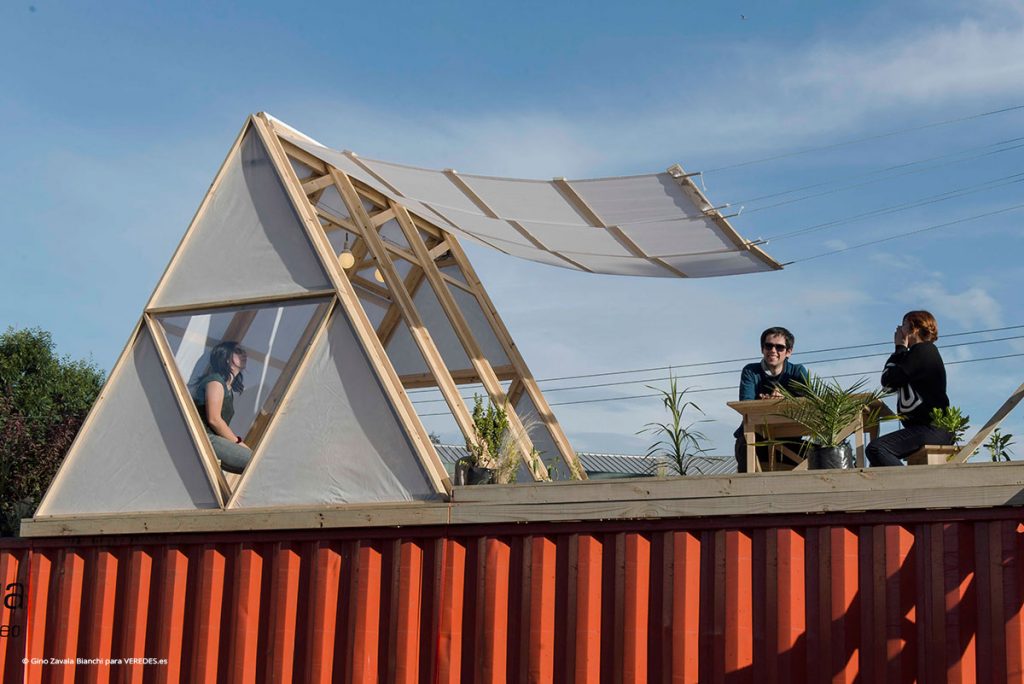 Context.
Sala de Carga is a gallery of contemporary art to the interior of a maritime container, calls different producers to intervening in places of high accessibility. The container equipped with lighting and electricity receives in his interior proposed of artists of different places and works as an itinerant gallery located in the public space.
For the cycle exhibitions of the year 2014-2015 the room takes as an axis the concepts of "Situation and Nearness" initiative that seeks to penetrate into the production of samples into those who establish relations between contemporary art, public sphere and community.
The offer of República Portátil consists of the installation of a prototype of habitability that settles on the volume of the container it using as a socle on the Plaza Concepción's Peru. On having controlled the cover it allows to relate the room to the public space across a program of activities that develops during the sample. For 10 days meetings and debates are realized, it is cooked and celebrations are realized. On having finished the day the room is in use for happening the night in a public space of the city.
One fundamental room.
The FR is a temporary and transportable construction based on wood and fabrics. It allows the mansion and serves as place of meeting for a group of persons. This project is a part of a series of experimentations of habitability of in the public space. It is concebida with the minimal thing, uses the ideas of reduction and synthesis, trying to be located to half a way between what it might be a tent and a housing.
His formal conception is based on a beginning of support that allows an inhabitable space covered by means of two planes folded to form a triangle of traction. The structure consists of triangular and rectangular frames of wood, of size adapted to be manipulated by a person. This allows to arm in 3 hours and to disarm 1 hour the room, without any type of machinery and with a minimum of two operatives. With the idea of reducing weight and size and of promoting the portability, the pieces were realized by the only section of wood of "1×4" in all his parts.
The dimension of the volume decides on the basis of the length that has the serrated standardized wood. There is in use the measure of three meters with the intention of reducing the process quantity in the construction, thus there is diminished the quantity of courts and the loss of material, optimizing the construction in his costs and time of execution.
Work: Fundamental room.
Author: República Portátil
Collaborators/Parners Team: Design,
Lafont Editorial
,
2/3 AR&ED
, Le Petit Jardin.
Area: 18 m2
Location: Plaza Perú, Concepción, Región del Bio-bio, Chile.
Year: 2013
Building company: República Portátil, tugether with students of 
Escuela de Arquitectura de la Universidad del Biobíoa
nd
Universidad de Concepción
.
Construction time: 5 days – Mounting: 3 horas – Dismantling: 1 hour.
Advisers: (students team) Claudia Álvarez, Juan Soto, Francisco Urra, Esteban Perez Mege, Gerardo Neira, Paulina Vargas, Marcos Espinoza
Client: Joselyn Contreras, Sala de Carga.
Phootography:
Gino Zavala Bianchi
+ republicaportatil.cl
Surge enero de 2009 como búsqueda de satisfacer el conocimiento de la actividad arquitectónica y tangentes que se generan. La idea es crear un espacio para divulgar los diversos proyectos en busca de nueva inspiración y de intercambio. Además de ofrecer la inmediatez de las noticias, se puede buscar información a través de distintas clasificaciones.