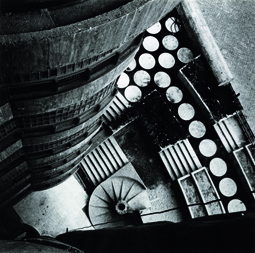 Photography and modern architecture in Spain, 1925-1965, is born of a project of investigation in development and presents, for the first time and of explicit form, an approximation to the paper of the photography in the architectural Spanish modernity. It is established as temporary flexible frame those decades that the historiography of the Spanish architecture indicate like specific of what was named the Modern Movement: from the irruption of the forefronts in the middle of the twenties up to the crisis of the International Style at the end of the sixties.
The sample separates the photographies of his context and purpose – the diffusion of the architecture – to value them in yes same from the optics of the photographic discipline and the contribution of the photographers. Since it happens in the international context, also in Spain there took place an intense flow of work and cooperation between photographers, architects and a half of diffusion that helped to put in value the look of the first ones. Close to more acquaintances and prolific as Català-rock, Kindel, Bulging or Gómez, the exhibition presents the work closely of forty professionals who portrayed the Spanish architecture of the modernity. The interest of the architects for the photography, the portraits of the architects and the publications of architecture are different of the questions that the exhibition introduces to lay the foundations of a reflection to interdiscipline on the paper of the photography and the photographers in this particular subject matter and in his own autonomy to discipline.
This sample places in PHotoEspaña Festival that in this edition will be dedicated entirely to the Spanish photography.
Photography and modern architecture in Spain, 1925-1965
From June 4 to September 7
Museo ICO
C/ Zorrilla, 3
28014 Madrid
Búsqueda para satisfacer el conocimiento de la actividad arquitectónica y tangentes que se generan. La idea es crear un espacio para divulgar los diversos proyectos en busca de nueva inspiración y de intercambio.