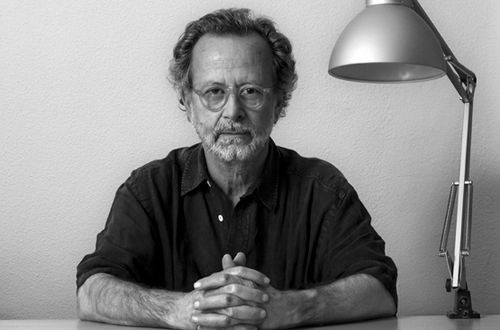 In the last entry of my blog, I was mentioning the MAE + CINE Arquitectura tras la pantalla, celebrated in Matimex, in which there intervened the filmmaker and architect Fernando Colomo. Looking for information about his work, to prepare this encentro, I found several interviews in which he was speaking on the relations between cinema and architecture, which can be fitted in a serie of income that I have named Architects and Filmmakers, initiated in 2011, and in which I have been gathering opinions about these two disciplines of the diverse directors like Woody Allen, Ingmar Bergman, Valerian Borowczyk, René Clair, Luigi Comencini, Dziga Vertov, Jose Luis García Sanchez, John Ford, Amos Gitai, Peter Greenaway, Abbas Kiarostami, John Sayles and Raúl Ruiz, as well as of the actress Viola Dana, and the essayist Sigfried Giedion.
In 2003, Colomo was declaring in El País newspaper in relation with the cinema and the architecture:
«they are two ways different of expressing, but that have common things. For example, the script is like the plane of a house and the accomplishment is like the direction of work».
In an interview in the interesting DTF Magazine of February of this year, who can be read he informs here, manages to say:
En una entrevista en el interesante DTF Magazine de febrero de este año, que se puede leer entera aquí, llega a decir:
«in many moments I sit down more architect than filmmaker»,
and also it specifies:
«I discovered that the architecture guards an important entail with the cinema, guarding many parallelisms, since it can be the structure or the vision of the space. In both there is needed of a technical equipment that it is necessary to arrange»,
concluding that
«the characteristics to be able to manage to be the good director depend on many factors. But might stand out the constant, patient and very hard-working being. I think that a student of current architecture assembles these characteristics, but also to be able to direct to a great group and have the control, and well, apart have talent that is the most important thing».
«Constant, patient and very hard-working», and in addition «to have talent», undoubtedly it is a good formula to confront successfully almost any activity in the life.
Jorge Gorostiza, PhD architect.
Santa Cruz de Tenerife, april 2016
Author of the blog Arquitectura+Cine+Ciudad
Doctor arquitecto, proyecta y construye edificios y desarrolla trabajos de urbanismo. Desde 1990, publica numerosos artículos sobre cine y arquitectura en medios de su localidad, revistas como Nosferatu, Nickleodeon, Academia, Lateral, Cahiers du Cinema… y en varios volúmenes colectivos. Entre el 2000 y el 2005 dirige la Filmoteca Canaria. Imparte conferencias sobre arquitectura y cine en instituciones como el CAAM en Gran Canaria, la UIMP, el CENDEAC en Murcia, INCUNA en Gijón, Fundación Telefónica, la ETS de Arquitectura y el CCCB de Barcelona, las ETS de Arquitectura de La Coruña, Sevilla, Valencia y SEU madrileña, La Ciudad de la Luz en Alicante, la UNED en Pamplona, en varios colegios de arquitectos, así como en las universidades del País Vasco, Gerona, Valladolid, Málaga, Granada, SEK en Segovia y CEES de Madrid. Jurado en varios festivales cinematográficos, como los de Alcalá de Henares (2001), San Sebastián (2002), Sitges (2003), Las Palmas (2005) y Documentamadrid (2005), y comisario de las exposiciones Constructores de quimeras. (Centro Conde Duque, Madrid, 1999) y La arquitectura de los sueños (Capilla del Oidor, Alcalá de Henares, 2001).
He publicado bastantes libros y muchos artículos, he impartido conferencias, he sido comisario de exposiciones y jurado en muchísmos festivales. Si quieren saber más no duden en consultar mi blog ARQUITECTURA + CINE + CIUDAD.