"A society grows and progresses when the elders plant trees knowing that they will never sit in its shade".

Freespace Manifiest
On May 25, the XVI Venice Architecture Biennale was inaugurated and will remain open until November 25 with the Irish commissioners Yvonne Farrell and Shelley McNamara as the most responsible and that takes place in the venues of Giardini and Arsenale, as well as in other places of Venice. The Biennial Architettura 2018 is entitled FREESPACE, a word that describes a generosity of spirit and a sense of humanity at the center of the architecture agenda.
With the theme of FREESPACE, the Biennale Architettura 2018 presents for public scrutiny examples, proposals, elements – built or unbuilt – of work that exemplifies essential qualities of architecture which include the modulation, richness and materiality of surface; the orchestration and sequencing of movement, revealing  the embodied power and beauty of architecture.
Within the different pavilions we find the Dutch proposal, Work, Body, Leisure, designed by Galician architect and researcher Marina Otero Verzier (A Coruña, 1981) and curated by Het Nieuwe Instituut, the pavilion raises how changes in values and working conditions affect the spatial configuration and living conditions and its center is Rotterdam. In the maelstrom of this event, we had the opportunity to chat with Marina about different topics.
Dentro de los distintos pabellones nos encontramos con la propuesta holandesa, Work, Body, Leisure, diseñado por la arquitecta e investigadora gallega Marina Otero Verzier (A Coruña, 1981) y comisariado por Het Nieuwe Instituut, el pabellón plantea cómo los cambios en los valores y condiciones laborales afectan a la configuración espacial y las condiciones de vida y tiene como centro Rotterdam. Dentro la vorágine que tienen esto eventos, hemos tenido la oportunidad de charlar con Marina de diversos temas.
Without further ado, preambles we leave you with an interview.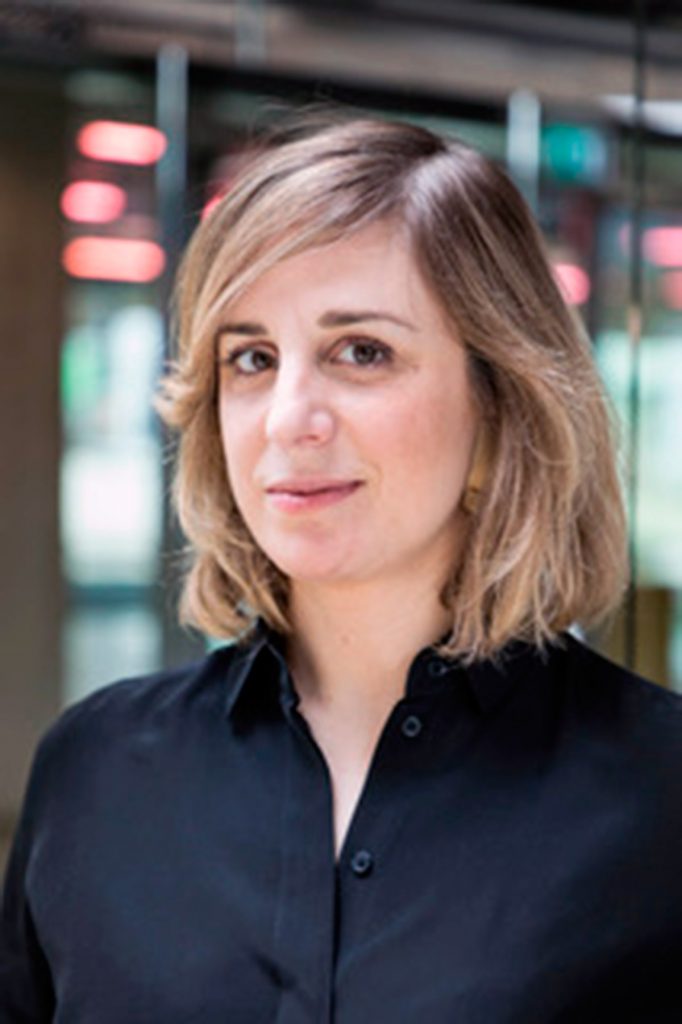 How would Marina Otero be defined from an architectural point of view?
I define myself as an architect. There were times when I added "curator", or "researcher". But I realized that it was not necessary and, further, that it was important to claim the figure of the architect as someone who works in very diverse scales and means, not only in the one in the building. I started studying architecture in 1999 at ETSAM, then at TU Delft, later at Columbia University.
In 2008 I finished my doctorate in Madrid. In total I have been studying architecture for almost 20 years and working in studios, on the construction site, in the university, in museums and research centers. I consider that I think and work as an architect in the design and construction of a building, an exhibition, a pavilion, a book or a text. It is a way of understanding and intervening in the world, in its processes and systems.
She has worked as an architect, researcher and curator in different continents and institutions, what experience, to date, has been the one that I have most marked and why?
I live and work in Holland, but before I lived in Spain, in the United States, I worked in Norway and now also in the United Kingdom. I have learned from each of these places, and from the people I have met in them. They have transformed me. Although, perhaps, the experience that has marked me the most is the stay in New York. I moved to the city in 2011 to study the Master in Critical, Curatorial and Conceptual Practices in Architecture (CCCP) at GSAPP, Columbia University.
At that time, he was studying a doctorate in ETSAM and working in Ensamble Studio, directing the construction of the Reader's House in Madrid. But I was looking for an academic forum where I could confront other ways of understanding architecture and where I could deepen my critical and political thinking, something that I missed in my training in Spain. I was very lucky, because in 2011 I got a Fulbright Scholar, and I went to New York.
There, the lectures and lectures of Felicity Scott, Mabel Wilson, Mark Wigley and Beatriz Colomina, among others, would definitively mark what my future work would be. So did the energy of New York and its inhabitants. It is a hard and expensive city that exhausts and expels many. For those of us who are not billionaires, every day is a heroic exercise. But it can also be wonderful. It forces you to position yourself, improve yourself, impress you with enthusiasm, security, courage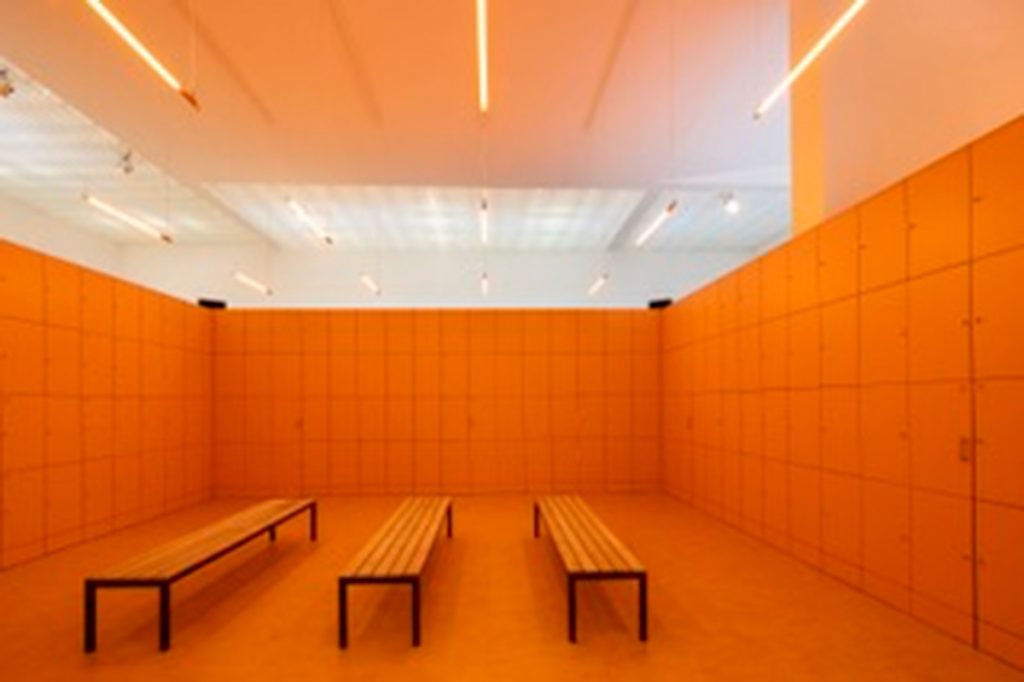 What differences (from the architectural point of view) have you noticed in each of the different countries and institutions in which you have been?
The main difference, I believe, lies in the opportunities that have opened for me and those that I have enjoyed in other countries, and that are unimaginable in Spain. In New York, if in an institution they think you have a good project, a good idea, they bet on you, regardless of your origin, age or gender, or at least that is what I have experienced.
Unfortunately, I am aware that not everyone has the same luck, and that I am a privileged person. For example, my Master thesis analyzed new paradigms in cultural institutions. Upon completion, Columbia University hired me to direct one of them: Studio-X, a global network of research centers on the future of cities with locations in Amman, Beijing, Istanbul, Johannesburg, Mumbai, New York, Rio de Janeiro and Tokyo, and attached to the University of Columbia.
Do you imagine?
I went from student to director of a global cultural institution in less than a month. Also, in the time I was there, it was possible to send an e-mail to the dean of a university, to the director of a museum, or to an intellectual of the first line and that they would answer you the next day, and you would surely have the chance to meet you with them. I can not say the same about my experience in Spain.
Does architecture face the same problems as in Spain?
Each context presents particular and specific challenges. Although there are also many relevant issues that transcend the territorial edges. This is the case of issues related to migration, with security, with access to housing, with climate change, as well as the need to fight for a non-racist, non-discriminatory and non-exploitative world.
Regarding the discipline of architecture, it is clear that we are facing the global and necessary transformation of the figure of the architect. The world around us is changing rapidly, and architecture is one of the lenses through which we read and participate in it. So, the question is, how are we going to evolve and respond creatively to change?
What are the new forms of knowledge, practice and responsibilities that these challenges demand?
Architects participate in the design of buildings, cities, territories, in the development of policies, in legal, economic and social procedures. Cultural institutions, including universities and museums, are major players in these processes and transformations, and have the responsibility to provide new insights into the challenges facing architectural practice, generating alternative ways of addressing urgent problems and aspirations of society.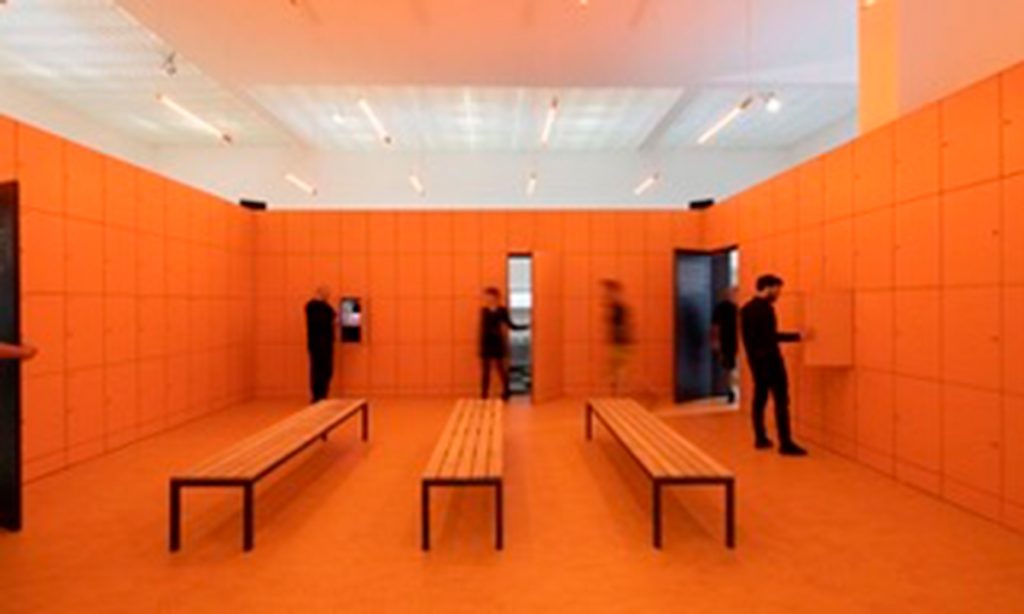 How and why did the exhibition Work, Body, Leisure for the Dutch Pavilion at the 16th International Architecture Exhibition- La Biennale di Venezia?
It arises in response to the optimistic, though apparently apolitical, vision Freespace proposes. The Netherlands Pavilion entitled WORK, BODY, LEISURE, aims to provide a social, economic and politically committed vision of the concept of 'freespace',' and to do so, proposes to revisit the work of the artist Constant Nieuwenhuys.
In his project New Babylon (1956–1974) – an architectural paradigm of free space and leisure enabled by the automation of work – society devotes its energy to creativity and play, and each subject designs their own environment. The inhabitants of New Babylon, freed from the obligation to be useful, enjoy complete disposition of their time. In New Babylon does not apply the concept of "free time"; all the time is, in fact, game.
And yet, as Constant's work evolves, his optimistic view of the possibilities and pleasures of automated work gradually gives way to a more conflictive perspective. Violence would not be eradicated by the new technological order. In New Babylon, its inhabitants move without restrictions. There are no windows, rooms, furniture or hallways; and perhaps most importantly, there are no doors. This is, however, an architecture at the service of a hegemonic order, based on the exploitation and invisibility of its workforce and the technology that would make it possible: in bodies conceived as robots. Freedom, in many cases, is built at the expense of control and exploitation of "the other."
Constant's proposal for an alternative architecture and society in which human work becomes superfluous – as the historian and theorist of architecture Mark Wigley points out – was able to visualize an imminent post-labor world. After more than thirty years, the architecture of full automation is being implemented in the Dutch agricultural production centers, and in places such as the new APM container terminal in the Rotterdam Maasvlakte II port.
WORK, BODY, LEISURE, therefore, addresses spatial configurations, living conditions and notions about the human body caused by disruptive changes in work ethics and conditions. With this project, we aspire to foster new forms of creativity and responsibility in the field of architecture in response to emerging automation technologies.
What will the public find? How should you deal with the exhibition?
Upon entering you will find a completely orange reticle, which covers the entire pavilion. It is a room formed by lockers walls. Sometimes we are not aware of it, but when we look, we realize that the box office is the architecture that best represents the relationships between work and leisure. Populating factories, storage facilities, coworking spaces and changing rooms, the ticket office facilitates the temporary reinvention not only of the space, but also of the bodies that inhabit it. It is an interface between the self that works and the one that does not work, if there is still any distinction between the two.
This geometrical, abstract, orange space is also a reference to Dutch territory, to its flat horizon, and its precise division of land designed for maximum efficiency. For centuries, its physical landscape has been meticulously molded and designed by initiatives that integrated the work of humans and machines. The emphasis on work and discipline over leisure is manifested in the landscape, in society and also in architecture, from the scale of the territory to that of the bed.
There are those who enter the pavilion and think that that is all. But in a second glance, a different order is glimpsed, some codes, and some handles, that allow to break the abstraction of the grid and open to different architectures, to individualized and closed worlds where identities and belongings are administered. Some are files with documents, models, objects, others are windows and there are also doors. All of them lead to test fields, spaces in which the future of work has been and continues to be reinvented. The ticket offices trace a route through a series of architectures in the Netherlands and beyond in which the bodies are categorized and transformed: offices, playgrounds, farms, factories and virtual spaces, windows, beds and doors. Scenarios that seem familiar, although rarely accessible or apparently banal, but nevertheless are at the epicenter of work transformation:
#BED
Bed-In, byBeatriz Colomina.
#DOOR
The Door(s) of No Return: technologies of certain bodies, by Amal Alhaag.
#FACTORY
Songs for Hard Working People, by Noam Toran with Florentijn Boddendijk and Remco de Jong.
#FARM
Renderlands: Installation, by Liam Young.
#PORT
The Port and the Fall of Icarus, by Hamed Khosravi, Taneha Kuzniecow Bacchin and Filippo LaFleur.
#OFFICE
Automated Landscapes, by Marten Kuijpers and Victor Muñoz Sanz.
#PATENT
The Institute of Patent Infringement, by Jane Chew and Matthew Stewart.
#PLAYGROUND
Constant's New Babylon, revisited by Mark Wigley.
#SIMULATION
Safety Measures (Safety Measures), by Simone C. Niquille.
#WAITING ROOM
Shore Leaves, by Giuditta Vendrame, Paolo Patelli and Giulio Squillacciotti.
#WINDOW
Architecture of sex work, in collaboration with the Amsterdam Museum and the Foundation for Responsible Robotics.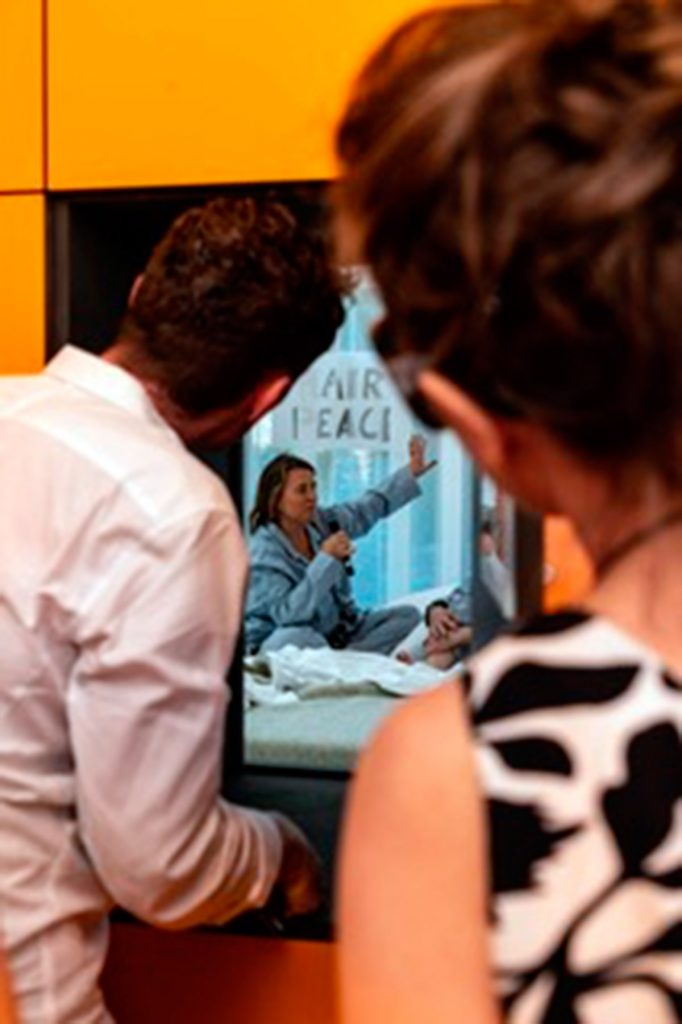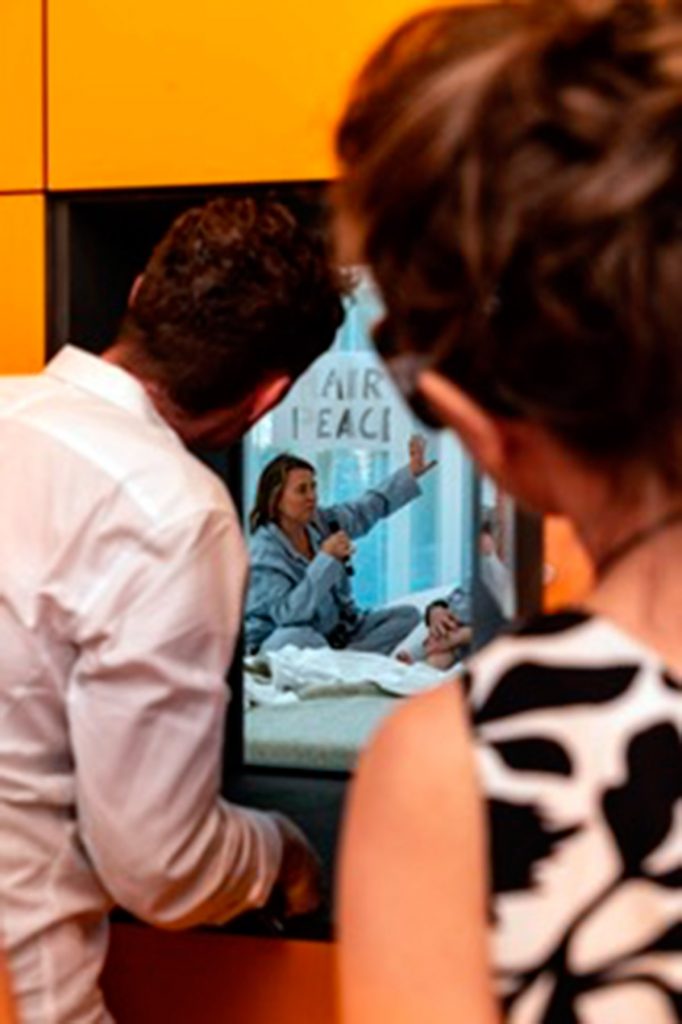 Are we focused on the machines replacing us?
Not necessarily. That there is some available technology does not mean that we have to implement it in the cities, or that it is beneficial to build a better world.
The project that we present at the Venice Biennale is, in fact, a call to action. Despite the transformation that is under way, both in the built environment and in the bodies that inhabit it, and as a consequence of the automation processes, it is an area of research and innovation that still lacks a critical spatial perspective. Our goal is to open a discussion about this imminent future and the technological regimes that make it possible and, ultimately, to explore our agency and capacity to accept or challenge it.
What impressions have you obtained from the public after your tour of the exhibition?
We received very enthusiastic and positive impressions from the visitors. Probably the best answer is to see how in a context like the Biennial, where the attention span is so limited, people spend a lot of time inside the pavilion, get excited and interested in its multiple layers and interact with others. People of all ages and backgrounds thank us when leaving the pavilion, for having learned and having a good time.
What more could you want?
It is also fun to see how to enter a few moments before the visitors are aware of the place where they are and their logic. See the faces of surprise when they begin to understand the space game. My sister, for example, told me that if we had gone there to leave our things in the lockers and then go to the pavilion.
"This is the pavilion," I replied.
We laughed a lot. I thought it was the best compliment.
I was also touched by other responses. It is an honor and a great responsibility to be the curator of the Dutch Pavilion at the Venice Architecture Biennale, especially because despite working and living in the Netherlands, I was not born here. I was born in Spain. In this context, the opportunity to represent the country in what is probably the most important international event in the field of architecture has a special relevance and a cultural and political significance. This situation did not go unnoticed. I will not hide that we had to face some initial concerns and criticisms.
Therefore, we are particularly happy to see the responses of visitors, professionals, and both Dutch and international media. Hearing how the work presented by this group of people that included Dutch citizens, citizens who came to the Netherlands as political refugees, migrant workers and professionals from other countries, made many feel proud. And how, at this moment in which we are witnessing an increase in xenophobia in places like the USA? UU And Europe, the project can contribute to reclaim the importance of building welcoming and diverse spaces.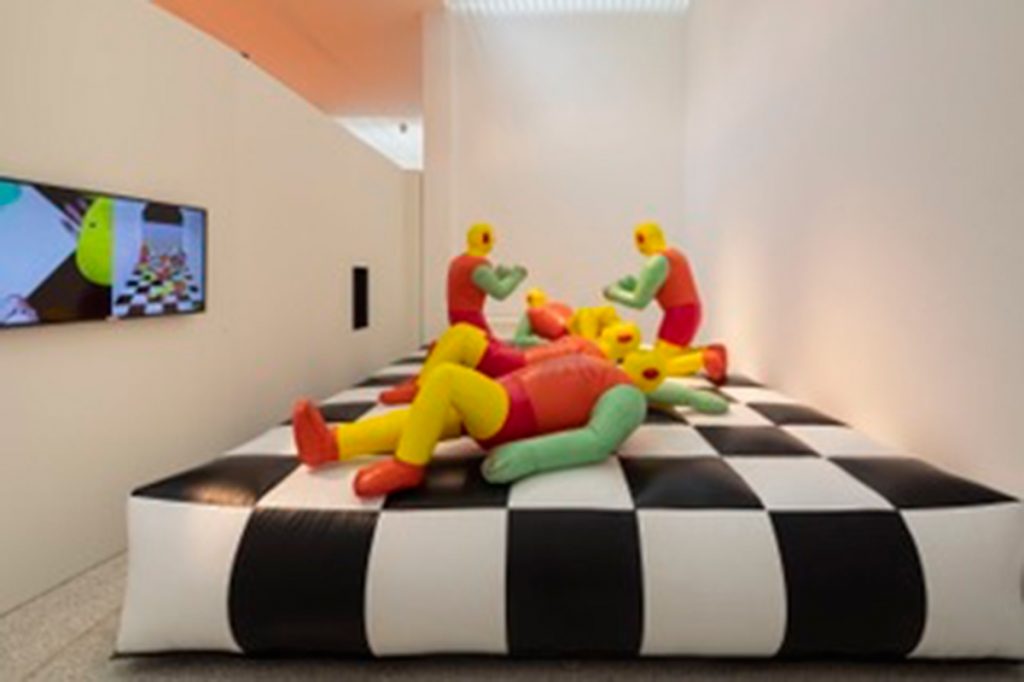 In addition to the pavilion that coordinates, which has been the most interested?
The Spanish pavilion, commissioned by Atxu Amann, launched a necessary message: the importance of giving the new generations of architects a new lease of life and, above all, of their concerns, of the topics they consider relevant and which are often ignored by the generations that precede them. It is a feminist pavilion and advocates putting political consciousness at the center of architecture. It must be celebrated.
I found those pavilions that treated the Freespace idea, the general theme of the biennial, in a responsible and conscious way with contemporary and future challenges particularly interesting. This is the case of Belgium, Chile, the United States, Israel, or Bahrain. The manifesto of the general commissioners had a certain apolitical character and, at the moment, to speak of "freespace" without talking about how architecture participates in processes of national demarcation, construction of borders, borders, construction of difference, or exploitation systems. a lack of responsibility.
In our case, from the beginning of the project we have tried to question the methodological nationalism associated with the idea of a closed pavilion, something that we consider especially important at this moment in which we are witnessing an increase in ultranationalist movements. For this reason, we have imagined strategies through which to build forms of solidarity and representation beyond national demarcations. One of those initiatives was a nice collaboration with the Pavilions of Belgium and Spain, through which we tried to imagine what the Giardini would be if it were not a competition space between countries, but collaboration and dialogue. We hope it will be repeated and expanded in future editions.
Given your experience, do you think that biennials have a future? What improvements should be made?
Yes. Biennials represent an incomplete and, at times, unsuccessful attempt to reposition the role of architecture in the contemporary city. But, in any case, it is an interesting model, a stimulus for the transformation of cultural institutions, of cities through collective experiments that lead to lasting changes.
My PhD thesis deals with the architecture of temporary and itinerant cultural institutions and their political consequences. Biennials belong to this type of institutional model. In 2016, there were 210 biennials around the world. The number is growing and, with it, the architectural exhibition apparatus. These events, for the most part, are no longer programmed to satisfy the cultural experience, but are seen as catalysts of economic, social and political change. Your legacy is as important as your program.
Biennials have positioned themselves as the engine of long-term research projects on social issues, as places for experimentation, spaces for citizen participation and test fields for emerging models of political agency. This role arises largely as a consequence of the global financial crisis, the global economic recession, and the anti-government protests that peaked in 2011. In previous decades, the transformative effect of the construction and creation of museums was believed, and in the relevance of this type of architectural interventions in the urban space, producing financial and cultural growth, attracting international visitors and capital. It is what was called 'Bilbao Effect'.
The years of budget cuts, and the difficulties of assuming long-term commitments have opened possibilities for new models adapted to current challenges. Biennials reflect this attempt by institutions to respond to cultural democratization imaginaries, positioning themselves as social and political agents. These events have the ability to visualize and instigate alternative forms of coexistence, becoming a model for the future of the city. However, the potential of this model to challenge conventional social and political structures has not yet been fully explored. And without a critical angle or imaginative responses, the ongoing proliferation of the biennial model runs the risk of depletion.
The case of Venice is a little different. It is the most important and oldest of the architecture biennials. His model, although seemingly successful, is still based on national representation, and the urban model he proposes is undoubtedly unsustainable. It depends on large capital contributions from sponsors, as well as the brutal exploitation and museization of the city.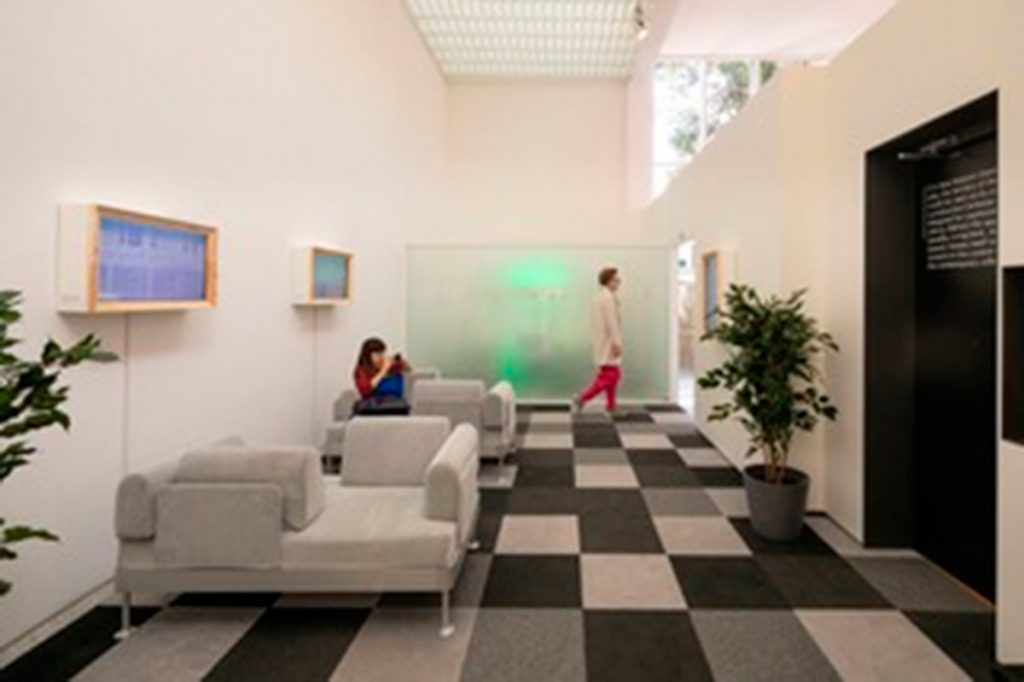 In your opinion, and based on your experience, how does society receive the sample exhibited in this biennial?
I think it has been received with very polarized positions. In general, there is a certain consensus that the general exhibition does not hold up as a curatorial project, and only as a collection of architectural representations, some more interesting than others. But there is no clear message, nor position on the relevance or the role of architecture in contemporary society.
There is also debate about the role of national pavilions. Some people celebrate the awarded projects (Switzerland and the United Kingdom) for their conceptual and spatial simplicity. Many also indicate that these are spectacular but superficial projects that do not contribute knowledge to the discipline or society.
For the team of the Dutch pavilion, it was essential to invest the taxpayers' money in a project that had social relevance and whose legacy would expand beyond the walls of the biennial. That is, in fact, one of the long-term goals of this project: to promote cultural conversations, as well as architectural and urban projects that could lead to particular political and institutional changes. That is why we have tried to involve as many agents as possible. The project is a collaborative effort of an international network of institutions, architects, artists, designers, historians, musicians and theorists selected by the curatorial team and through a series of open calls. They belong to different generations, geographies, origin, and fields of work, but all of them share an interest in designing and reflecting on the processes and effects of robotization and the future of work.
The research presented in Venice will have many subsequent lives, both in Het Nieuwe Instituut and beyond, in initiatives that are now taking shape in universities like TU Delft, in conversations with the State Architect, and in collaborations with other public and private institutions. We have published a book, composed a soundtrack in honor of the workers, we organize public events and interventions in cities such as Amsterdam, London, Rotterdam and Venice. The project has been embraced by various sectors of the profession and society in general, and will have multiple independent trajectories.
What future projects await you?
There is so much to do. In the research department of Het Nieuwe Instituut we work to give visibility to research projects, practices and initiatives, whose success depends not on the number of academic appointments, their adherence to official formats or their profitability, but on their capacity to offer alternative spaces for thought, be the engine of collective forms of knowledge and life different. In the department we connect research projects with the collection of the Dutch State Architecture Archive, with the aim of recognizing the gaps (both thematic and methodological) in official historiography (such as feminisms in architecture, queer perspectives, collective spatial practices) and radicals, as well as the architectural legacy of the old Dutch colonial territories) and with it, to rethink the acquisition policies and the notions of 'national architecture.'
Other projects we are working on are "Architectures of Security", a critical investigation on urban security and the consequences of the increasing militarization of public space; "Architecture of Appropriation", which looks at squatting as a relevant spatial and architectural practice, with the aim of reexamining the notions of property, and opening the possibility to urban and domestic models whose logic is not based on the dominant housing policies, oriented to the benefit of the market. We have also just launched a call for research scholarships on the theme 'Burn-Out'. With this, we want to address, on the one hand, the growing number of organisms that, under constant pressure and in the face of increasing demands for productivity and improvement, reach exhaustion. They are burning. We want to talk about how this disease is just one of the symptoms of the presence of exploitation structures on scales that go from the individual to the social, institutional and biological ecologies. We are interested in projects that aim to reshape existing structures as spaces for the public and private good and propose forms of participation and collaborative strategies that do not depend on economies and exploitative, extractive and discriminatory technologies.
Independently, and together with the photographer and filmmaker Guillem Valle, he developed a project on the debate around the historical memory in Spain and the presence of Francoist monuments. It is important to talk about the changing relationship between a society and its memories through the recoding of its monuments. And how the negotiation of a common memory implies, in addition to the design of architectures that represent it, the construction of a new symbolic, cultural, political and legal armor on which to sustain them.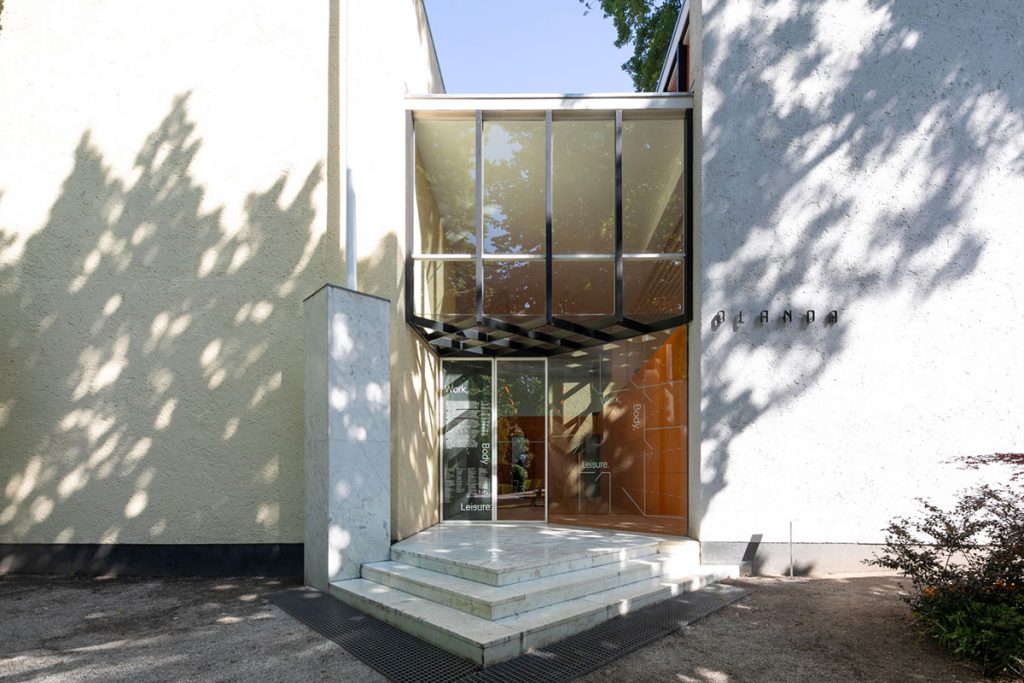 Thanks Marina for her time and predisposition with this space.