-Gentlemen: the economy of our country looms ruin, is already an old phenomenon in front of which only remains us look for him a solution and leave already to regret it. I go to be brief and go to say you, so quickly as it can, the measure, the only measure, for what create have to request of the public power his fast implantation: Spain is a country, fellow mine, in which, without demora any, has to go  to the fast exterminio of the goat. I think that it is necessary that all the goats die so that we can follow living.

Camilo José Cela
"Ah, the goats!"
The Galician and his group
I carry a few years looking for numbers of the Nueva Forma magazine, and have to recognise embarrassed that after so much time finish to achieve my sixth copy. So only six. On a total of ciento eleven can not say that the mine was a desbocada career to the success. (By the way, I take advantage of to say you, kind readers, that if you have by here some number of the magazine admit donations, or even sales to reasonable prices. Thank you very much).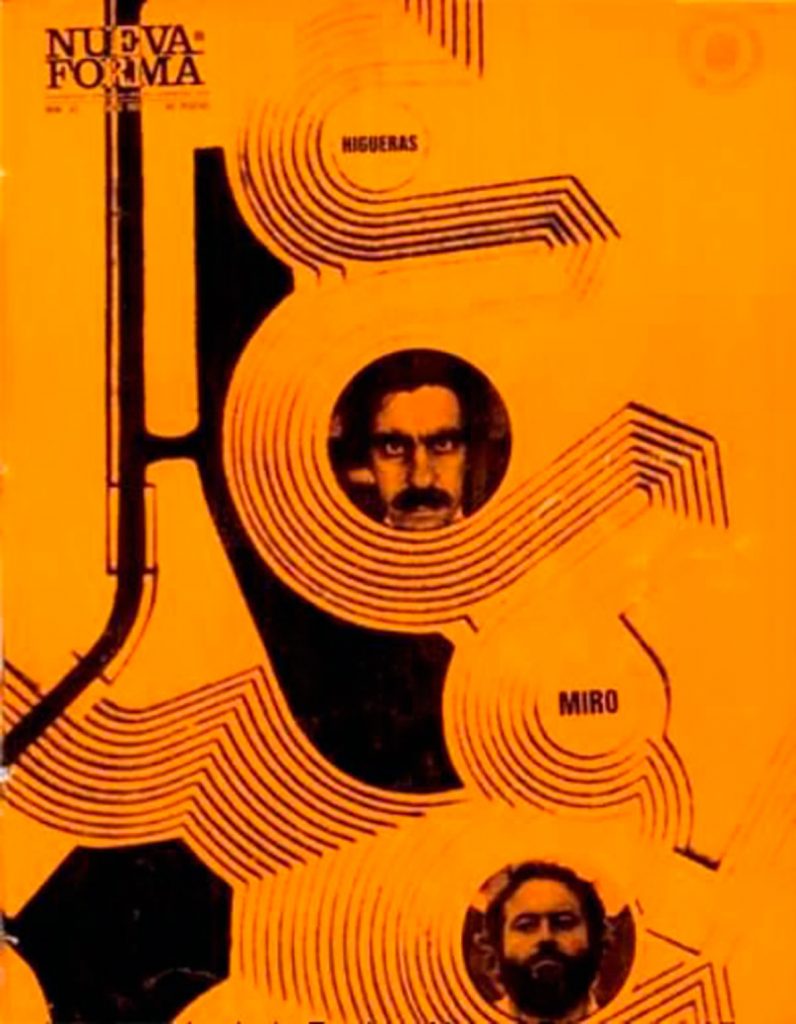 The number that finish to achieve is the 65 (June 1971), devoted to Higueras and to Miró. Also it is devoted, lateral and subrepticiamente, to Camilo José Cela. Juan Daniel Fullaondo (director of the magazine) had the healthy habit to prepare the images of architecture and of other arts with literary appointments that apparently did not have at all that see with the works showed. In this number are of Cela, and, specifically the one who have copied at the beginning is in the page 37, beside the "crown of spines", that appears (in June of 1971) like National Centre of the Arts and of the Culture, to the beginning of his azarosa existence.
Cela's quotes like that, like spins, give a lot of laughter.
What does that appointment have to do with that building?
Directly nothing, but indirectly everything. That appointment, in some way, has to do with all of us.
There is always someone willing to tell us that our salvation goes through the extermination of some kind of goat, and it seems good to us. Anything is good for us, provided it is for our salvation. Until we realize that the goats are us.
The "crown of thorns" is a crazy goat conceived by two goats (Higueras and Miró). The text of Cela next to the photo of the building leads us to think that all the evils of humanity are caused and origin this kind of nonsense, designed by this kind of crazy people.
People who want to "do something" are very upset. It does not stay quiet. And let's not say if, on that desire to do something, it does. With how easy it would be for all of us to be tame, sensible, educated, circumspect, like emasculated sheep, instead of wayward as crazy goats. The goats,
Ah, the goats!
Monkey bugs, incívicos and nothing practical.
For almost all my life I have felt like a goat in some way, somehow, more or less. And I have seen how the power, the system, the state, clamored for the extermination of people like me so that the rest of society could live.
Correct: Nobody promulgated the extermination of people like me, but the extermination of what I (and all) have goat. That is, the mutilation of the goat parts in all of us.
Specifically, as far as my profession of architect is concerned, since I began to exercise it (1985) I have experienced many changes, all aimed at suppressing certain caprinities of ours, and of which we spoke of privileges, bargains, exclusives, mamandurrias, abuses, etc. So, little by little, it has come to the general idea that working with freedom in what one has been formed for, and charging a fair fee for it, is something beyond all reasonableness; something typical of goats.
Today those who finish the career of architects consider it fortunate to work as unpaid scholars, and similar things.
Reread now the text of Cela and try to put it in the mouth of the Minister of Econony and Competitiveness. Does not it sound? And in the mouth of the Minister of Finance, and the President of the Government, and the dean of your university, and of any college of architects, or doctors, or lawyers, and the mayor of your city, and the president of any bank . It's less funny.
But I do not want to continue referring to the problems of the architects, who, in spite of everything, seen from outside, still seem privileged problems. And there is nothing uglier than seeing a millionaire crying because his caviar is slightly past. I'm afraid that everything we say about it will be taken that way. So I leave it there.
The extermination of the goat refers to each one of us, and each one can read it in the key that he wants.
"It is necessary that all goats die so that we can continue to live".
And who are those "us"? Well, I would say that they must be the bastards.
I am going to see a friend of mine who works in a magnificent office building, and I am stunned when he tells me that only the first floor remains occupied. And they will leave soon from there.
To friends and family (what can I tell you) they are being thrown out or their working conditions are precarious in such a brazen way that it can only presage more unemployment or more slavery. (Rights? Decent wages? Advantages? Welfare?).
The goats are in the last.
In exchange for this, we see more and more lambs.
Apart from the economic drama in which we live, ("Gentlemen: the economy of our country threatens ruin"), I am still more amazed by the socio-cultural drama. In the midst of this marasmus, the town celebrates the big brothers, the tuesíquevales, the tíratedesde the swimsuit and the nativity scenes. They all drool with pleasure seeing these things after returning from a job in which they have been told that they will not be paid overtime, and, to top it off, applaud with an architect di-no-no (but what is says di-vi-no) that says that vase on the set is a ho-rrrrrrrrr, and they also look pleased on TV (that weapon of mass destruction, that matacabra that we all have at home) a tremendous mansions, obscene cars and unpresentable characters that boast monetary wealth and mental aridity.
What happened to us? We were not goats?
It seems that they have already exterminated us. We do not even throw to the mountain anymore. In this morass, the crown of thorns of Higueras and Miró, and their colossal failure, their great failure of goat, once again take on meaning.
Live the goats.
Although there are few left. Let's hope there is a minimum of coal, a small cutting, a testimony. We hope to still give a little bit of war, even if only by protesting. Let's put the bastards as hard as possible.
José Ramón Hernández Correa
PhD Architect and author of Arquitectamos locos?
Toledo · may 2013
Nací en 1960. Arquitecto por la ETSAM, 1985. Doctor Arquitecto por la Universidad Politécnica, 1992. Soy, en el buen sentido de la palabra, bueno. Ahora estoy algo cansado, pero sigo atento y curioso.