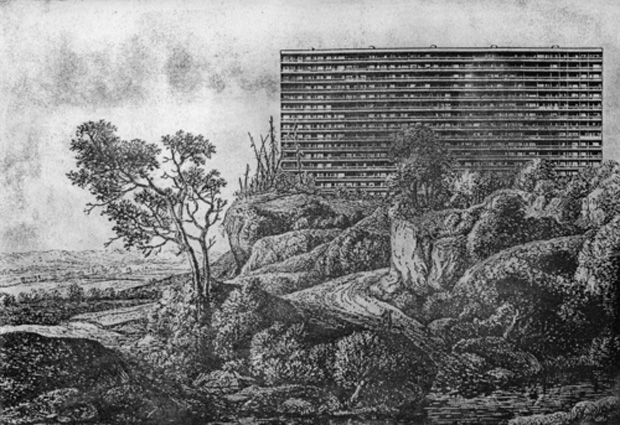 Entre vandalisme et esthétique minimale, romantisme et Land Art.

Cyprien Gaillard représente l'architecture contemporaine comme une ruine moderne sur le point d'être envahie par la nature, tel que le faisait le peintre ruiniste Hubert Robert avec le Louvre au XVIIIème siècle. Text route
Gaillard plays with the vision of the architecture, seemingly consumed by the nature, so that this one that in his look brings it over to the fragility of the ruin.
In his video "The Smithsons" (name in honoring to Robert Smithson) we can see big blocks of concrete, designed with a positivist point of view and of imposition on the nature, arise of between the trees, almost seeming that they are going to be devoured by these.
In his engravings, as that it illustrates the post, it happens slightly similar, alone that this time the artist shows us bucolic landscapes, own of the 18th century, where the ruins of that moment (castles, monasteries, strengths) have been replaced with own buildings of the Modern Movement.
It can sound to topic, but Gaillard's work I am overawed very much the first time that I saw her. It seemed to present these things that me were passing for my head. On the permanence, the modification or the reversibilidad of the architecture.
Must building be done to last? Here it begins a classic problem. To say Yes can give to thinking that we are subjects of Ego, believers of whom our work is immutable. To say Not, that we think about an architecture associated with the consumption, of perishable materials, wittingly that not can re-use or recycle in an efficient way all.
But more other questions worry me. Before eliminating a building can it have another use?; if the use to which this one destined had to change or we realize that we have been wrong on having thought certain solution how it is necessary to to be a building to be capable of absorbing the changes that happen during his period of do they exist?; and if I have in accounts these things what do we do with those who did not think it about his projects? To explain better, I will put Miquel Adriá's appointment "Let's think in how to regenerate the territories damaged by the intensive growth, how to recycle you upset it constructed and already obsolete, how to reinvent the relations between the global thing and the local identities, how to recreate compatible atmospheres between the physical thing and the digital thing."
Not, probably this Ethel Baraona's article and the debate generated in his comments could give place to ideas.
Pedro Hernández · architect
ciudad de méxico. march 2014
Note:
Adriá's appointment the encontre in the same Ethel Baraona's article.
Soy arquitecto por la Universidad de Alicante, pero mi interés sobre esta disciplina se encuentra alejado de su papel tradicional de diseño de espacios. Más bien, me interesa entender cómo las representaciones de la arquitectura, el paisaje, el diseño o el territorio construyen y materializan determinados discursos ideológicos, imponiendo posturas, subjetividades y formas de acción sobre los cuerpos que la habitan.
En mi trabajo edito estos discursos –sus imágenes, sus historias o sus restos materiales– y reelaboro comentarios críticos que ponen en evidencia sus controversias y contradicciones, formalizándolos en diversos formatos como textos, fotografías, vídeos, objetos o instalaciones, muchas veces entrecruzados entre sí.
He publicado artículos y ensayos en diversos medios de Estados Unidos, Italia, Croacia, España, Chile y México. Desde enero de 2013-2018 residí en la Ciudad de México donde trabajaba como coordinador de contenidos en Arquine. Actualmente resido en Madrid.