The current conjuncture of putting in fabric of judgment many of the widespread practices and even of our daily habits they lead us, in the field of the physical definition of the habitat, to investigating in the employment of alternative technologies of construction, in the search of effective solutions and really respectuosas with the way and with the persons.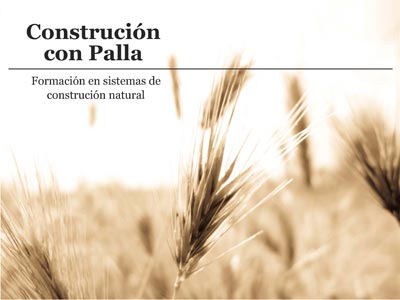 This workshop of construction with straw constitutes the first one of a series of specific courses that we try to activate in successive seasons from Social Habitat (www.habitatsocial.coop), and that will be orientated to the recovery and diffusion of natural traditional technologies (mud, vegetable covers, etc.). It is a question of systems experienced with a broad path (not always place) that in the last decades were displaced by other manufacturers, but that still in force, they suppose an option of future a sustainable building was doing.
The aim of the obradoiro is to acquire a wide domain of the system of construction with straw that it allows to face so much question it of design (criteria, potentials, legal aspects, etc.) as of execution (processes, singular elements, etc.). Directed professionals of the sector of the construction (technical personnel, students, workers), it is opened for the public in general, since previous experience is not needed. Though eminently practical, the formation is completed by theoretical classes and with didactic material that will be provided before to the participants.
Since the 19 to 23 September of the 2012
House O Rial, Celas de Peiro, City council of Culleredo, A Coruña
Price: 180 euros
Organises: Hábitat Social, Sociedade Cooperativa Galega
[mappress mapid="67″]
+ info
Búsqueda para satisfacer el conocimiento de la actividad arquitectónica y tangentes que se generan. La idea es crear un espacio para divulgar los diversos proyectos en busca de nueva inspiración y de intercambio.