In the S. The XVIIIth the neoclassic architect utopista Ledoux designed an ideal city for a new ideal company. One of the buildings of this wonderful city was the Oikema: a "house of the pleasure". It is not exactly what you are thinking; it is worse. To the citizen (male) of the new company it was necessary to give sexual education, and not only theoretical, but, especially, practice. Therefore, there were necessary a few "scientific" establishments that were showing all the perversions to the civil young person, and later they were indicating the straight way to him and were giving to him the suitable and ideal service.
(Curiously, for the civil young women it was not foreseen not similar at all. I suppose that the young person would learn in these establishments and already it would be taught later to his girlfriend since it could, when she was his wife. I say). To this building it gave to him form of … yes. It is true. You can believe it.
To this building it gave to him form of … yes. It is true. You can believe it.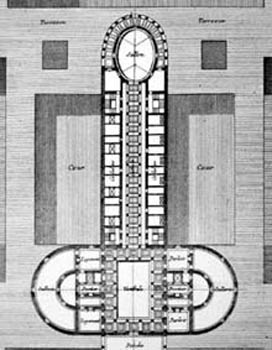 His social ideas might be revolutionary. His architecture nothing at all. Corridor, room, room, room… We go, it of always. With an elliptical unnecessary room to do of glans penis and two semicircular galleries, also completely free, for the testicles.
The soul falls to the feet. What so awkward thing, but, especially, so stupid.
But this another plant already is a porn: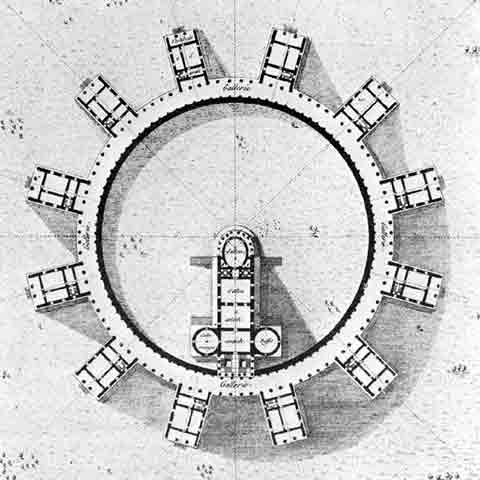 And it makes me doubt the sexual formation of the own Ledoux. Son: where have you got? (Or, better asked: up to where?).
I do not continue thereabouts. It is that it is necessary to be a brute.
Only I add that the Ledoux's awkward one at least could solve architectonically his building. Because what it raises in plant cannot solve it in gathering.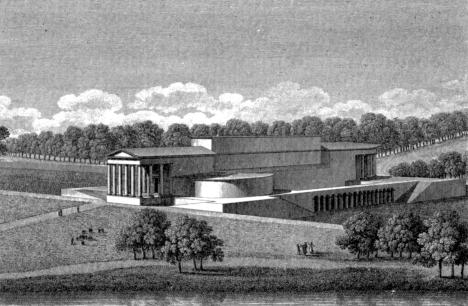 The plants are not seen. Nobody can estimate the plant of a building. An alone building is seen as a succession of perspectives. The plant is an abstraction that a trained well mind can reconstruct a posteriori (especially if they facilitate the planes to him).
Why does similar Ledoux propose foolishness, if then the ride until the end, if then only they are colonnades and frontons that nobody can understand?
Curiously, this "Utopian" and "ideal" architecture was given in fullly "century of the lights", in full rationalism.
Today we have prospered. Today we have liberated ourselves of the classicism and we might do a penis 3D up to with this so graceful venilla. Today we are much better.
I believe firmly in the architecture. I think that the architecture has his own language, his own tools, his own strategies, and that it is not nice to give him to a building the form of an alone eye because it has a visual function (a cinema, for example).
It remains very nice, yes, with his opened eyelid
and with his closed eyelid.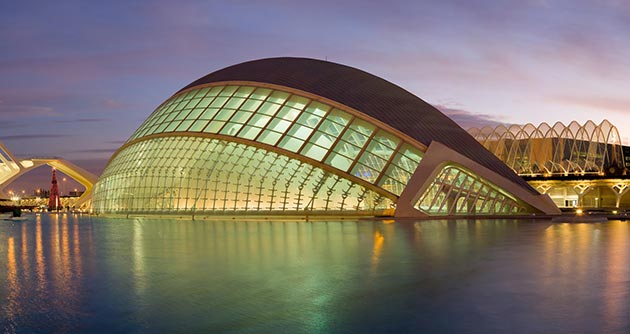 But apart from the tremendous expense that supposes doing these eyelids that are opened and are closed, why does it serve all that? Why do they serve these enormous residual spaces that stay between the eyelids and the central ball in the one that is the cinema in strict sense?

What a squandering! What a uselessness! Tantísimos square meters for nothing.
But, it yes, the building is highly symbolic.
– Maria Soledad, which of all the will these ones be the cinema?
– So this, which has form of eye.
– It walks, is true. But it hopes, that I am wetting myself. I go first to that of Ledoux.
– That not, Jesus Manuel, who is not for it!
– And where will the ladies' bathroom be?
The architecture does not have any need to symbolize anything. It should not be a metalanguage of yes same. It does not work, does not serve for anything and works out the most expensive.
In addition, driven by the own simbología, the architect meets obliged to arrange useless spaces, or to giving them a form that is not the one that more is convenient for them. A conservatoire with form of piano? A hospital with patient's form? A parliament with form of manger?
Not, radically not.
I want to listen to a concert in an audience with good acoustic and with comfortable armchairs, not in one that looks like a saxophone and that sacrifices everything else (acoustics, comfort, tours, budget) to the form of the saxophone (that, certainly, is suitable in order that a metal pipe sounds to saxophone).
Aprendámoslo of once: The buildings do not mean anything. They do not have meaning. Or, in any case, doing a reading semiótica of the architecture, we will say with Umberto Eco that the meaning of a building is his function. Only his function. Let's look neither for metaphors nor flowers of colors. It is alone an architecture. Nothing less.
José Ramón Hernández Correa · PhD Architect
Toledo · november 2011
Author of the blog arquitectamoslocos?
Nací en 1960. Arquitecto por la ETSAM, 1985. Doctor Arquitecto por la Universidad Politécnica, 1992. Soy, en el buen sentido de la palabra, bueno. Ahora estoy algo cansado, pero sigo atento y curioso.