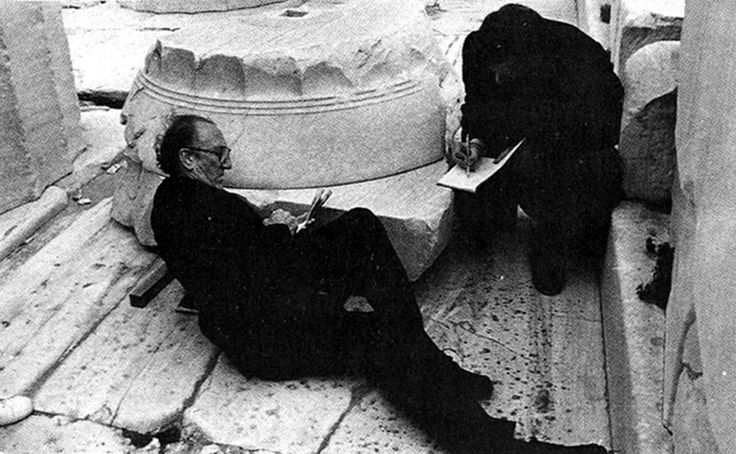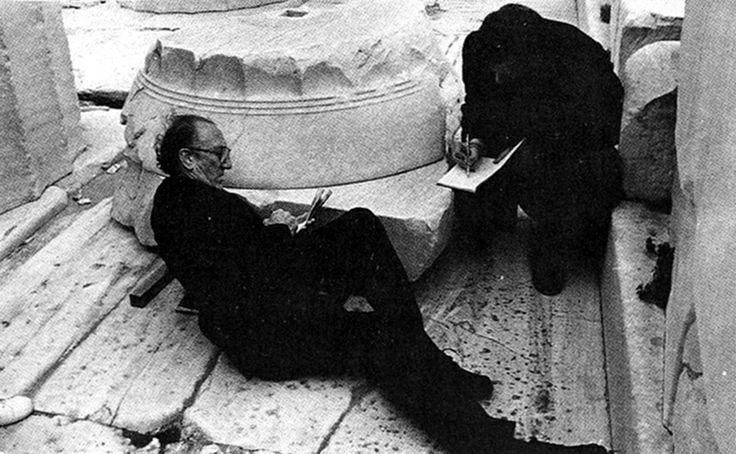 The Argentine poet was wondering on his contemporary ones, establishing conditions and manners of coexistence beyond a time and an epoch: those who are my contemporary? It was said. The awake enormous question interest, even more in the current moment, a displaced and speculative present in which the label "contemporary" appears as faithful accompanist of the most sweetened felonies: I propose them to investigate from his favorite seeker any thing followed by the adjective – contemporary – and they will verify that the expressed here does not answer to exaggeration or mistake, specially if images are looked being bad (in two words as the bullfighter would say) contemporary architecture.
In the image Oíza it takes some notes in the ruins of the Parthenon in Athens, but not as the one that registers the condition of a corpse, but rather as whom it looks for the beginning of an order, an architectural substance that he was living across the time and the culture:
"I am more near Alberti and Palladio that the young persons".1
As if both teachers of the Renaissance were actually his contemporary nearest ones. Others as Sou Fujimoto have been employed in the last years on a suspended contemporaneousness, a primitive future at the one that the architecture appears as a stadium of the memory:
Como si los dos maestros del Renacimiento fueran en realidad sus contemporáneos más cercanos. Otros como Sou Fujimoto han trabajado en los últimos años sobre una contemporaneidad suspendida, un futuro primitivo en el que la arquitectura se presenta como un estadio de la memoria:
"I feel that I exist in a world in which everything – from the whiteness of the civilization, the former Egypt, even the modernity and the contemporary thing – continues flowing of parallel form. […] To do architecture it is to design ruins with meticulousness".2
The ruin can represent the end, but also the origin, of the architecture. Maybe the contemporary thing constitutes a condition of immanence, a collection of values and elective affinities capable of coming out, paraphrasing Warhol, our fifteen minutes of reputation.
"Always one can find contemporary in the any place of the time…".3
Eduardo Galeano's narrative voice proposes us a human Universal and conjunctive fabric, a genealogy always attentive to the world and his turns, a beginning fundacional of a previous culture even to the word. It suits not to confuse the sparkles of the fleeting thing, with the powerful fluids that connect to the Men and his contemporary ones.
Miguel Ángel Díaz Camacho. PhD Architect
Madrid. September 2015.
Author of the Parráfos de arquitectura. #arquiParrafos
Notes:
1 Fco. Javier Sáenz de Oíza, El Croquis n.32-33, page 18.
2 Sou Fujimoto, El Croquis n.151, pages. 18 and 213.
3 "… And compatriots in any place of the world". Eduardo Galeano. El libro de los abrazos, Madrid, Siglo XXI, 2012, page. 231.