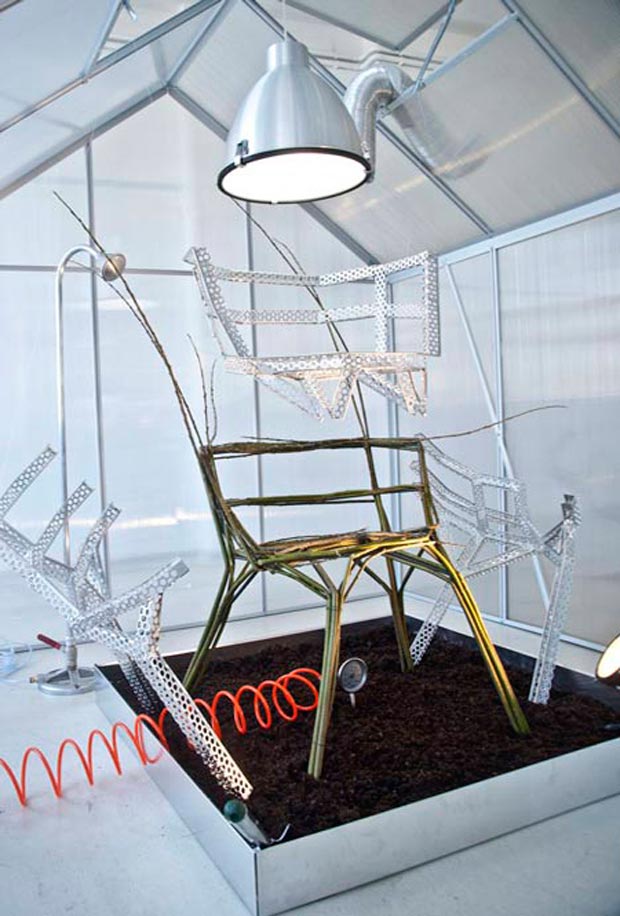 Is it possible to cultivate a chair instead of making it, dismantling the paradigm of the industrial production?
To this question Werner Aisslinger is going to give response in the fair I design Ventura Lambratte of Milan, as part of a collective project named Instant Stories. The German designer, who already has been employed at other experimental projects as the Hemp Chair -a chair molded in a piece based on fibers of pressed hemp- presents Chair Farm, which consists of cultivating a chair inside a greenhouse.
For it, beside providing the suitable conditions of temperature, dampness and artificial light, it uses of a structure of steel that uses as guide for the growth and development of the plants and that the necessary consistency will be withdrawn once reached.
This way of simple, the one who does dare to prove it?
Xosé Suárez, architect
Santiago de Compostela, september 2012
P.S. Another project very intesesante on the use of the biology applied to the design -in this graphical case- is Symbiosis de Jelte Abbema goes, where it cultivates bacteria in Petri's boxes or marquees of bus, for the creation of alive typographies.
Publicado en Nº 313
Arquitecto por la E.T.S.A.C. En el pasado he trabajado como barista, como dependiente en Adolfo Domínguez, he construido lámparas, mobiliario y otros objetos para la casa. Ahora estoy interesado en el diseño y construcción de mobiliario de madera y joyería para hombre. En paralelo, aprendo el oficio de silvicultor.
Tengo experiencia como profesor de dibujo técnico y programas de cad. También edito, cuando dispongo de tiempo libre, los siguientes blogs: #oxoguetedehoxe, prefabrica, donotirony y Nº313 [sillas…] Una guía para el fabricador de sillas.
a) Reivindicar el mueble como elemento con valor patrimonial colectivo, depositario de valores y testigo de la sociedad que lo concibe y/o usa.
b) Investigar y difundir el mueble único, singular, artesanal o de diseño; en particular la silla y los muebles y elementos complementarios relacionados con ella.
c) Promocionar y difundir los oficios y los profesionales comprometidos con el diseño, fabricación y conservación del mueble.