The Institute raised to the Town hall the need to endow a classroom independent from the rest of school facilities, but in the proximity of the same ones, with a minimal program of classroom – laboratory, bathroom and store.
After studying closely the plot it seemed that the suitable site was close to the gymnasium and polysport tracks, with what in addition the need of investment in urbanization was minimal, on having counted the work with a very exact budget, and determined by geotechnical difficulties that forced to foresee a foundation with improvement of soils.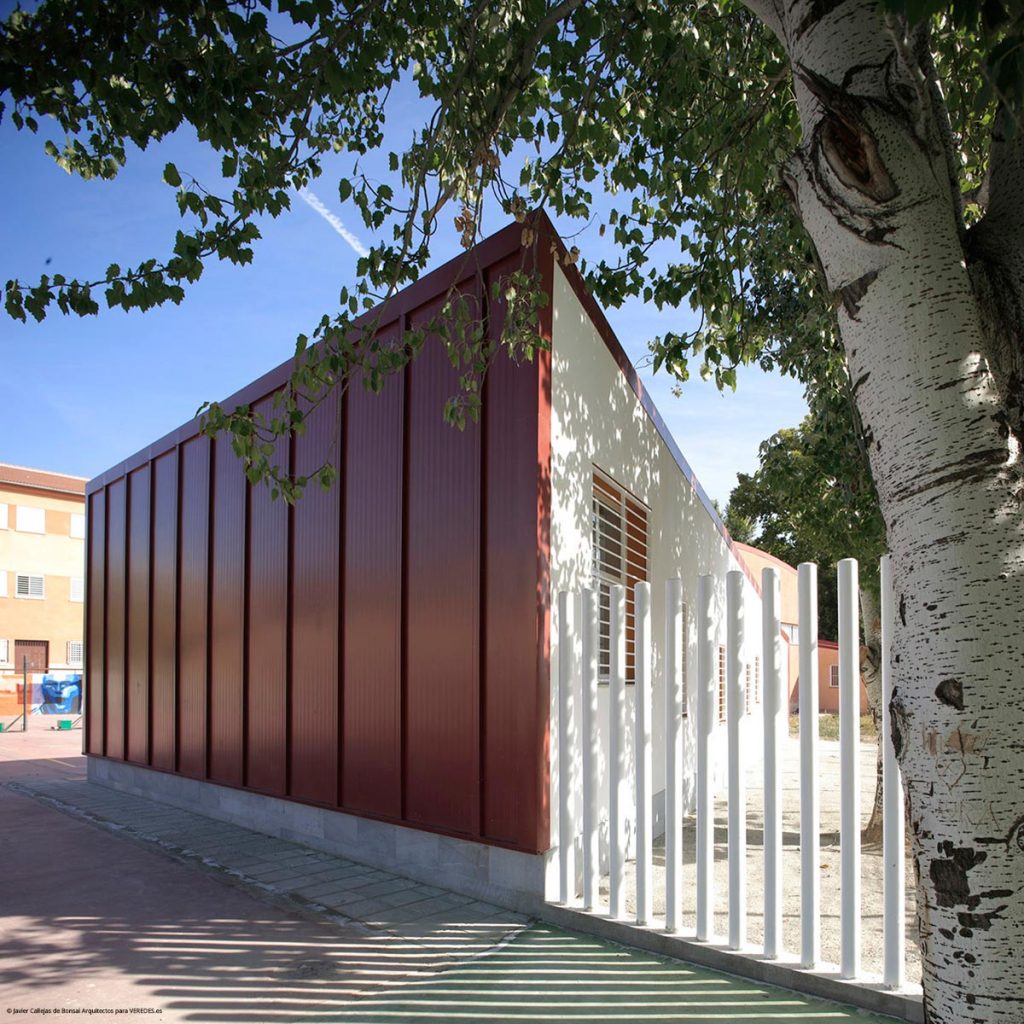 The principal decisions are simple but round.
The program solves with a simple prism of trapezoidal plant that it reflects the form of the plot, arranging the classroom in strict sense in the broad zone, and the quarters of service in the prow. One accedes from the tracks with a small covered vestibule, and minimal surfaces of traffic.
The big poplars of the south edge are preserved and protected by caress during the process of work. The skin is perforated by vertical hollows that accompany the movement of the court of games, seeking to unite the visual connection with the landscape to Sierra Nevada and the suitable distribution of the natural light in the planes of work.
The section is peraltada, to emphasize the use of workshop, and descends towards the spaces servants whose back the waters are gathered. The cover stops giving sense to the gesture of the section, with an ingenious system that solves simultaneously space, image, construction and maintenance.
This way, the sheet nervada reddish of places on wrought inclined that gives espacialidad to the classroom; it echoes the cover of the next gymnasium that uses the same material; it solves the constructive problem of the plane inclined with constant dovetailing panels, which incorporate the isolation and are easy to place and reduction sales; and finally he supposes a solution of very low maintenance since it takes the waters directly to arquetas registrables out of the building, to make possible the withdrawal of the leaves of the poplars.
Other decisions of interest: metallic structure and independent closings of termoarcilla; exterior socles in front of local stone of Elvira Saw.
Work: Classroom – workshop in Atarfe
Location: Atarfe, Granada, Spain
Architect: Eva Chacón (Bonsai Arquitectos)
Tecnnical architect: Cristina Llopis
Calculation of structure: Manuel G ª Plain amid mountains (technical architect)
Consultancy of facilities: Manuel G ª Plain amid mountains (technical architect)
Constructor: Construcciones Molino y Vueltas, S.L.
Photography: Javier Callejas
Superface: 113 m2c
Year: 2009
+ Bonsai Arquitectos
Búsqueda para satisfacer el conocimiento de la actividad arquitectónica y tangentes que se generan. La idea es crear un espacio para divulgar los diversos proyectos en busca de nueva inspiración y de intercambio.