The course of architecture About of the Integration of the Arts capture as point of reference the famous homonymous test that Luis Seoane wrote in Buenos Aires in 1962, in which, being based on his own experiences on the field of the muralismo, was exposing the narrow existing relation between the plastic arts and the architecture, putting as example the work of big architects as Frank Lloyd Wright or Antoni Gaudí.
In the same way, this course, which it is born with vocation of continuity, assembles out-standing architects and professionals as the arquitecta of Madrid Ángela García of Walls, the Executive Director of the Prizes Pritzker of Architecture Martha Thorne or the architects responsible for the design of the own headquarters of the Foundation Luis Seoane, Juan Creus y Covadonga Carrasco, between others, in order to offer throughout three months approximately, an as wide as possible vision on the relations between architecture and other artistic disciplines as the cinema, the design, the photography, etc.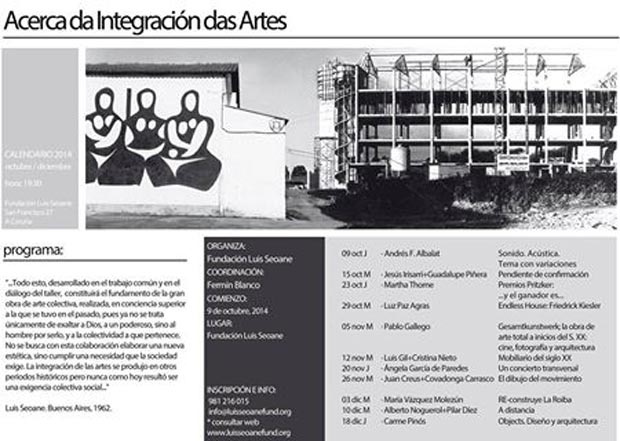 The amount of the course is 100 EUR, with a discount of 50 % on the price of matriculation for students, retired and unemployed. For the partners of Friends Luis Seoane gives Foundation, the inscription is totally free.
Date: On October 9, 2014 – December 18, 2014.
Locatiónr: Assembly hall, Fundación Luis Seoane, (A Coruña, Spain)
Participants: Covadonga Carrasco, Juan Creus, Pilar Díez, Andrés Fernández Albalat, Pablo Gallego, Ángela García de Paredes, Luis Gil, Jesús Irisarri, Cristina Nieto, Alberto Noguerol, Luz Paz Agras, Carme Pinós, Guadalupe Piñera, Martha Thorne, María Vázquez Molezún
Coordination: Fermín Blanco
+ info
Búsqueda para satisfacer el conocimiento de la actividad arquitectónica y tangentes que se generan. La idea es crear un espacio para divulgar los diversos proyectos en busca de nueva inspiración y de intercambio.