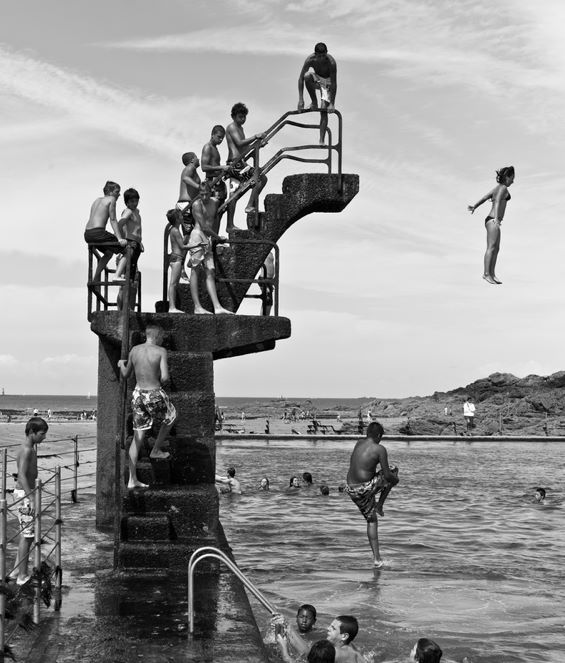 I come again to veredes to comment on another magnificent photo. It shows a springboard of reinforced concrete that exists in St. Malo Beach (Brittany, France). His author is Nicolas Doreau. It was taken on August 11, 2010 and St is titled St. Malo diving (more or less plunged in St. Villain or inmersion St. Malo).
It looks like to me a very beautiful photo. It shows the full activity of the youth, the optimism and the happiness of the amusement. In addition, plastically it is very attractive.
It is worth looking at her calmly during awhile. It helps him feel better (at least to me). He speaks to us about an eternal present.
But, on the other hand, this photo is a metaphor of the human zeal in any field that happens to one (the business, the literature, the politics … what one wants). I see clearly that they all those who appear are architects or students of architecture. And in addition I believe that, for a rare chance, all the possible types appear. What curious variety and what precious value of document inventarial and tipológico has this photography.
There is the one that never has enough. For very high that is the springboard is not enough to him, and has to be raised to the rail. And if on the rail there was an auction he would be raised. And if to the auction it was going out for him a pirindolo would be raised to the pirindolo. Do you see him? He is the entrepreneur par excellence, the self-seeker, which has to be more than anybody, jump from more above, plunge even the deepest thing, make it better than anybody, more times that nobody.
There is a girl who has stayed in the air, stop. In the moment in which it has frozen (forever) the photography it is expectant before his dive, but this one never comes. The anxiety of what one sees within reach but (still?) it does not come. This End of Career that already is mature to present, but that your tutor says to you that him des another vueltecilla (another vueltecilla that does that you rethink if the access is correct thereabouts or maybe would be necessary to change the whole ground floor, which in turn would drag all other). Or this order that yes, that already, that the client wants to do to you, but still it can only some problemilla without importance. And one remains like that: levitando in the air.
We see another boy who is in a similar case, but already it is touching the water with the top of a foot, while it has another leg shrunk to fall to bomb. But there is a great difference: This boy has not thrown from the top springboard, but from the low one. He is a conformist, an aquítepilloaquítemato. A practical man who instead of looking for note in the PFC only aspires to go out of the school of a damned time. A professional who instead of looking for formidable orders does more attainable works, but it does them. And the photo has plundered him on tiptoe on the waters, swimming and guarding the clothes, to the broth and to the slices. Modest winner, mouse of the most unknown corners of the province. Architect of urgency and of proximity. It falls down always of foot and always it wets (though it is small).
There are those who are bathing, so to taste, installed well in the profession, and those who already go out, some of good degree (retirement, change of activity) and others for force.
And there are, especially, those who wait for his opportunity, doing tail to be thrown to the water. Waiting for his shift, his moment. They wait patiently (this way it has been always) because there is water for all and there is no problem. There will come to them his moment of natural form. (The strange thing is what happens now: This rare low tide. Maybe someone has raised a dike and the inlet is drenando. Very badly panorama).
A boy seems that he has lost heart. It is in the rail of below, desisting from bathing. Does not he desire it? Has it resigned itself that this is not for him? And other one, furthermore dramatic, has sat down in the rail of above when already it has reached the first level of the springboard. So much effort, so much to waiting, for nothing.
Do not be what to think. I prefer believing in the impetus of the youth, that always it finishes for finding a chink to bath. The truth is that they all deserve to give him a good dip.
José Ramón Hernández Correa · Doctor Architect
Toledo · february 2014
Nací en 1960. Arquitecto por la ETSAM, 1985. Doctor Arquitecto por la Universidad Politécnica, 1992. Soy, en el buen sentido de la palabra, bueno. Ahora estoy algo cansado, pero sigo atento y curioso.