I represent boring, tired, bored, to another Zaha Hadid´s new "genius", and wonder: "why?" "Why?"
Zaha Hadid, as all the divine architects, architects – brands, architects – stars, already is not an arquitecta. She is not even a person. She is neither a man nor woman. It is an entity, a corporation. His study is called Zaha Hadid Architects. They are many architects Zahas Hadides. Or none. There already there is no architect. There is no architecture.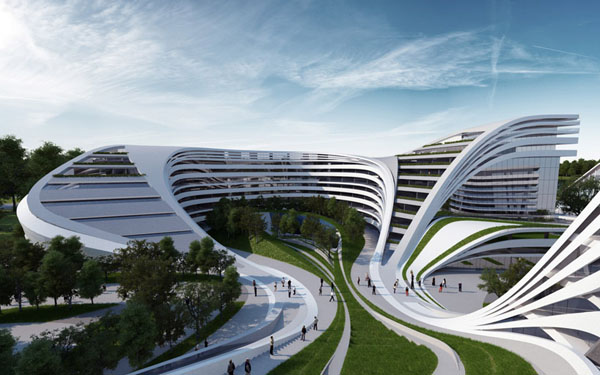 I see this photo and get tired. Do not be if it are housings, offices, a hotel, a mall … and it gives me the same thing. It is all the same to me. The worse thing is that I suspect that to her (or to them, or to it) also it him is all the same. Already it is all the same to him quite.
I get bored. And I sorrow. There are tricks of photoshop that do this with a photo, the spiral and the liquefy, and seem that it is going away for an outlet. And? I believe that the function of the architecture is not this. The architecture is not this bilge, this coarse blunder and without any grace.
The form is one of the most powerful weapon of the architecture, certainly, but here I see a deployment of weapon that do not have any battle that to free. I see a pompous parade, not a battle. I see a procession, not a victory. Definitively, it is only weapon of I fire on.
This type of pornographic and rude works make off with everything. Everything is to his service. They are to the service neither of anything nor of anybody. They do not serve anybody; they do not serve for anything. That there is a former construction in the environment? Since only it serves if it frames the work of the Zahas Hadides. If it is not like that it throws itself. A woodpecker imports the place, the people, the preexistences, the history of the site… Everything. Only it imports the new conceited and autobombastic work of the Zahas Hadides.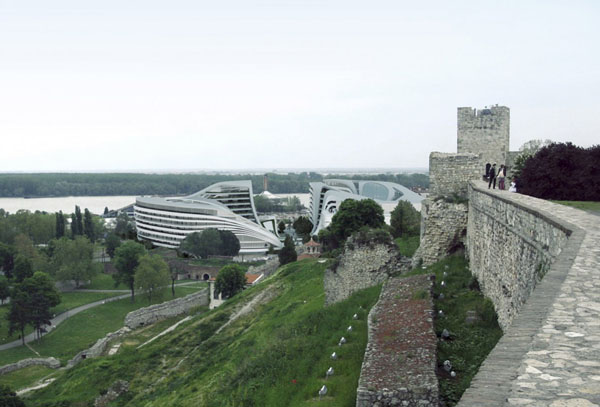 Up to it I can understand it: There are works so wonderful that create a new reality, and that are better than any preexistence, and that enclosed do that the people improve. Very well. There are solitary works that mark ways and change even the history. In agreement: That everything inclines before them. Glory to them.
But it is that this is again it of always; more of the same thing; bread with bread (for much that they pledge in making ourselves see that it is a chocolate with chocolate).
One would say that the process is so silly as to introduce more or less random variables in an it ad hoc program that deforms the original design and that a distorted render delivers. (Already put, it would be all the same that the computer was suffering a fatal mistake or an assault of panic and was flattening and distorting the whole shaped one. Nobody would realize, and this IT mistake would be executed).
The result is that none of the Zaha Hadid Architects knows how noses to construct it, and precisely the only merit of all this would be to be able to construct it.
Because of it the engineers (blessed engineers) feel proud to construct what seemed inconstruible. So much in the Pavilion Bridge of Saragossa as in the Aquatic Center of London, the construction engineers – who have carried on during months of the deified and ludicrous study of architecture – finish proud to be able to have constructed them, and end up by being the major apostles of this study that deigned to give them not already a few planes of structures detailed, but not even an appraisal of how many supports – and on what – they had those monsters.
They all, especially the engineers, end up by believing that to be a brilliant architect consists of supplying a sufficiently involved design. As for them, they limit themselves to digitizing the geometry (what is not a snot of turkey) and to trusting that his IT program – this time that of the engineers – triangule everything in three dimensions and there measures every barrita of every triangle. With irregular tetrahedrons it is possible to construct any thing.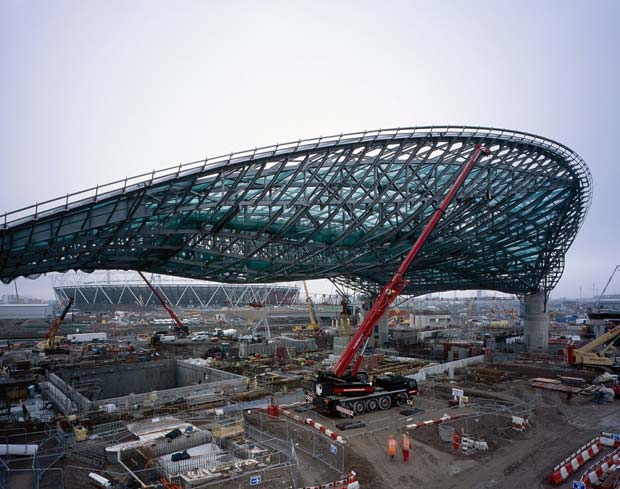 What merit has it it? Many, but architectural none. A few powerful machines that break in triangular facets any become warped surface, and that calculate cremonas to beast. Nothing less, it costs, but at all any more either.
And thousands and thousands of metallic bars, all different ones, provoking sores and insomnias chiefs of work, managers and foremen of group.
Ultimately that one is constructed, cost what costs, and the own builders are delighted, without having just believed itself it. And the certifications have to be of órdago. I would not like to be I who had to check and approve them them. To die. (It is clear that also this, this especially, brings carelessly the Zahas Hadides. If there is increased the expense, which is increased. And above they will spend minute of fees on this tenfold one).
And all that, definitively, why? For the infantile astonishment of a public that it neither knows it does not even want to estimate the architecture, but yes the megaconstructions, the monstrosities, the most difficult still, and the challenge of forms that are twisted because yes, for nothing, because I cost it.
And finished a bridge in Saragossa a stadium is going to be done to London, and then an opera to Zanzibar and a skyscraper to Chiquitistán. And always it is the same thing.
I get bored, Zahas. I get bored very much.
José Ramón Hernández Correa · Doctor Architect
Toledo · juny 2013
Note. – That is clear that I do not want to feed myself of form machist with a woman. This text has arisen in view of the images that I have hung, that have turned out to be of the study Zaha Hadid Architects, but they might have been of other studies. There is many Zahas Hadides, and they all are similar: calatravas, fósteres, nouveles, gehrys, koolhaas, etc, etc. All of them one day were royal persons and demonstrated an exceptional talent. All of them have notable works, magnificent some. But the own structure of star system forced them to dilute in abstract corporations, in intangible entities, in factories of delicate and perfumed shit that corrompe the world and it denigrates his all.
Nací en 1960. Arquitecto por la ETSAM, 1985. Doctor Arquitecto por la Universidad Politécnica, 1992. Soy, en el buen sentido de la palabra, bueno. Ahora estoy algo cansado, pero sigo atento y curioso.