From the next month of May, the Foundation Alejandro of the Sota will offer visits guided by architects to the buildings of Alejandro of the Sota in Madrid. Will be able to visit  the Gymnasium Maravillas, the Head office Lechera Clesa, the National Centre of Metallurgical Investigations (CENIM), the School Mayor César Carlos, the House Varela and the House Guzmán. Like part of the route, in the headquarters of the Foundation -ancient study of Alejandro of the Sota and documentary archive- will have  the opportunity to access to the croquis, planes, photographies, watercolours, prototypes of furniture, furniture and maquetas of the architect. It will deliver  a documentation of reference before visiting the buildings and a Certificate of Assistance when finalising the activity.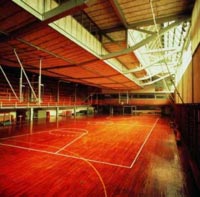 Maravillas Gymnasium | alejandrodelasota.org
If it is interested in this new initiative of the Foundation, can contact with us in info@alejandrodelasota.org and access to more information in the following document: [download]
+ article is published in alejandrodelasota.org
Búsqueda para satisfacer el conocimiento de la actividad arquitectónica y tangentes que se generan. La idea es crear un espacio para divulgar los diversos proyectos en busca de nueva inspiración y de intercambio.