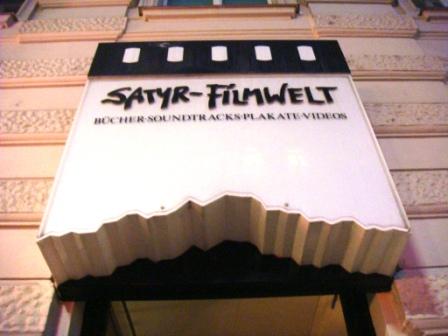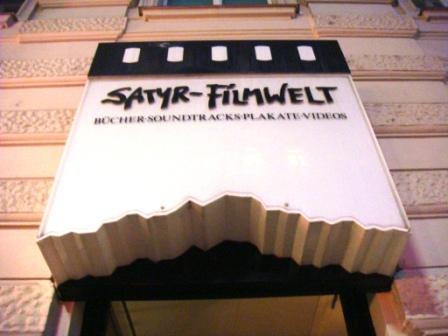 I have been almost one week in Vienna and do not refuse to count any aspects related to the cinema and the architecture:
Badly that have aged the postmodern buildings, which already when they were constructed someone it named «ruins of the future», the best example is the one that Hans Hollein designed in front of the cathedral, certainly, with Zara in his ground floor. Well that have aged the postmodern shops, as the three that I saw of the same Hollein. Loos's mastery in his buildings and, especially, in the American Bar, an authentic jewel, perfectly proportionate and constructed well, possibly – and with permission Del Diego of Madrid – the most beautiful place in which I have been (and I swear that already I have been in multitude), in addition with an acceptable Dry Martini, though worse than prepared by Fernando or his children in the bar of Madrid before mentioned.
The Secession building that is still alive thanks to his temporary exhibitions. Otto Wagner, especially his indispensable building for the Postparkasse with a small museito where curiosities can be seen on the building. Otto Wagner, especially his indispensable building for the Postparkasse with a small museito where curiosities can be seen on the building. The curious attempt of returning to give life to a few gasometer with Jean Nouvel's interventions, the Cooperative Himmelblau, Manfred Wehdorn y Wilhelm Holzbauer, where it is difficult to emphasize the better of these architects and yes it is possible to see the cheeky fellow egocentrismo of the cooperative leaning a crooked tower (since it could not be less) to one of the original cylinders, in them part of the slightly notable one rolled 007: alta tensión, and to the side the mall with multicinemas, so called Hollywood Megaplex, with eighteen rooms and painted within with shrill colors, where they were projecting The skin that I live (Die Haut, in der ich wohne in German) and in the morning when I was, was full of children accompanied by teachers, showing that in this country the cinematographic education of the young persons looks after itself.
The last plant of the Sofitel Vienna Stephansdom Hotel designed also by Nouvel, with many interesting details and with a spectacular sight on the city in this last plant, which cover is a Pipilotti Rist.'s work. The interesting building of the mumok, a "museum" only with temporary exhibitions, inside the former imperial stables in the so called Museums Quartier, where also there are the Leopold Museum (in a bland building) and the most interesting interior of the Kunsthalle where now there is a good exhibition of fashionable photography.
The exhibition on Glenn Murcutt in the Architektuzentrum – also in the Museums Quartier – with a few marvellous models, planes and photographies of his fantastic houses and of his not so interesting collective buildings, as a doubtful enough mosque. Another exhibition, A_show, also interesting, in the same center on the Austrian architecture. To verify that the Film Museum only is a cinema, with a marvellous programming, with a bar in which there are a few showcases with the books that they have edited, but that cannot be turned the pages.
The MAK, a museum of decorative arts with a small section of architecture and with a great restaurant to which a marvellous extension has been done to him in the garden. A tourist guide teaching him to an American marriage what they are the Romanesque architecture and the Gothic one, imitating his respective arches with his hands. The action of Lee Konitz New Quartet in Porgy and Bess, a former cinema very well re-turned into room of concerts, demonstrating since at the age of eighty four still can be introduced, thank you in addition to possessing a few young musicians and enthusiasts.
The action of the mythical Benny Golson, with Fritz Pauer's brilliant Austrian trio, sat in the first row in the Jazzland, a space small and arched as those who are seen in the movies when musicians of jazz touch in Paris, and with Benny counting enterteining anecdotes on his friends, Clifford, Thousands, Lionel, Dizzy, etc., before a great plate of macaroni getting between chest and back into the rest later to continue touching and counting new anecdotes, certainly, there touched his fantastic compositions Whisper Notand I Remember Clifford.
Finally, but not less importantly a discovery the enormous establishment dedicated to the cinema Satyr Filmwelt, bookshop, sonorous bands, DVDs and cartels, an authentic ruin for any fan, with thousands of books, certainly none in Spanish, which makes me think again that the diffusion of our works is very short in this world anglófono; unfortunately they do not have web page, but yes e-mail: satyr.filmwelt@netway.at
Jorge Gorostiza, architect. Author of the blog Arquitectura+Cine+Ciudad
Santa Cruz de Tenerife, november 2011
Doctor arquitecto, proyecta y construye edificios y desarrolla trabajos de urbanismo. Desde 1990, publica numerosos artículos sobre cine y arquitectura en medios de su localidad, revistas como Nosferatu, Nickleodeon, Academia, Lateral, Cahiers du Cinema… y en varios volúmenes colectivos. Entre el 2000 y el 2005 dirige la Filmoteca Canaria. Imparte conferencias sobre arquitectura y cine en instituciones como el CAAM en Gran Canaria, la UIMP, el CENDEAC en Murcia, INCUNA en Gijón, Fundación Telefónica, la ETS de Arquitectura y el CCCB de Barcelona, las ETS de Arquitectura de La Coruña, Sevilla, Valencia y SEU madrileña, La Ciudad de la Luz en Alicante, la UNED en Pamplona, en varios colegios de arquitectos, así como en las universidades del País Vasco, Gerona, Valladolid, Málaga, Granada, SEK en Segovia y CEES de Madrid. Jurado en varios festivales cinematográficos, como los de Alcalá de Henares (2001), San Sebastián (2002), Sitges (2003), Las Palmas (2005) y Documentamadrid (2005), y comisario de las exposiciones Constructores de quimeras. (Centro Conde Duque, Madrid, 1999) y La arquitectura de los sueños (Capilla del Oidor, Alcalá de Henares, 2001).
He publicado bastantes libros y muchos artículos, he impartido conferencias, he sido comisario de exposiciones y jurado en muchísmos festivales. Si quieren saber más no duden en consultar mi blog ARQUITECTURA + CINE + CIUDAD.