Wardrobes – steps cover – viewing-point
The wardrobes appear as three exempt, articulated modules I half-close to an opened but covered space. The offer connects the wardrobes with the lateral bank of the soccer field, formalizing a graderío that regularizes and gives use to this bank, creating a direct access to wardrobes and general bathrooms.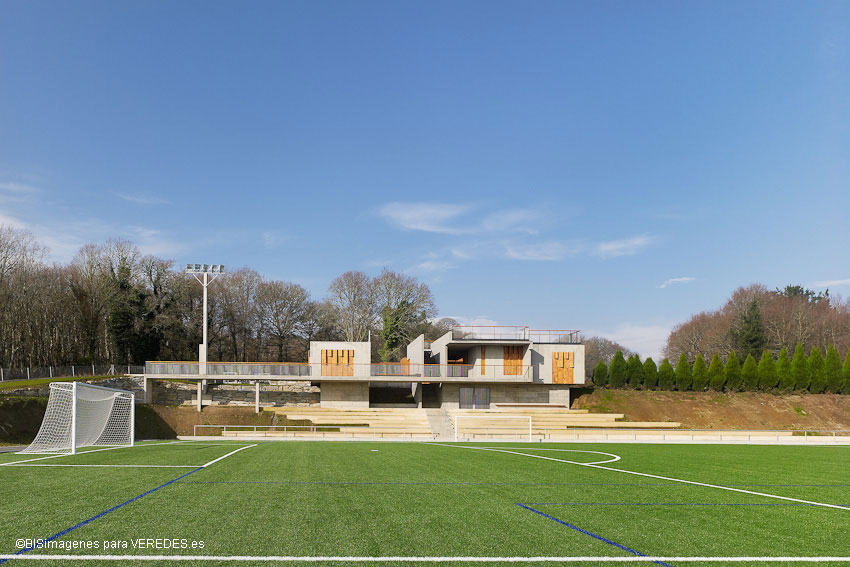 Thus the first level is created where there place, like semibasement, the spaces of storage of material and facilities of the building. There is created a zone of step of access to these quarters, to the stairs of the wardrobes and creates the first level of step, like take-off of the remaining grandstand.
In the top level they arrange three modules that shelter the principal program. Two of them, who gather the players' wardrobes, are identical with the only difference of being in a turned position, one with regard to other one. Compact boxes of structural reinforced concrete, where the vain ones that the structure leaves are completed by a front trasventilada of autochthonous wood.
The module that gathers the umpires' wardrobe and the public bathrooms completes the set, articulating the space of top access, the covered space of relation and the descent to the graderío and soccer field. It is conceived as a box of wood.
From this level one arranges a new section of stairs, sustained between screens of seen concrete, which leads to the part of the cover of the wardrobes. Thus there is completed the offer of the project that, starting afoot of field, is inserted in the existing bank forming a step that leads to the building that remains formalized as an element of auction and viewing-point, at the same time as it solves the program raised initially.
work: wardrobes and soccer field in Vilalba
autor: Ameneiros Rey | HH arquitectos (Ismael Ameneiros and Santiago Rey), and Jacobo Fernandez, Blanca Carballal
year: 2010-2011
collaborator: Daniel Dapena Gregorio
location: Vilalba, Lugo, Galicia, Spain
photographies: Héctor Santos-Díez | BISimages
Búsqueda para satisfacer el conocimiento de la actividad arquitectónica y tangentes que se generan. La idea es crear un espacio para divulgar los diversos proyectos en busca de nueva inspiración y de intercambio.