The new monographic number of Tectónica is dedicated to the structural alterations in the current architecture. The theoretical content of the monograph has been elaborated by the engineer Alejandro Bernabeu, the director of structures of architecture and building of Idom and teacher of the School of Architecture of the UPM. The article analyzes the strategies that are opened for the structural project when they are considered to be the determining ones as opportunities of design that include distortions in the habitual configuration of the structure.
The monograph is completed by the constructive analysis of two projects by structural not conventional designs: the building Thin Wall Scullery in Tokyo, of Tezuka Architects, and the building Plug-in in Barcelona, projected by Josep Miàs. The first one presents a thin structure based on contiguous porticoes of sheet of 9 mm of thickness rigidizada for ribs of sheet. The second one exhibits a prismatic volumetry altered by the appearance of big projecting and spaces without supports solved with the presence of girders in lattice, props and suspenders of arriostramiento that generate a complex game of diagonals.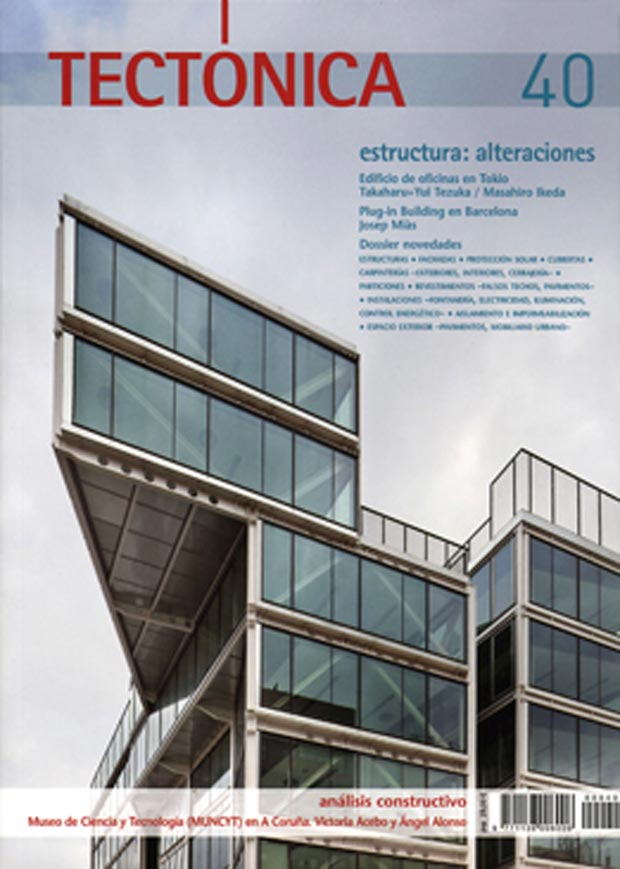 Out of the monographic section is published the constructive analysis of the Museum of Science and Technology in To Corunna, projected by Victoria Acebo and Ángel Alonso and shaped by an arboreal structure of boxes of concrete and by the exterior spaces to her, confined in the surrounding translucent one. The presence of random elements in the structure of the surrounding one, they relate this building to the projects of the monographic section and with the approach of the article, which author is precisely the engineer responsible for the structure of this building.
Unlike other numbers, the present Dossier of Products does not contain cards related directly to the topic of the monograph, since the execution of upset structures does not need the development of specific products. Therefore, in this case the Dossier it is formed entirely by a selection of innovative products from the different sectors that intervene in a constructive process.
Búsqueda para satisfacer el conocimiento de la actividad arquitectónica y tangentes que se generan. La idea es crear un espacio para divulgar los diversos proyectos en busca de nueva inspiración y de intercambio.