From October 10, 2013 until June 5, 2014, will take place in the Luis Seoane Foundation the course Secrets of the Architecture.
After the first edition, the club of architecture of the Foundation Luis Seoane proposes the second return. It is a question of an initiative that it will assemble throughout eight months an exceptional set of professionals who will analyze basic aspects of the architecture and the urbanism, the history of the architecture and his stamp in the social and economic studding, as well as his relation with the art, the didactics or the nature; the landscape painting, buildings and famous works from the architectural point of view, the space and his use, the relation between architecture and kind or his paper as mechanism of social reaction, etc.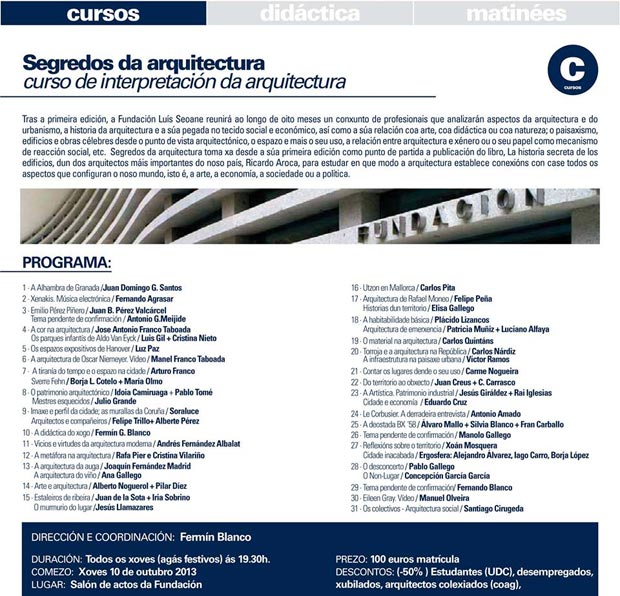 Secrets of the architecture the publication of the book takes already from his first edition as point of item The secret history of the buildings of one of the most important architects of our country, Ricardo Aroca, to study how the architecture establishes connections with almost all the aspects that form our world, as the art, the economy, the company or the politics. For it, this club of architecture coordinated by the architect Fermín Blanco, Manuel Gallego Jorreto, Juan Creus has managed to assemble an exceptional group of architects of different generations as Juán Domingo Santos, Jose Ramon Soraluce, Fernando Agrasar, Santiago Cirugeda, Covadonga Carrasco, Andrés Fernandez Albalat, Arturo Franco Taboada or Fernando Blanco, as well as professionals of other areas as the historian Jesus Giráldez, the photographer Juán de la Sota or the artist Carme Nogueira between great others.
The structure of this club of architecture turns concerning thirty meetings of 90 minutes supporting all a format of two conferences of 45 minutes. The classes will take place every Thursday, except festive, at 19:30. The price of the matriculation is 100 Euros, with a discount of 50 % for students (udc), collegiate architects (COAG), unemployed and retired
+ info
Búsqueda para satisfacer el conocimiento de la actividad arquitectónica y tangentes que se generan. La idea es crear un espacio para divulgar los diversos proyectos en busca de nueva inspiración y de intercambio.