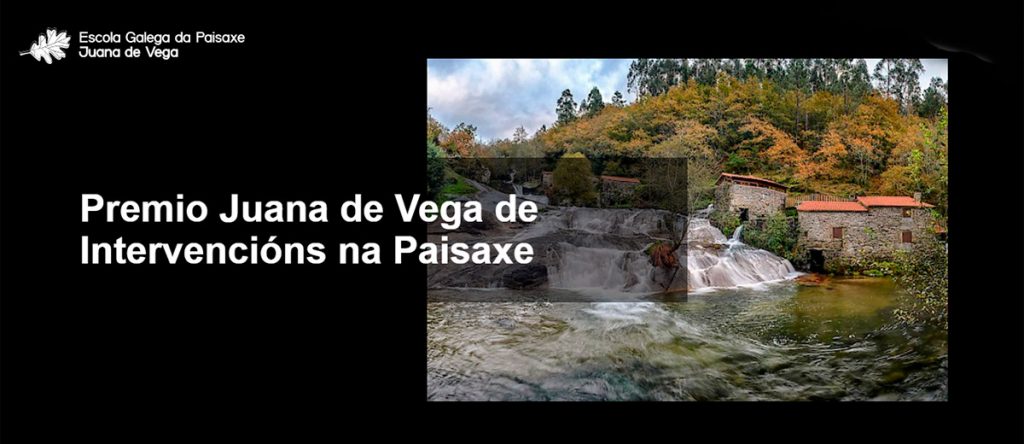 The Interventions in the landscape Juana de Vega Award arises from the conviction of that the landscape is a fundamental element of the heritage of any human company for affecting directly in his physical and spiritual well-being and for being a resource partner – economically of enormous potential. To put in value and to improve the landscape quality of the territory, the Galician School gives Landscape of the Foundation Juana of Vega summons the Prize as recognition of those interventions in the natural and constructed heritage that they help to improve the quality of the elements that form the landscape of Galicia and to use as social reference to future interventions in the same one.
In the year 2017 the Prize is summoned in the category of INTERVENTIONS DEPRIVED IN THE CONSTRUCTED HERITAGE AND IN HIS ENVIRONMENT, which has as object recognize those interventions that should recover the constructed heritage and should put in value his environment.
They can be candidates for the prize: autor/eres of the project or of the intervention, which promoter is a natural or juridical person of private nature.
Only will be admitted interventions realized in Galicia, which should finish between January 1, 2014 and December 31, 2016.
The term for the presentation of candidacies will be opened until June 30, 2017 and the failure of the juror will be announced in the last four-month period of the year.
The juror will be composed for:
· Gonçalo Byrne, architect.
· Begoña Bás López, teacher of the University of To Corunna and etnógrafa.
· Fátima Braña Rey, teacher of the University of Vigo in the area of social Anthropology.
· Marilar Aleixandre, teacher of the University of Santiago, writer and academician of the Galiciam Royal Academy.
· Covadonga Carrasco, architect.
· João Nunes, landscape architect.
· Francisco Leiro, painter and sculptor.
· Isabel Aguirre de Urcola, architect and director of  Escola Galega da Paisaxe.
· Enrique Saéz Ponte, president of the Foundation Juana de Vega.
The prize will have an economic endowment of 6.000,00 €. In addition, the winning ones will receive a supporting diploma.
To criterion of the juror two second prizes will be able to be granted, endowed each of them with a diploma and an economic quantity of 1.500,00 €.
It consults all the information in the bases and the summons 2017.
Búsqueda para satisfacer el conocimiento de la actividad arquitectónica y tangentes que se generan. La idea es crear un espacio para divulgar los diversos proyectos en busca de nueva inspiración y de intercambio.