Pescaderías Coruñesas, was founded by Luis Lamigueiro in 1911. The first establishment opened  in the street Recoletos. In 1916, it began  the construction of a new building, to charge of the architect Gonzalo Churches, inaugurated in 1922. In addition to being the head office for the distribution of fishes to the branches was factory of ice.
The building was in the Walk of Saint Vicente doing corner with the street of Arriaza, just in front of the Caballerizas Real, that at present are the Gardens of Sabatini. From here it distributed  the fish for the 17 expendedurías delivered by the city. In the years 30 Fishmongers Coruñesas, by problems of liquidity sold  and the employer Luis Fragío Babío did  with the chain. Over time Fragío comienzó to sell the branches of the Pescaderías.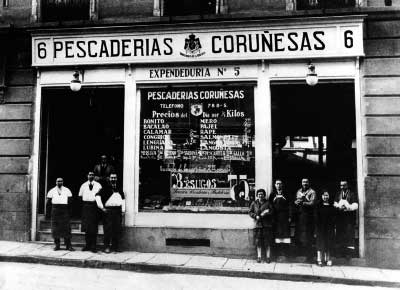 […]
EnriqueFidel
+ article is published in urbancidades.wordpress.com
Búsqueda para satisfacer el conocimiento de la actividad arquitectónica y tangentes que se generan. La idea es crear un espacio para divulgar los diversos proyectos en busca de nueva inspiración y de intercambio.