"For shows, a button" is an Events Green Light idea and Communication that at the same time is who this carrying out the organization of the event. You leave his website and his blog.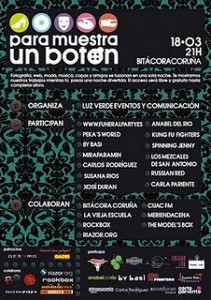 All night will be able to see collections of these 3 big photographers: Susana Rios, Xosé Last and Carlos Rodriguez.
Just having begun the event will be able to attend thanks to Judit Iglesias (winner of GH9) to the Funeral introduction Party, artistic character platform and cultural that gives support and promotion to works and activities of this kind (music, movies, photograph, literature, dances, fashion…). On the other hand, Judit will be this Saturday 13 at 9h (Monday 15 at 17h) in radiofusion granting an interview in which will talk on the website and the event.
Later on will come parades of Peka's World whose shop-workshop is in Calle Orzan 156. In this parade also will participate Miraparamin an optics that will be able to find in the street Cordonería no. 1.
Next By Basi us will present his new clothes collection that can find on Francisco street Mariño to the height of the Plaza de Pontevedra.
In both parades models will go made up and quick combs for Know her Dobarro owner of Russian Net.
Anabel of Rio will give step to the musical branch of the event. Anabel us will present his accompanied songs only just for a piano. Later on will go up to the stage Spinning Jenny group coruñes with influences that go from Nirvana or Pearl Jam until the strong lyricism of Muse or the intimacy of Radiohead and Coldplay. It will follow them the strong direct deKung Fu Fighters tribute group to Foo Fighters. And to end the night, nothing better than the Tex Mex fresher of Mescals of San Antonio.
And you do not blow over that over all night will have draws of our collaborators: riazor.org, Rockbox, The Old School, and of the participants Funeral Party, Susana Rios, Miraparamin and Carla Pariente. And the discount allocation of Meriendacena.
+ http://fiestaparamuestraunboton.blogspot.com/
Búsqueda para satisfacer el conocimiento de la actividad arquitectónica y tangentes que se generan. La idea es crear un espacio para divulgar los diversos proyectos en busca de nueva inspiración y de intercambio.