When Le Corbusier comes to Majorca he is 45 years old. Two years before it had obtained the French citizenship and had married Yvonne Gallis. His small office composed by his cousin P. Jeanneret and he itself, starts receiving professional young women and students of all the corners of the world. He constructs, between 1929 and 1932, the villa Savoye, the apartments Clarté, the Swiss Pavilion of the University City of Paris, I mentioned it of Refuge, ended in 1933, and the Centrosoyus of Moscow, also constructed in this period and finished in 1935.
This constructive euphoria, which leads him to affirming: "Il n'y to of joie véritable that dans l'action", one sees accompanied by a series of lengths travel, that take Moscow to him in 1928, one year later to Buenos Aires, where Rio de Janeiro, Asuncion and Montevideo came on board of the ship Massilia, visiting later Sao Paulo, and in 1930, to Algeria. He takes advantage of these trips to spread his ideas and to catch some orders related to the future planning of the cities that he visits.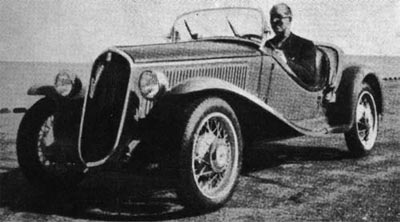 Also it is a period riddled with disappointments, for the rejection of his offers for the Company of Nations in Geneva, and the Palace of the Soviets in Moscow, which they are relegated by solutions loaded with a historicist eclecticism, provoking his indignation and encouraging his combative spirit. The increasing resistance that his architectural projects suffer in Europe forces him to centre his attention on the big projects of planning, on those that a new concept of city develops.
His offers arise this way for Buenos Aires, Montevideo, Sao Paulo and Rio de Janeiro, in 1929, and also the Plan Howitzer for Algiers initiated in 1930 and whose works would extend during four later years. Also the Iberian Peninsula was present in his agenda of trips. Between 1928 and 1932, Him Corbusier visited four times Spain.
[…]
Federico Climent Guimerá
+ article is published in Annuaire Massilia
Búsqueda para satisfacer el conocimiento de la actividad arquitectónica y tangentes que se generan. La idea es crear un espacio para divulgar los diversos proyectos en busca de nueva inspiración y de intercambio.