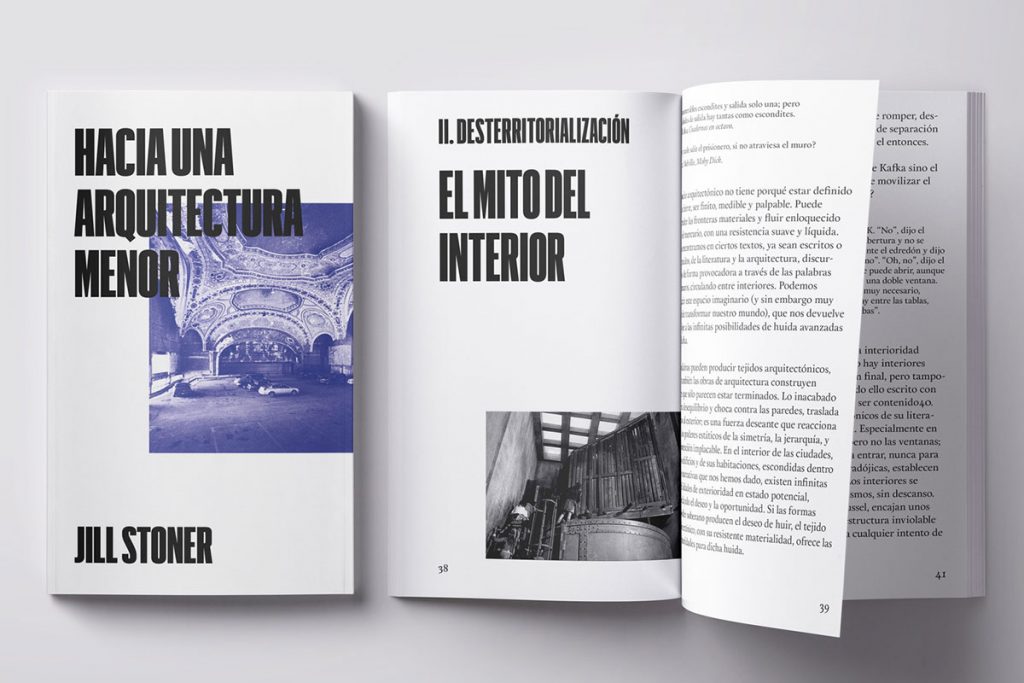 "A minor architect is a minor destructive character, handyman and hacker, journalist and editor, alter ego and subordinate. Who is skilled at fixing, can also sabotage, and knows how to dismantle as well as assemble".

Jill Stoner, Towards a minor architecture.
The minor architectures, mobilized from the basement of the power structures, will sometimes arise inside other architectures -vivas or obsolete-. They will sometimes become inaccessible and elusive before prying eyes. They will celebrate their fragility and contingency without complexes. Emerge, in any case, from the resistance and collective desire to transform the reality that surrounds them.
Drawing on literature, cinema and 20th century thinking, Stoner traces the vectors, structures and elements of a new space grammar. Part of the overthrow of the four great myths that underlie the hegemonic thinking of Architecture – the interior-exterior dichotomy, the autonomy of the object, the heroism of the architect and the binomial culture-nature – to propose new possibilities for the construction and destruction of space. These pages build an intense and complete manual from which to address the "detritus" of constructed facts of an urban landscape full of opportunities and a complex language from which to respond to the major forms of architecture.
Jill Stoner is an architect and has been a professor for more than 35 years. Since 2015, he directs the Azrieli School of Architecture and Urbanism at Carleton University, in Ottawa. She was previously a professor and Director of the Master of Architecture at the University of California at Berkeley, where she also directed the Center for Jewish Studies and served as Deputy Director of the Graduate Division. His professional practice, between 1993 and 2007, which explored the adaptive reuse of buildings and developed speculative urban proposals, has received numerous national and international recognitions. His first book, Poems for Architects (2001), addresses contemporary spatial and architectural issues through an anthology of twentieth-century poems.
Lucía Jalón (translation and prologue) is an architect from the Superior Technical School of Architecture in Madrid, where she continues teaching at the Landscape Line of the Master in Advanced Architectural Projects and where she recently defended her doctoral thesis Excepción and rebel body: the political as generator of a minor architecture. Since 2013, she has been the editor-in-chief of the magazine Displacements: an x'scape journal and since 2014 she is a professor and Director of Studies at the School of Artistic Professions SUR. In his work and teaching he explores the relations between the political and the architectural from a Spinozist redefinition of the body as generator of space.
Author: Jill Stoner.
Translation and prologue: Lucía Jalón Oyarzun.
Number of pages: 220 pages.
Size: 115×190 mm.
Papers: Munken Pure of 80 grs and graphic card of 275 grs. Digital printing. Stitched binding.
Búsqueda para satisfacer el conocimiento de la actividad arquitectónica y tangentes que se generan. La idea es crear un espacio para divulgar los diversos proyectos en busca de nueva inspiración y de intercambio.