I want to write too many things in the blog, and it does not curdle his any. In these times of uncertainty and of distress I would like to touch many matters, but I do not have the sufficient serenity as to structure them in a coherent speech. I shuffle several and do not decide on any, and say to myself that ojalá had the writer's sufficient trade as to refill an entry because yes, ado, with the pure professionalism and with the domain and the apparent disinterest of which Joyce speaks to us in the Portrait of the Adolescente Artist.
The artist, as the God of the creation, remains inside, or behind, or beyond, or over his work, trasfundido, evaporated of the existence … indifferent … entrenetido in fixing the nails up.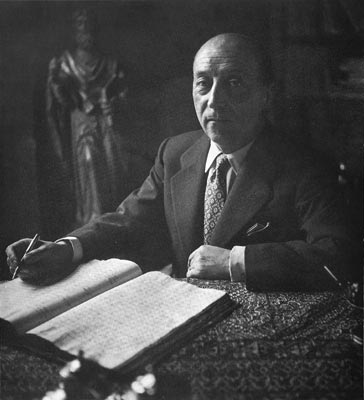 And me there comes to the mind the great artist who was Luis Gutiérrez Soto. With him always it gives this sensation that Joyce says, of a god who contemplates how his works flow for yes same, without major existential problems.
It is not that Don Luis was not working as a titan; it is that it seems as if it was not interested for the "cultural", "transcendent" aspect of the architecture. It was doing the works as light doughnut rings, and when we see them we cannot understand that they belonged to the same person.
What has it to see this:

with this: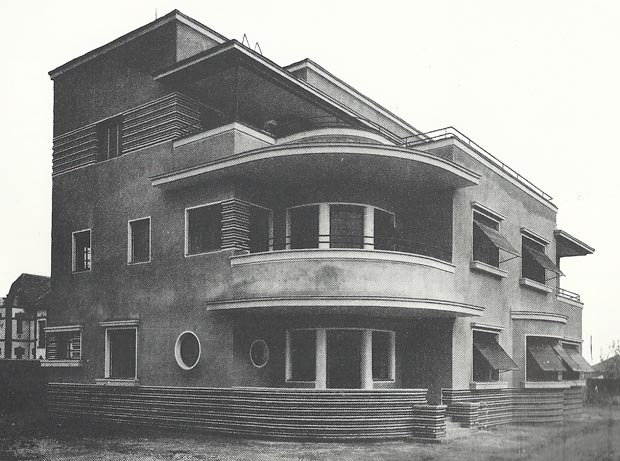 or with this?
Luis Gutiérrez Soto's life is a long chain of successes. Of young woman, while he was studying architecture, he liked the football, and, naturally, it played in Royal Madrid (not neither in subsidiary, nor in the juvenile one, nor nothing of it: in the first equipment); and, naturally, he was the maximum scorer. So much that were nicknaming Pichichi, since to the mythical forward of the Athletic who continues giving his nickname and his trophy every year to the maximum scorers of the league.
It ended his career brilliantly in 1923, with a PFC that today makes us blush, but it was what it was necessary to do. And it went out to the street, to construct, with a mental cocoa of forecast.
He wondered: "what style does it take to himself? ", and this question was repeating itself during all his life. (I would put this phrase as epitaph).
In the thirties he adopted a type of modern, racionalist architecture, but very influenced by Mendelsohn's expressionism, with a delicious plastic arts. (East I am used it was very much successful, and it is possible to enjoy in many Spanish cities. It seems to me to be specially good at the works of  Pedro de Ispizua and of Manuel Galíndez in Bilbao).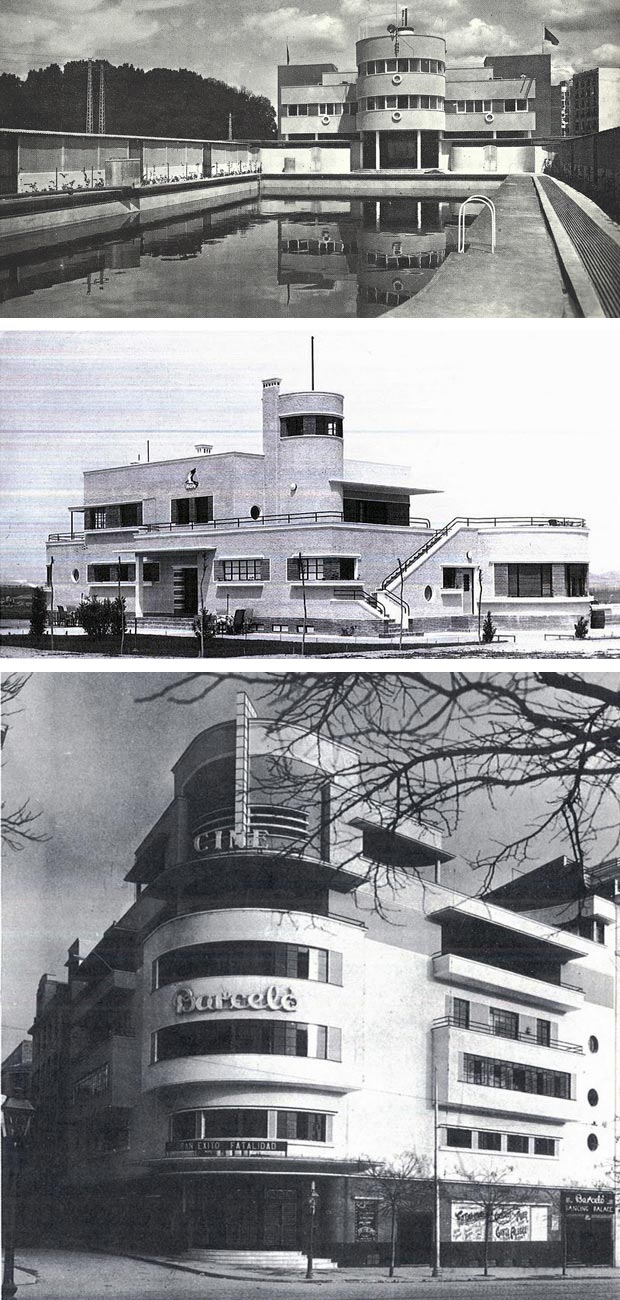 In the Civil war it enlisted in the suitable decree, and won. The orders were accumulated. There was a nation for reconstructing, and he put to the head. The question arose then again: " what style does it take to himself? ", and it was answered to yes same by a rare thing: Between modern and pure, between racionalist and spiritual (understanding for spiritually the feeling Catholic – Spanish). But it how does it make concrete plastically?
It chose to reconstruct the richest neighborhoods of Madrid (it is what happens when it can choose one). His Neighborhood of natal Salamanca is today riddled with his works. And that of Chamberí, and that of Argüelles…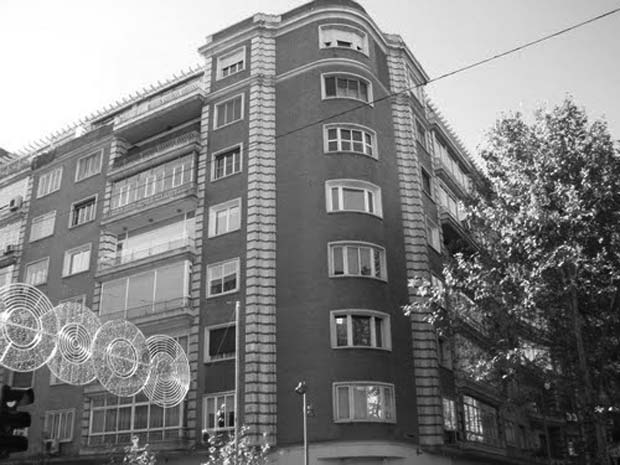 This block of Madrid of floors of seen brick, with corners and / or cornices of limestone, and terraces, or viewing-points panzones… We go, the typical block of floors of Madrid, it is largely a his work, and an unusual quantity of them they are directly his works. (Also it did them in other cities of Spain).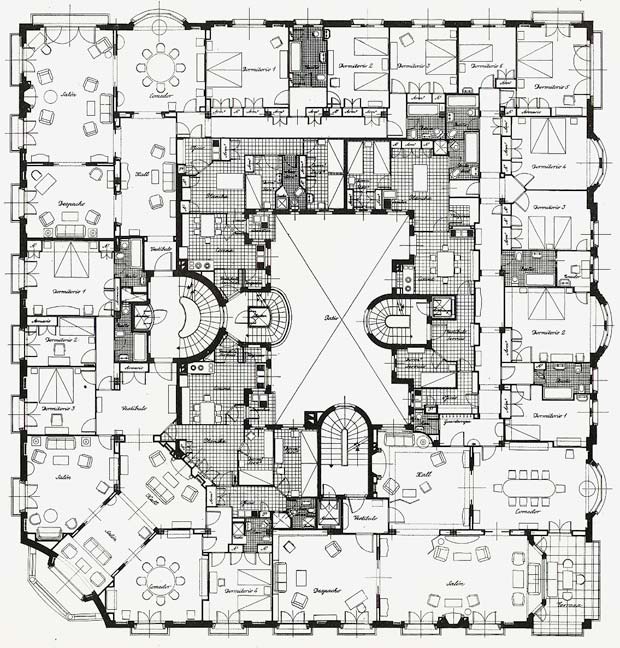 This great Pichichi of the architecture (God, what golazos!) it did chalets, cinemas, discotheques, bars, churches, departments, etc, etc.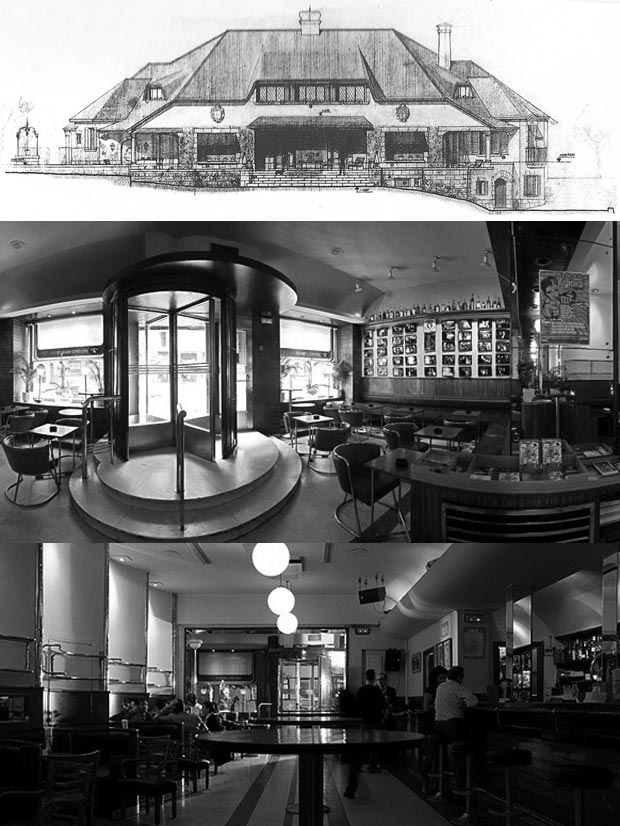 It took two versions of the Department of the Air to the general Vigón, with and without capitals of a column, and the general chose that of the capitals of a column because it was "more Spanish", as El Escorial.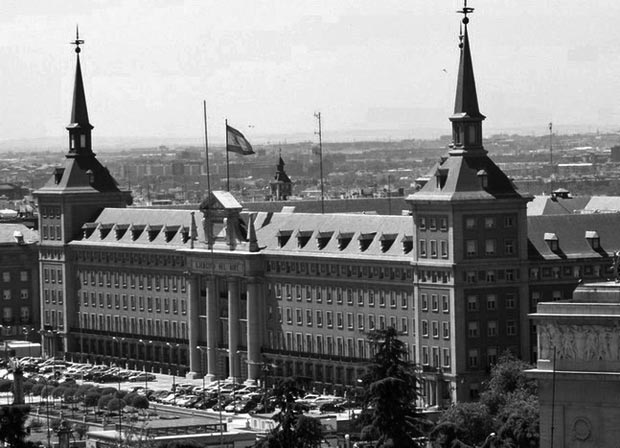 And very a few years later odd ma did the building of the High Staff Officer with a modern ma non troppo: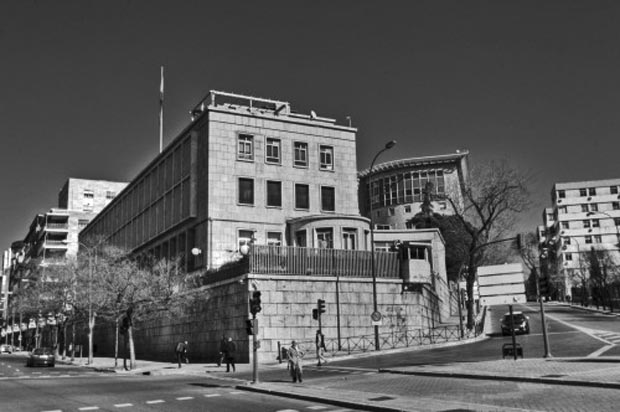 Constant the question was done: "what style does it take to himself? ", or, in these cases: "what style is most adapted for this client?" And the good thing is that it was dominating all, and it could do masterpieces in each of them. It seems as if it was all the same to him.
He us resembles Groucho Marx:
"These are my beginning. If he does not like them I have others".
It did one of the best towers of housings of Madrid,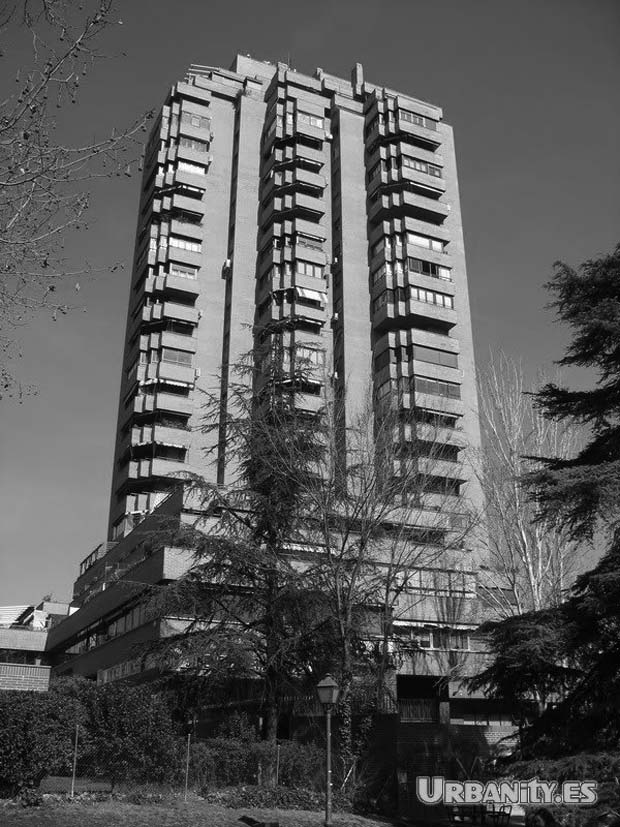 and one of the best towers of offices.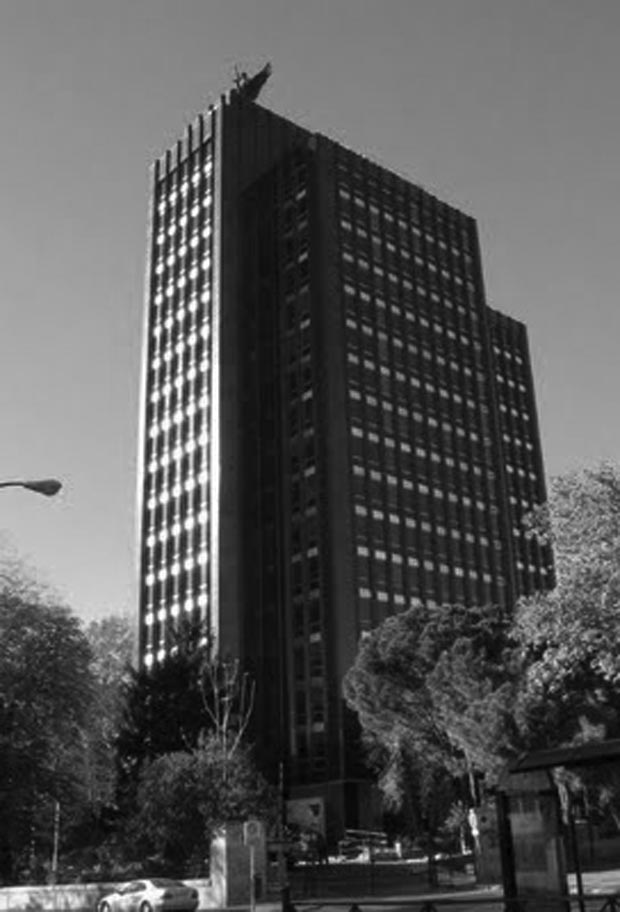 Curiously, after having done of everything, near the end of his life he said that the work of which he was feeling prouder was that of the Palace March, in Palma.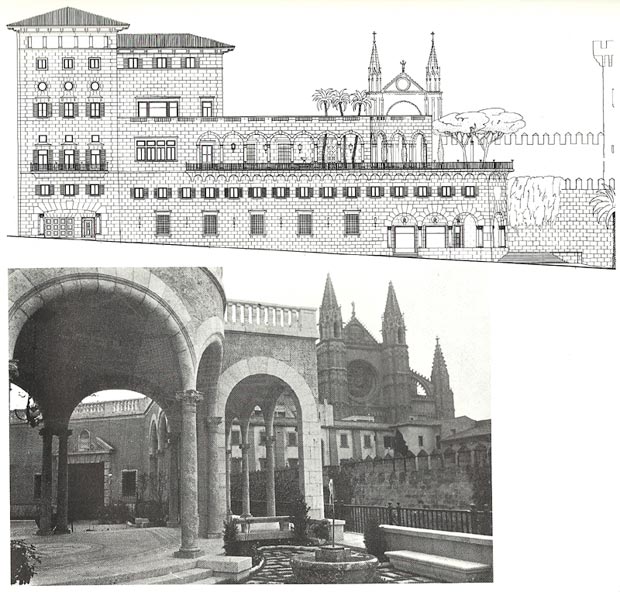 The style? What more was giving the style! What was mattering was the technical difficulty, the prowess of constructing.
Juan Daniel Fullaondo did a curious interview to him for Nueva Forma,  in which Gutiérrez Soto raised a curious ethical defense of his eclecticism, saying that the architect does not have to invent forms, since it is pride and petulance, but the forms already are there all, invented and available, and that what it has to do the architect is to solve the technical, functional and thematic problems. And to choose for it the forms that better are convenient for him.
ullaondo, with his eternal cultural perspective, tried to take him to his area. Strong boy spoke to him about the Bar to say to him that this work establishes itself "in a cultural standard, that moralist comes out enough an approach so schematically". Gutiérrez Grove answered him that the Bar Strong boy was a very successful work, but it was not admitting that they should value it as his better work, because it had made them much more complex, and in the bottom those who were saying this were demonstrating bad intention, becoming discredited his very top works. Fullaondo him insisted that it was not possible to speak only in practical terms, which in the works there are many levels, even poetical levels. And Don Luis, already enough bothered, answered him:
"I do not understand well what you want to say, with this frasecita rather searched carefully of cultural standard, I believe that the architecture is good or bad simply independently of this cultural standard about which you speak",
and it returned to speak about "common sense", to reduce the debate to practical and strictly professional levels, and to sing to the architect as servant of the company. After this chat, Fullaondo says:
"Está visto que no nos entendemos".
Naturally, it was impossible that there was understood the theoretical one that was looking for a cultural transcendency and super professionally, hyperpractically, that had constructed everything, who could construct everything and in the style that was.
Many years later I asked Fullaondo him about this interview, and he said to me that, really, it had been a slightly inconvinient interview, but that good what and what big one was this architect.
We will make it like that: The great architect who did not want that his work was transcendent, or to whom it was giving many shame that were indicating to him the transcendental aspects of his work.
José Ramón Hernández Correa · Doctor Architect
Toledo · setember 2010
Nací en 1960. Arquitecto por la ETSAM, 1985. Doctor Arquitecto por la Universidad Politécnica, 1992. Soy, en el buen sentido de la palabra, bueno. Ahora estoy algo cansado, pero sigo atento y curioso.