The collection of documentaries edited by the Foundation Box of Architects, whose copies already have commented  in this blog, has arrived to his number twenty. His title is Invitation to the trip, is directed by Jörg Bundschuh in 2006 and devoted to the work of the interesting Eileen Gray, centring in the villa And.1027, that began to build in 1926 beside Jean Badovici. As it knows , the work of Gray is fundamental in the 20th century and was forgotten during a lot of years surely by fault to be woman.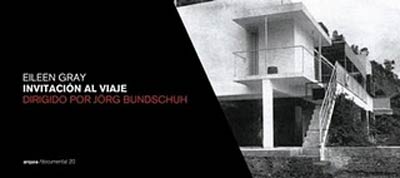 This documentary, rewarded in 2008 with the Best Portrait Award of the Festival of Montreal, is correct and traditional, shows a lot of little known images of Gray, of his pieces of furniture and projects, well is truth that no incide too much in the controversial murales that painted Le Corbusier in the above-mentioned house, but yes debates  the suitability to conserve them or give back to the building to his original state.
Búsqueda para satisfacer el conocimiento de la actividad arquitectónica y tangentes que se generan. La idea es crear un espacio para divulgar los diversos proyectos en busca de nueva inspiración y de intercambio.