The ESARQ-UIC presents the new presentation Time of change, at the expense of the recognized architect, critic and teacher, Fredy Massad, and framed in the context of his particular subject Forums ESARQ 2012, orientated to knowing, dealing and talking on the world of the architecture. The act will take place next February 7 at 16:00 in the assembly hall of the Campus Inmaculate Conception of the International University of Catalonia in Barcelona, and will serve to debate and to think about the architectural current reality from different perspectives of the sector.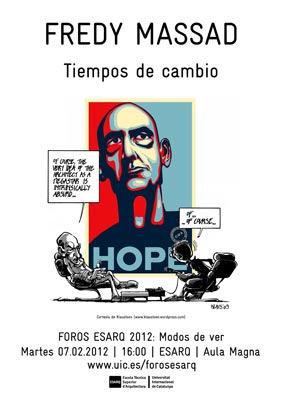 The purpose of the Forums ESARQ-UIC is the exchange of knowledge, positions and contrasts between pupils, teachers and prestigious professionals of the sector. Hereby, experts of architecture extensive national and international path will meet to treat questions of current importance that affect all the architects.
The principal aim of the ESARQ-UIC is to innovate in the service of the persons and form architects capable of confronting the challenges of the future company, thanks to an educational model who looks for the personalized attention and a practical constant learning, with technology of forefront and an international professorship with contact with the professional world.
Title: Times of change.
Participants: Fredy Massad
Day: Tuesday on February 7, 2012 Hour: 16.00h
Place: Assembly hall Campus International Immaculada Universitat of Catalonia C/Immaculada, 22, 08017 Barcelona
Organizes: ESARQ-UIC (Top Escola Tècnica International D'Arquitectura de la Universitat of Catalonia)
Búsqueda para satisfacer el conocimiento de la actividad arquitectónica y tangentes que se generan. La idea es crear un espacio para divulgar los diversos proyectos en busca de nueva inspiración y de intercambio.