Materiality, order and lightness to give response to the dialog between the place and his most immediate environment. A place that gives content to a dental clinic and that is abstracted of the exterior chaos across the serenity that his volumetries and interior materials stamp.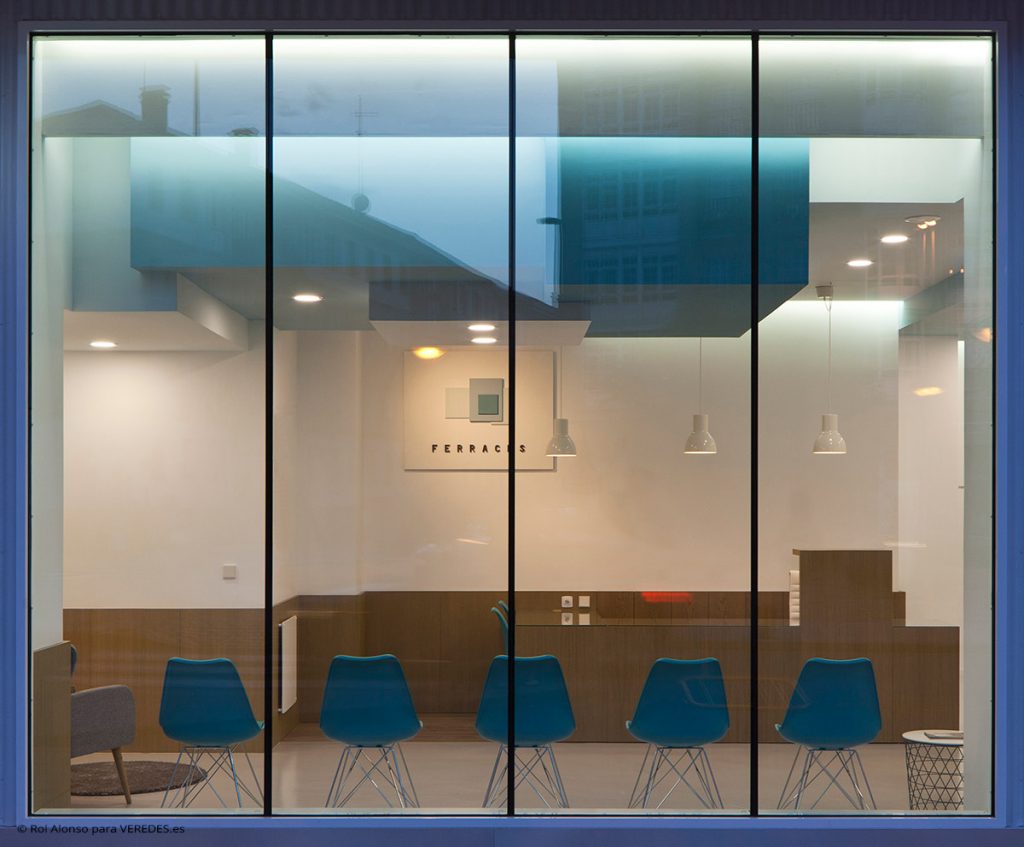 Used materials:
– Volumetric ceiling in plates of carton plaster
– Constant pavement of resin epoxi
– Board MDF FINSA re-plated in oak
– Drafty front of microperforated sheet miniwave in white aluminium.
It is a question of a project with clear vocation of dialog with the landscape of the square and vice versa.
A few big glasses of vertical proportion, placed to bone, without intermediate profiles, flood the interiors with a diffuse north light and open the front in all his height, allowing to show on the outside the volumetric game of the interior ceiling, shaped by prismatic forms and chromatisms in blue and white tones.
This interior transparency / exterior is kept between the interior spaces, so that there is perceived the spatial continuity that the volumetries of the ceiling generate.
The zone of wait is emphasized by means of the warmth that offers the socle of wood of oak.
The front desmaterializa by means of the combination of the big cloths of glass with a light coating of panels of microperforated sheet miniwave of aluminium lacquer in white. The result is a serene front in the middle of the aesthetic chaos that surrounds it.
An indirect lighting towards front.
Work: Clinic Dental Ferraces.
Author: as-built arquitectura, interiorismo, infografía.
Project team: Moncho Rey, architect / Pablo Ríos, interior design.
Location: Plaza Doctor Iglesia Parga, 7-8, bajo, Ferrol (A Coruña, España)
Area: 99 m²
Year: 201o
Photography: Roi Alonso
+ as-built.es
Búsqueda para satisfacer el conocimiento de la actividad arquitectónica y tangentes que se generan. La idea es crear un espacio para divulgar los diversos proyectos en busca de nueva inspiración y de intercambio.