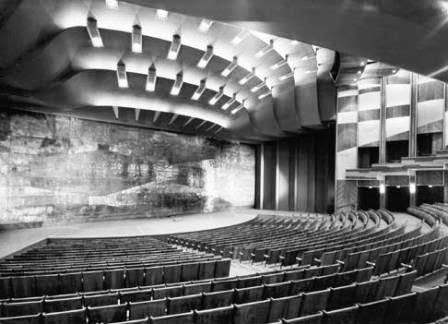 I have just read a text written by Gerard Mortier, graduate «Scenery and opera: history of an emotion», in that a new and interesting relation mentions between architecture and cinema, when he writes on the Festspielhaus, of Salzburg that, according to him,
«It corresponds with the aesthetics of the cinemascope. It was constructed in 1958 precisely when it begins the cinemascope in the cinema. But the cinemascope does not work in the theatre. When one is in the first rows of the Festspielhaus it is necessary to move the head across, like in a tennis match, but in the theatre it has to be possible to see the scene in its entirety».
Though Mortier is wrong as for the year of beginning of the CinemaScope – The sacred tunic, the first movie in this system had the premiere in 1952-, if it is true that at the end of the fifties was in full summit, for what the comparison is very opportune. The television, against which the big screens appeared in the cinemas, influenced the architecture of a theatre throughout the world recognized and in addition this influence was negative from the point of view of the theatrical spectacle.
In the same text Mortier he speaks on Amarcord's tree, the apartment of Love and in addition it criticizes negatively the building of the Palacio de las Artes Reina Sofía in Valencia of Santiago Calatrava (I suppose that it did not know the audience of Tenerife), but this probably comments on it in another occasion.
What I do not want to overlook is to recommend the book where it has published, is entitled: In audatia veritas: Think about the opera, the art and the politics, it is published by Confluences, and though I have not ended it still, already I could have enjoyed a great article about the European unit.
Jorge Gorostiza, architect.
Author of the blog Arquitectura+Cine+Ciudad
Santa Cruz de Tenerife, april 2015
Doctor arquitecto, proyecta y construye edificios y desarrolla trabajos de urbanismo. Desde 1990, publica numerosos artículos sobre cine y arquitectura en medios de su localidad, revistas como Nosferatu, Nickleodeon, Academia, Lateral, Cahiers du Cinema… y en varios volúmenes colectivos. Entre el 2000 y el 2005 dirige la Filmoteca Canaria. Imparte conferencias sobre arquitectura y cine en instituciones como el CAAM en Gran Canaria, la UIMP, el CENDEAC en Murcia, INCUNA en Gijón, Fundación Telefónica, la ETS de Arquitectura y el CCCB de Barcelona, las ETS de Arquitectura de La Coruña, Sevilla, Valencia y SEU madrileña, La Ciudad de la Luz en Alicante, la UNED en Pamplona, en varios colegios de arquitectos, así como en las universidades del País Vasco, Gerona, Valladolid, Málaga, Granada, SEK en Segovia y CEES de Madrid. Jurado en varios festivales cinematográficos, como los de Alcalá de Henares (2001), San Sebastián (2002), Sitges (2003), Las Palmas (2005) y Documentamadrid (2005), y comisario de las exposiciones Constructores de quimeras. (Centro Conde Duque, Madrid, 1999) y La arquitectura de los sueños (Capilla del Oidor, Alcalá de Henares, 2001).
He publicado bastantes libros y muchos artículos, he impartido conferencias, he sido comisario de exposiciones y jurado en muchísmos festivales. Si quieren saber más no duden en consultar mi blog ARQUITECTURA + CINE + CIUDAD.