In the present year 2013 there is fulfilled the centenary of the birth of significant protagonists of the Spanish architecture of the 20th century.
In honoring to these teachers, the Department of Composition of the ETSAC organizes this cycle of conference in the one that proposes to do a tour for the architectural experience that begins from 1930 and finishes in the decade of the eighties.
Along eight sections the most excellent spaces of the architecture are analyzed of those, following an agenda in which there cross experiences and authors, the notable ones and his more immediate contemporaries, leaving the monographic tour and which should centre his approach of a fundamental way, in the relation between constructive procedures and expresividades architectural.
In the bottom we look for the occasion not only to know those who were they but, rather, for the inheritance that they have made us be since we are.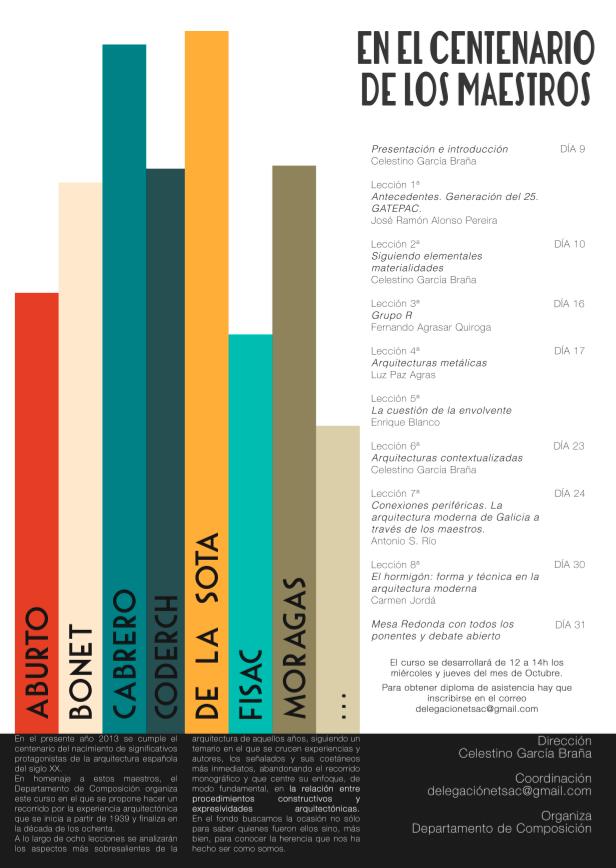 Cycle of conferences: "In the centenary of the teachers"
Organize: Departamento de Composición de la ETSAC
Director: Celestino García Braña
Dates: 09-31 October 2013, Wednesday and Thursday, 12:00-14:00h
Place: Living room of Acts of the ETSAC, A Coruña, Galicia, Spain
We have requested  1 credit of free election (in formality)
Búsqueda para satisfacer el conocimiento de la actividad arquitectónica y tangentes que se generan. La idea es crear un espacio para divulgar los diversos proyectos en busca de nueva inspiración y de intercambio.