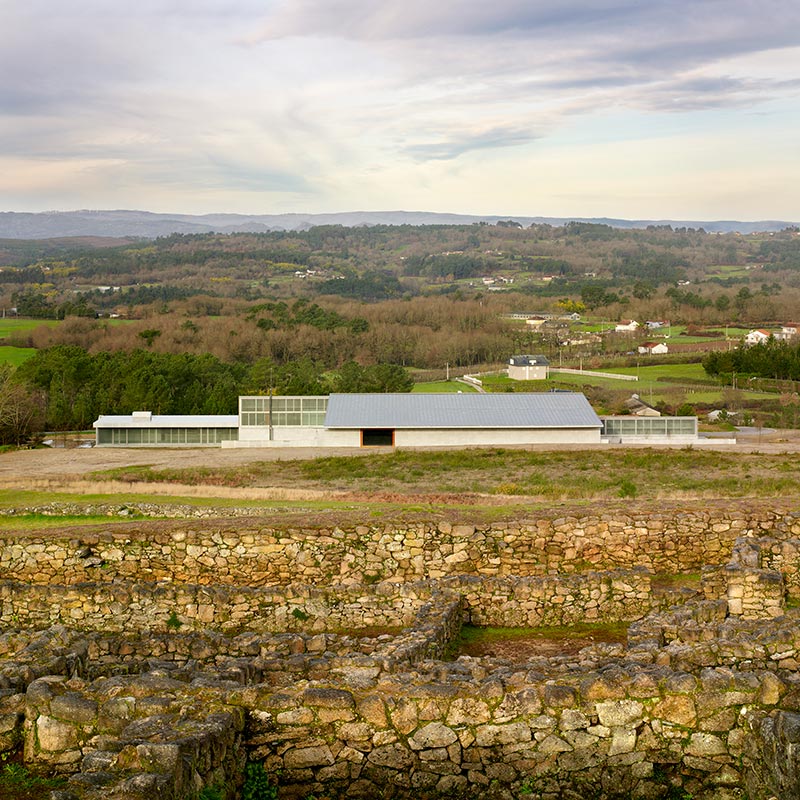 The "Center of Interpretation of the culture castrexa" is one of four centers that will constitute the Galician Network of Archaeological Heritage.
In the surroundings of the Castro of Sano Cibrán de Lás the building belt of the hopscotch places as firstly.
Physical, limit " new entry " and visual screen from deposit who gathers accesses and areas of parking.
The uses are defined in volumes. His fragmentation looks for the lace in the area. Socles of stone, as transition, on that the boxes of zinc are mounted by opened faces protected by linens of tramex.
The cracks that are generated allow the extension controlled on the outside.
The different pieces (access, foyer, classrooms – hearts of network, temporary exhibition, permanent exhibition) are lined up by the tour of access to the deposit.
Work: Interpretation Center of the Castrexa Culture (Red Gallega de Patrimonio Arqueológico)
Authors: Carlos Martínez González, Ángeles Santos Vázquez, Carmen Ruíz Alarcón
Promotoer: Headquarter of Cultural Heritage. Consellería of Culture and Tourism – Autonomous government of Galicia of Galicia
Emplacement: San Cibrán de Las, Concello de San Amaro, Ourense, Spain.
Construction: DICSA
Collaborators: Estructura,Ezequiel Fernández Guinda, Instalaciones, Isabel Francos Anllo
Direction of execution: 1ª phase José Ramón Temes Caneda, Carmen Diéguez Álvarez, 2ª phase Jesús Damiá Rodríguez
Date of project / auction: July, 2005 – March, 2010
Surface: 2.833 m2
Photography: Héctor Santos-Díez | BISimages
AwardsPremios
2011 second prize the XIVth Prize COAG Acts of New Plant
Búsqueda para satisfacer el conocimiento de la actividad arquitectónica y tangentes que se generan. La idea es crear un espacio para divulgar los diversos proyectos en busca de nueva inspiración y de intercambio.