We receive the order of a hotel singular intervention with independent apartments in one emptiness of Ousesende's core, Outes's town hall (Galicia, Spain). Fruit of the abrupt of his topography and of the gradual abandon of this type of cores, on the lot there had been spilt a spontaneous and heterogeneous forest that was surrounding the village threatening to recover what one day was his.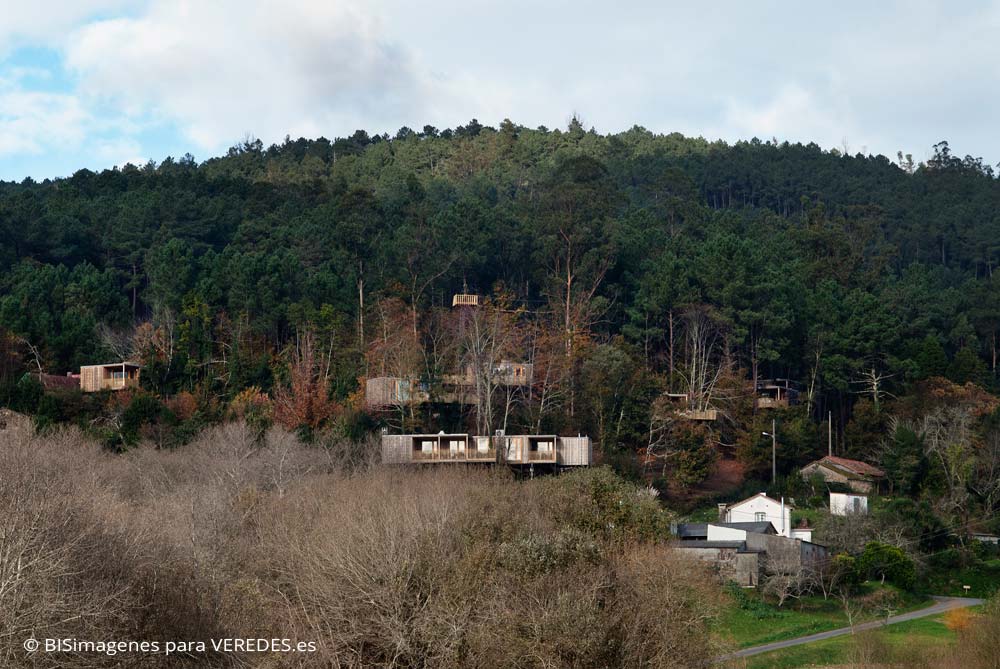 The premise of preserving the vegetation and his caprices as well as not to realize any movement of land that could damage the roots of the different species leads us to establishing the guidelines to determine the form and the implantation of every unit in three levels of detail.
Worldwide, the first approximation is realized to the plot from his section. We obtain a few first spots appearing to the different edges and making the surrounding areas ours, liberating space and looking for the intimacy of every building without Trémuzo resigning a surprising perspective, between the branches, on the river mouth of the Rio Tines, the mounts Barbanza, and A Sorrow, and the birth of her laughs at Muros-Noia.
In the second level, the different buildings as well as his implantation are defined formally attending to the capricious evolution of the different species, looking for hollows between his branches, determined by his origins, his present and his future.
In the third level, the apoyos are defined on that to support the light structures of wood without damaging the roots of the different trees between those who join, there are defined also the heights of the different buildings and the accesses, seeking to blur the line between building and environment, natural and artificial.
The intervention is realized by an elaborated constructive system in wood that it determines ended and provide. The fronts are finished off by recycled wood that accelerate the natural integration of the set.
The inspiration, those first constructions that, when children, were demonstrating this atavistic instinct of wanting to live between the branches of the trees.
Work: Center of seaworthy activities and Ravine Cabins in Ousesende
Authors. Salgado e Liñares arquitectos. (Alfonso Salgado and Francisco Liñares)
Collaborators: Jaime Novoa Míguez, architect. Carla Agra García, architect. Manuel Liñares Túñez, Industrial engineer. Miguel Ángel Raposo Rodríguez, Industrial engineer. Sergio Sánchez Alcalde, Draughtsman.
Location: Lugar de Ousesende, Outes Town hall, A Coruña, Galicia, Spain
Construction: Tente construcciones modulares.
Year: 2014
Promoter: Privado
PEM: 396.619,00 €
Photography: Héctor Santos-Díez | BISimages . Nacho Santas.
Búsqueda para satisfacer el conocimiento de la actividad arquitectónica y tangentes que se generan. La idea es crear un espacio para divulgar los diversos proyectos en busca de nueva inspiración y de intercambio.