It splits of the determining one of realizing a new building while the center is in functioning, there deals the zone perpendicular to the zone of access, leaving for the second phase the construction of the covered pavilion that was occupying the space of the current center.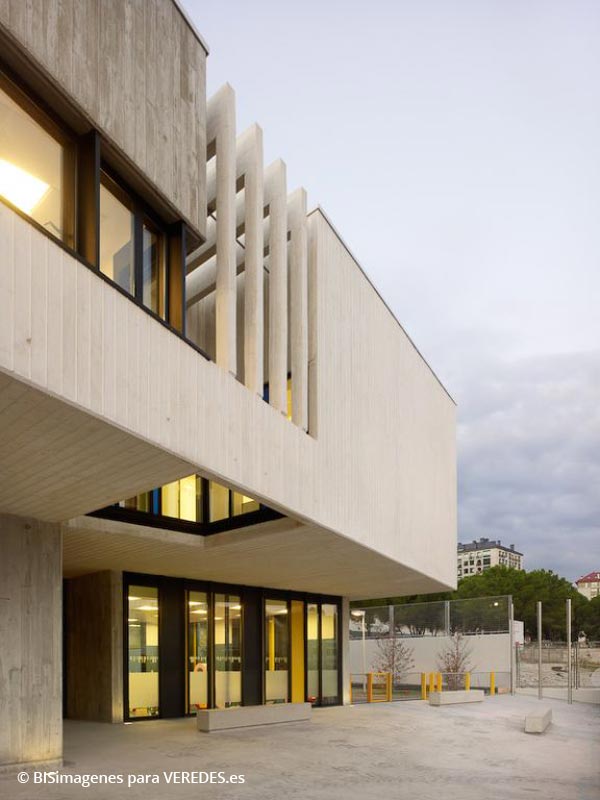 Compact volume of white concrete perforated by courts that give light to classrooms and to the central corridor element that structures the center. Classrooms of primary in top floor, common uses and classrooms of infantile in low plant opened court with private character.
The pavilion extends in pergola to cover the access and providing continuity to the set.
Obra: CEIP Amadeo Rodríguez Barroso
Authors: Hermo Iglesias Veiga Arquitectos | Víctor Hermo Sánchez, Juan Iglesias Veiga, Iván López Veiga
Collaborators: Begoña Nimo Silva, Mª Carmen Carballeira Rodríguez, Anabel Ortiz Conlledo
AYear: 2008-2010
Location: C/. Serra da Martiña, Ourense, Galicia, España
Promoter: Consellería de Cultura, educación e Ordenación Universitaria
Construction: Dragados
Structure: Francisco Carballo _Carolo Losado
Facilities:Eduardo Gómez Ramos and César Themudo Goday
Photography: Héctor Santos-Díez | BISimages | Iglesias Veiga arquitectos
+ iglesiasveiga.es
Búsqueda para satisfacer el conocimiento de la actividad arquitectónica y tangentes que se generan. La idea es crear un espacio para divulgar los diversos proyectos en busca de nueva inspiración y de intercambio.