The house is located in Catarroja (Valencia), on a plot between deep medianeras and facing north-south. As a starting point we find a construction of two heights immersed in the middle of two blocks of houses, on the ground floor a dark and excessively compartmentalized housing, in the upper volume, built later, a loft.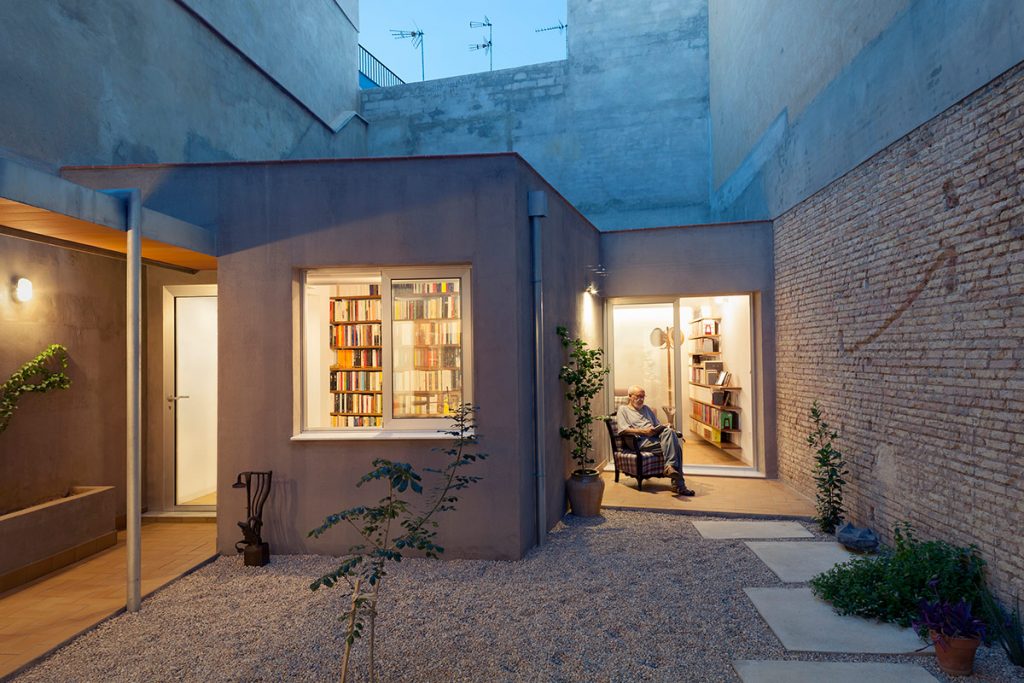 Its owner, a retired editor, addresses the project of transforming the family home into a home-study that responds to their current needs. In the first place, the project eliminates the improper elements that have been colonizing the patio over the years, with the aim of granting maximum prominence in the outdoor space, attracting sunlight and favoring natural ventilation. From here, a modest intervention is built, made exclusively on the ground floor, which defines two independent zones: one of domestic scope that takes advantage of the original construction linked to the street, and another of new construction where the studio is located, isolated and fitted to the back of the patio. The facade and the upper floor remain unchanged.
Both the constructive typology of the new volume and the materials used, resort to traditional solutions, which take advantage of and value the means of the place. Walls of load with forged of joist and vault, iron, ceramics, wood … simple and sincere materials, that do not like to pretend what they are not, unfold throughout the house. The vegetation reaches the patio as another material to appropriate the space and endow it with life: a flower ash, aromatic plants and vines are installed and drilled by the medians, which are confused with the new facades devoid of paint.
Once adapted, the house welcomes again its wooden doors, the old chests of drawers, the mother's bed and a handful of objects that will coexist with the newcomers to generate a space that reinvents itself and accompanies the evolution of its inhabitants.
Work: Home-Studio for an editor
Author: Fent Estudi Coop. V. (Fran Azorín, Isabel González, Eva Raga)
Collaboratores: Ricardo Ortí, architect, Miguel Navarro, technical architect, Blas Ramón, construction company, Muycarp, woodwork, Instalec, electrical installation.
Year: 2018
Photography: Milena Villalba
+ fentestudi.com
Búsqueda para satisfacer el conocimiento de la actividad arquitectónica y tangentes que se generan. La idea es crear un espacio para divulgar los diversos proyectos en busca de nueva inspiración y de intercambio.