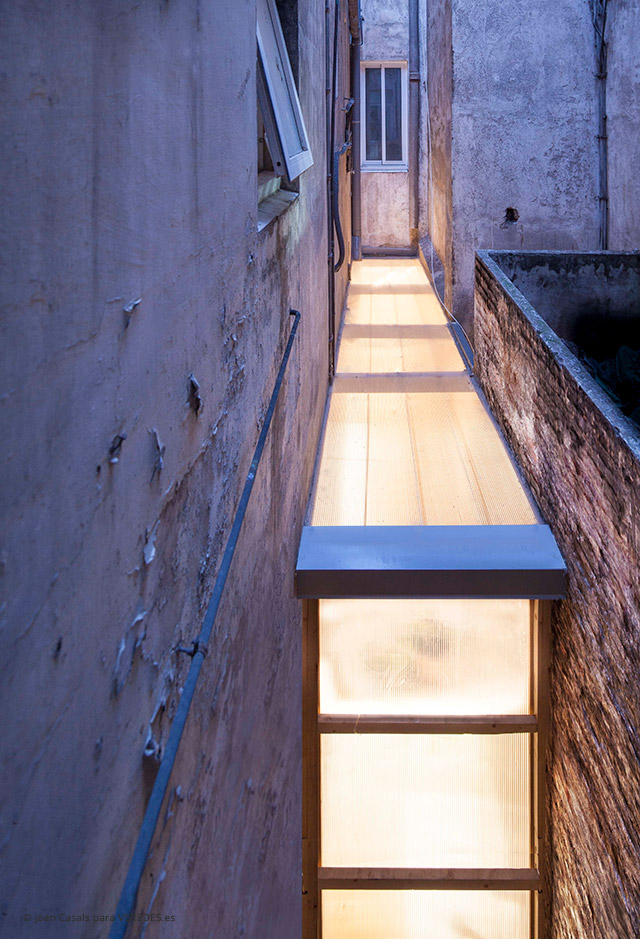 The intervention is located on the ground floor of a residential complex located in the district of Les Corts (Barcelona, España). A place where all the available surface was built and as a result numerous courtyards were settled in order to ensure minimum hygienic conditions.
The intention to win anyway a few meters on the ground floor was the reason that turned these areas into self-constructed covered surfaces. So gradually it reaches insalubrious. Later the abandonment.
Leveraging having to implement a flexible housing program 35m², re-appropriation was thought as an opportunity in this often forgotten residual situation. A sanitary wooden flooring with a vertical concrete block wall linings create an air chamber with cross ventilation. A border wooden box houses all wet program that converges outwards. A translucent polycarbonate enclosure regains the original meaning of the patio.
Work: Caballero House. House between a court of lights
Authors: agora arquitectura (Joan Casals Pañella – Jose Luis Cisneros)
Location: Les Corts, Barcelona, Spain
Area: 35m2
Year: july 2015
Destined use: housing | place of rent
PEC: 550€/m2
Photographies: Joan Guillamat | Joan Casals
+ agoraarquitectura.com
Búsqueda para satisfacer el conocimiento de la actividad arquitectónica y tangentes que se generan. La idea es crear un espacio para divulgar los diversos proyectos en busca de nueva inspiración y de intercambio.