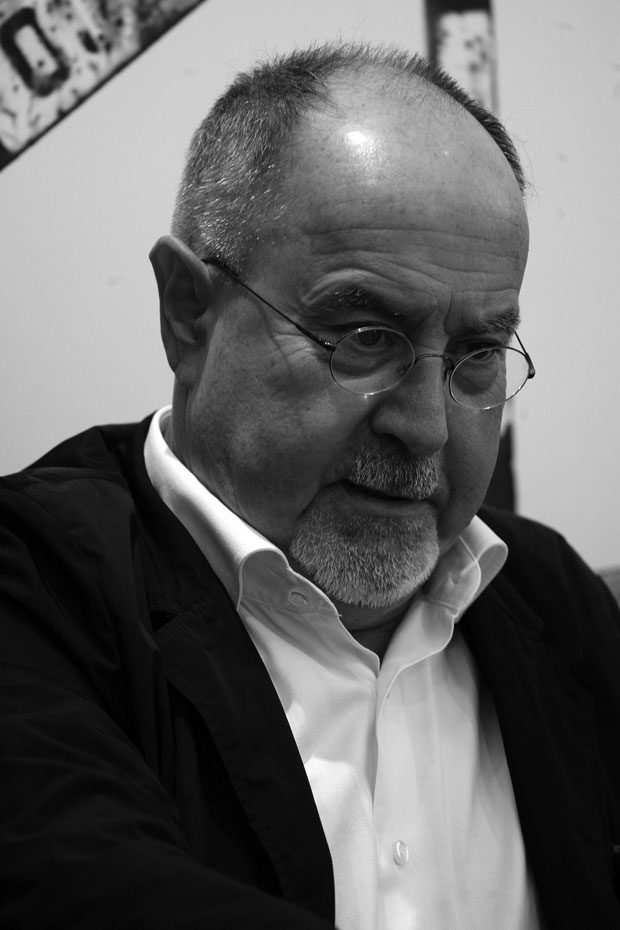 Accidentally I have been reading 3 paellas con Bigas Luna, a book written by Lucas Soler, published ten years ago for already eliminated Mostra of Valencia immediately after an honoring honoring that they did to the director.
The relation of this filmmaker with the Architecture began a lot of time ago, even before being a filmmaker, when it was devoting itself to work like interiorista, reconciling it with other facets as plastic artist. Even in one of his movies, in Huevos de oro, there appears a personage who is an architect, there be remembered that the movie – today so or more current than at the time – businessman treats on the ascension and fall of a young person without scruples, that the Benidorm helps to construct of nowadays and the architects had much that to see with the current result of this city.
Returning to the book – certainly certainly very entertained thanks to a marvellous interview with Bigas- it did not know that it had done a photography to Valeria Marini, according to him his anus was «possibly the best of Europe in that moment», he undresses of backs, inspired by the photomontage The Ingres´s violin by Man Ray, which in turn was inspiring by the picture of Unsandstone, well then, this Bigas´s photographywas carried of the number 780 of the Domus magazine, published in March, 1996, for the monographic one on the organicity in the architecture and it has been selected among the best in this year in the recent summary of this magazine edited by Taschen.
In the book in addition he speaks about the Bigas Luna Study and his works with a study of architecture, surely it refers to the interesting documentary that his pupils did on Miralles's work, which already was commented in this blog, because it comes included in the edition that published the Fundación de la Caja de Arquitectos on the work of this architect.
The most relevant of 3 paellas con Bigas Luna in relation with the Architecture is the response of Chariots when they ask him about the pejorative sense that had then the "Catalan design" and answers:
«I do not believe that it should have it. It seems to me to be positive that exists a Catalan design. Actually the critiques to the designers are very similar to those that there receive the architects who are considered to be arrogant and lacking in humanity. His problem, in the bottom, is that they work with dead matter, deshumanizada, though then they have solutions for everything and are very competent».
«Arrogant and lacking in humanity», always I have believed that to many architects it comes very well to know what the others think about us and, occasionally, it comes very well one recovers from humility to avoid this arrogance that mentions Bigas. With regard to the "dead matter" the filmmaker has reason, but let's not forget that a building serves – or it should serve – to improve the life of the human beings, alive excellent matter, and not only as an object to appear in the photographies of the magazines or in the television programs of housings for millionaires.
Jorge Gorostiza, architect. Author of the blog Arquitectura+Cine+Ciudad
Santa Cruz de Tenerife, may 2012
Doctor arquitecto, proyecta y construye edificios y desarrolla trabajos de urbanismo. Desde 1990, publica numerosos artículos sobre cine y arquitectura en medios de su localidad, revistas como Nosferatu, Nickleodeon, Academia, Lateral, Cahiers du Cinema… y en varios volúmenes colectivos. Entre el 2000 y el 2005 dirige la Filmoteca Canaria. Imparte conferencias sobre arquitectura y cine en instituciones como el CAAM en Gran Canaria, la UIMP, el CENDEAC en Murcia, INCUNA en Gijón, Fundación Telefónica, la ETS de Arquitectura y el CCCB de Barcelona, las ETS de Arquitectura de La Coruña, Sevilla, Valencia y SEU madrileña, La Ciudad de la Luz en Alicante, la UNED en Pamplona, en varios colegios de arquitectos, así como en las universidades del País Vasco, Gerona, Valladolid, Málaga, Granada, SEK en Segovia y CEES de Madrid. Jurado en varios festivales cinematográficos, como los de Alcalá de Henares (2001), San Sebastián (2002), Sitges (2003), Las Palmas (2005) y Documentamadrid (2005), y comisario de las exposiciones Constructores de quimeras. (Centro Conde Duque, Madrid, 1999) y La arquitectura de los sueños (Capilla del Oidor, Alcalá de Henares, 2001).
He publicado bastantes libros y muchos artículos, he impartido conferencias, he sido comisario de exposiciones y jurado en muchísmos festivales. Si quieren saber más no duden en consultar mi blog ARQUITECTURA + CINE + CIUDAD.