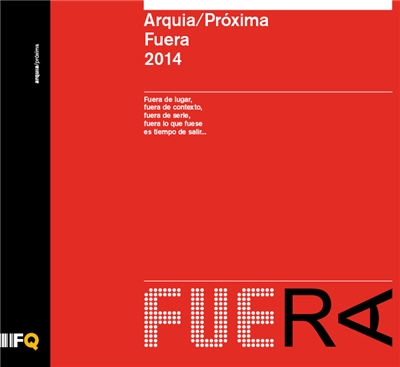 arquia/próxima is the cultural program of the Foundation Arquia, conceived to offer support to the Spanish architects in the first ten years of professional exercise being based on the diffusion, promotion and putting on value of his accomplishments and beginning as professionals.
This volume there gathers 120 accomplishments catalogued by the juror of the edition arquia/próxima 2012-2013 formed by the police station Eve Franch and the juror integrated by Emilio Tuñón, Izaskun Chinchilla, Toni Gironès, Andrés Jaque y Luís Úrculo.
The fourth edition 2012-2013 finished with the Forum IV arquia/próxima 2014: Out, that was celebrated on October 23, 2014 in Granada, in which near 400 architects they gave to themselves appointment in the Audience Manuel of Fault to debate on the current and future situation of the sector, to know the catalogue of this edition and the details of 29 you work finalists.
The title FUERA' [out of place, out of context, out of series, it was what was] it is a time to go out out it invites to leave the practices inherited during the last years and is simultaneously a call to returning to inside the historical spaces of responsibility associated with the architecture.
Búsqueda para satisfacer el conocimiento de la actividad arquitectónica y tangentes que se generan. La idea es crear un espacio para divulgar los diversos proyectos en busca de nueva inspiración y de intercambio.