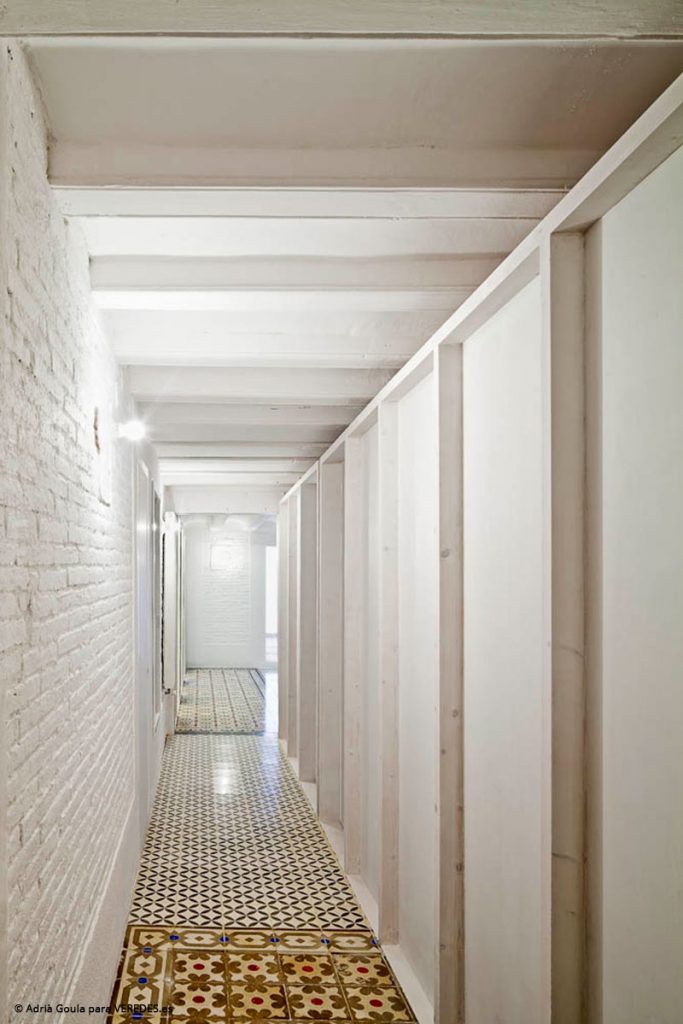 Before our intervention, in this apartment overlapping stages could be appreciated. Several uses through time accumulated layer over layer. At a first glance one could feel a strange and blurred atmosphere. But beyond confusion we could appreciate the power of its original defining features: a sequence of linked spaces, separated by a powerful rhythm of bearing walls; the distinction of space hierarchy through different mosaic floors; big wood windows…
We believe that a refurbishment work must make the most of the existing. As it happens in the urban fabric, which is a conglomerate of different historical times. Times that contaminate each other in a complex and ambiguous whole than touches us.
Although in this case the pre-existence was not an exceptional historical or heritage value, it was perfectly re-usable and attractive. It has led us to a strategy of reuse and transformation, with fuzzy boundaries: Over this transformed pre-existence we superimposed new functional spaces framed into wooden boxes.
Reuse and transformation:
– Stripped of walls and ceilings of existing items and accessories occurring in different operations reaching reform essential elements that define the space
– Cleaning the walls not "hygienic" and strategic, keeping traces, marks, layers of paint …
– Building (structural reinforcements, few cracks, confinement) and replace "critical."
– Reading on the floor of the original distribution in smaller rooms.
– Homogenization color and optimization of natural light.
Contribution:
– Self-enclosed modules (boxes) containing services and storage.
– Substructure apparent wood studs to the outside (such as packaging, it is important to the inside).
– The facilities are strategically concentrated in the interstices between "boxes" and placeholder to avoid races in the pre-existence.
– Finished in white boxes with veladura combining up chromatically to the placeholder.
Work: Juan's Apartment
Adress: carrer Gran de Gràcia, Barcelona
Surface area: 120 sqm
Project: march 2010 – january 2011
Construction: february 2011 – october 2011
Architects: vora arquitectura (Pere Buil, Toni Riba)
Building coordination architects: vora arquitectura (Toni Riba)
Project team: Arnau Boronat, Ana Silva, Carolina Silva
Contractor: Fórneas Guida s.l.
Photography: Adrià Goula
+ vora.cat
Acknowledgment:
14th Venice Biennale of Architecture/ Grafting architecture. Catalonia at Venice
XII BEAU finalist/ Spanish architecture and urbanism Viennial
FAD Awards 2012 selection/ Spain and Portugal
arquia/próxima awards 2012 selection/ Young Spanish Architects
XII Hispalyt awards selection/ architecture with bricks 2011-13
Búsqueda para satisfacer el conocimiento de la actividad arquitectónica y tangentes que se generan. La idea es crear un espacio para divulgar los diversos proyectos en busca de nueva inspiración y de intercambio.