Little more than half a century to past from the offer of the Smithson and we might say that still today it supports a futurist aspect and up to very convincing on the diverse worn out aspects: the plastic – spatial continuity, the vernacular Mediterranean reference, the design of a fixed and integral furniture, the complexity of the cover, the interior court, etc, etc. To endorse the images we leave them the extract that accompanies the same ones in Marco Vidotto's book: Works and Projects, Alyssum and Peter Smithson. Barcelona. Gustavo Gili, 1997.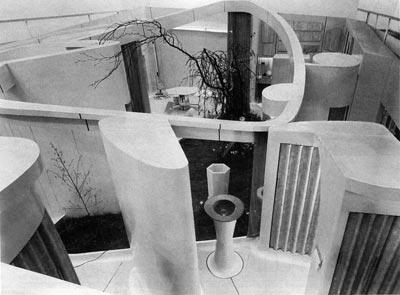 1955-1956, THE HOUSE OF THE FUTURE. " For the exhibition that the periodic The Daily organized E-mail under the topic " The House of the Future ", A+PS projected and constructed the model to natural size of the prototype of the ideal house.
[…]
Text is selected by Martin Lisnovsky
+ article is published in arquitectura+historia
Búsqueda para satisfacer el conocimiento de la actividad arquitectónica y tangentes que se generan. La idea es crear un espacio para divulgar los diversos proyectos en busca de nueva inspiración y de intercambio.