Most of the constructions that today constitute Esteiro's Campus, in Ferrol, is a fruit of the rehabilitation of the set of pavilions that were composing Marina's Hospital (acquaintance like Hospital gives Nosa Señora you give Dolores), constructed between 1894 and 1902 according to the project of the French engineer Casimir Tollet.
In 1992 the hospitable complex happened at the disposal of the University of To Corunna that since then has been rehabilitating the buildings and constructing new others, to receive diverse academic qualifications and related facilities. In this context we receive in 2009, on the part of the Vicerrectorado of Infrastructures, the order of rehabilitating the small pavilion originally destined for prisoners (that in this moment it was sheltering the university dining room), to extend the facilities of the Center of Technological Investigations of the University.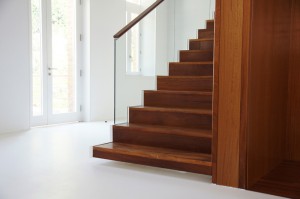 The program was contemplating essentially the creation of two new laboratories, to which there were adding a series of incidental spaces, as the relative ones to the facilities and storage, which in a building of these characteristics they suppose an important development of surface in plant.
Chasing to rationalize the organization of these spaces and the traffics, one decided to agglutinate in the only exempt element in the center of the plant the vertical communications and other subsidiary uses, liberating the rest of the surface. The location of this new element generates of immediate form the principal necessary spaces: in ground floor the zone between the core and the principal access they form of natural form the front hall, with sufficient space for complementary functions, as wardenship or ticket offices; to another side the whole remaining space remains free for the first laboratory.
In the first plant the scheme, this time repeats itself with a double height on the entry and the second laboratory. The basement receives those supplementary uses that were admitting a minor vertical clearance, since they can be the baths, stores or places of facilities.
This new core conceived as a great furniture of wood, separates physically of the container, recovering the symmetry of the building and facilitating his reading. At the same time, across a contemporary language but content, a clear separation is established between the existing thing and the new thing without provoking stridencies, trying to establish a respectful dialog.
Work: Rehabilitation of university dining room for laboratories of the CIT
Location: Esteiro. Ferrol. Galicia. Spain
Authors: Noela Seijo+Carlos Comendador+Javier Álvarez+Iria Viña
Year: 2009
Report: Noela Seijo+Carlos Comendador+Javier Álvarez+Iria Viña
Photographies: Noela Seijo+Carlos Comendador
+ comendador.es
Búsqueda para satisfacer el conocimiento de la actividad arquitectónica y tangentes que se generan. La idea es crear un espacio para divulgar los diversos proyectos en busca de nueva inspiración y de intercambio.